01 Jul

Recipe: Caramel Sauce Chocolate Cake
Salted Caramel Chocolate Cake Recipe with Chocolate Frosting – made with love.
Love is…
… baking your boyfriend a birthday cake made with all his favourite things; chocolate, coffee and salted caramel.
My way of showing people I love them is through food. I make edible gifts for people, like my lime and coconut macaroons. I make their favourite food, like my mam's favourite crunchy coconut cookies.


When my boyfriend blew out the candles on his birthday cake and swept us into the darkness I could still see his smile. Cutting a big slice and gazing at the nuts, chocolate and dripping caramel I could see the twinkle in his eye. Hearing his groans of delight as he ate and then had a second slice with extra sauce made my heart sing. All my effort was noticed and worth it. He was impressed with my kitchen skills and blown away by the gesture. I'd make it every day for him if I could.
He said the cake tasted 'heavenly'. I'll take that. He then devoured the jar of sauce with a spoon. I think he liked it. I'm sure when you bake this Salted Caramel Chocolate Cake Recipe with Chocolate Frosting you will love it too. If you make it with added love it tastes extra sweet. Can you believe how saccharine I have become? Love will do that to you!
This easy chocolate cake with chocolate frosting and salted caramel sauce (how amazing does that sound?) is known as a poke cake. You poke holes in the cake then pour over the salted caramel sauce. The sauce drips down the holes and soaks into the cake keeping it soft and finger-licking sticky.
Before you make the salted caramel sauce you should read my salted caramel sauce recipe on how to choose the right ingredients to make the best, salted caramel sauce. The post also has two recipes, one for making salted caramel sauce with agave syrup and one for making it with golden syrup. The choice is yours. I use the golden syrup version with this cake.
You can make both the chocolate frosting and salted caramel sauce ahead of time. You could make the chocolate frosting a few days beforehand and the salted caramel a month beforehand if you wanted to however, as you have to pour the caramel over the cake you would need to melt the salted caramel sauce first.
As this is a celebration cake, my mantra is more is more is more when it comes to the toppings but you can adjust the amount of frosting, nuts, chocolate chips and salted caramel sauce embellishments to your own liking.

So, from my kitchen to yours, here is my…
Salted Caramel Chocolate Cake Recipe with Chocolate Frosting
Ingredients
For the chocolate cake
227 grams of unsalted butter, melted
400 grams of Demerara sugar
75 grams of Dutch-process cocoa powder – use any leftover cocoa to make my Mississippi Mud Cake Recipe
1 vanilla pod or 2 teaspoons of vanilla extract
4 large eggs
200 grams of chocolate – 175 grams for the cake mix and 25 grams to decorate (I use a mix of milk and dark chocolate chips)
150 grams of chopped nuts – 100 grams for the cake mix and 50 grams to decorate (I use a mix of walnuts and pecans)
150 grams of plain flour
½ teaspoon of baking powder
½ teaspoon of salt
Optional – 4 teaspoons of brewed coffee left to cool (I made coffee using a Profundo L'OR Espresso capsule)
For the chocolate frosting
For the salted caramel sauce
(click here to make salted caramel sauce with agave syrup)
75 grams of unsalted butter
100 grams of soft brown sugar
50 grams of golden syrup
125ml of double cream/heavy cream
½ – 1 teaspoon of salt
Prep
Grease a sheet/cookie pan and line the bottom with parchment paper.
Pre-heat oven to 180°C / 160°C fan assisted / 350°F / gas mark 4.

Method
For the salted caramel sauce
For more in-depth instructions read my salted caramel sauce recipe blog.
Place a small heavy-bottomed saucepan over a medium-high heat and add the butter, sugar and either golden or agave syrup, depending on the recipe being followed.
Let the mixture simmer for about 3 to 4 minutes but swirl the saucepan every now and again to mix things around.
When everything has melted, pour in the cream and sprinkle in the salt.
Swirl the saucepan again and then go in with a wooden spoon and gently stir the mixture.
Swipe the back of the wooden spoon with your finger and taste to see if you want to add more salt – please be careful as the mixture will be very hot. You want to make sure that you can taste the salt as when cooled, the flavour of the sauce mellows a lot.
Let the sauce cook for another two minutes.

Method
For the chocolate frosting
Using a stand mix or hand mix or if you are very strong, a wooden spoon, beat the butter, cocoa, and vanilla until well combined.
Add the sugar and cream and beat until smooth and spreadable. You can add more cream if you need to.
Taste the frosting and adjust to your liking. Add more cocoa if it is too sweet, more sugar if it isn't sweet enough or more cream to make it slacker.
As an added flavour enhancer, you could add some brewed coffee.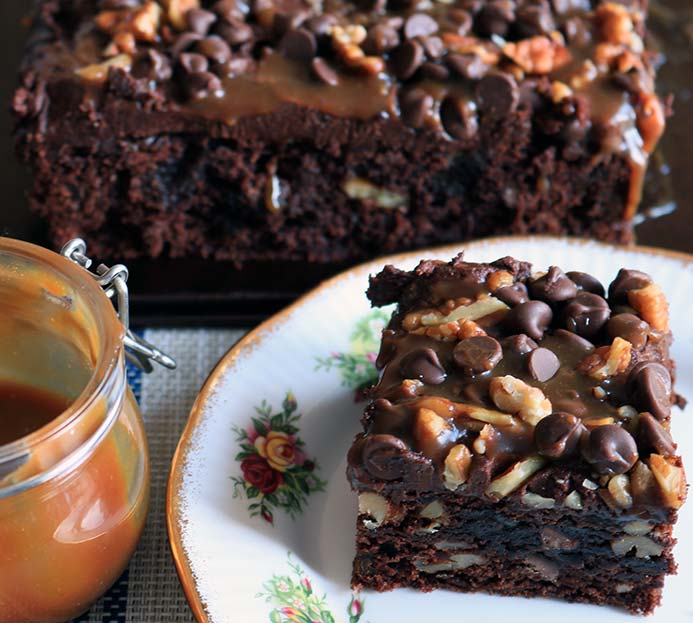 Method
For the easy chocolate cake
By hand or using a stand mixer or hand mixer beat together the melted butter, sugar and cocoa powder – I used a hand whisk on a medium speed for two minutes.
Stir in the coffee (if using) and cut the vanilla pod open and scape out the vanilla bean and add to the mixture.
Add the eggs to the batter one at a time, beating after each addition until just incorporated.
Using a spoon or spatula, mix in 175 grams of the chocolate and 100 grams of the chopped nuts.
In a separate bowl, sieve in the flour, baking powder and salt. Mix with a spoon until combined.
Add this dry mixture into the batter mixture. Use a spoon or spatula to gently combine the ingredients.
When the batter looks smooth and even in colour, pour the mix slowly into the pan. Shake the pan gently to even out the mixture.
Bake on the middle shelf for 30 to 35 minutes.
When done, leave the cake in the pan to rest for ten minutes.
After ten minutes, take a skewer or knife and poke holes all over the cake. The sauce will drip into these holes.
At this stage, you can leave the cake in the pan or transfer to a flat cake board, or a serving tray covered in tin foil, as I did. I took it out of the pan as I wanted the salted caramel sauce to drip down the sides of the cake.
Pour 120ml / 8 tablespoons (about ½ a cup) of the salted caramel sauce all over the cake.
Before you frost the cake, the caramel sauce needs to set. If you have time, leave it to cool in the kitchen for an hour or more, or you can put the cake in the fridge for about 45 minutes to one hour, or you could pop the cake in the freezer for about 30 minutes.
When the salted caramel sauce has set you then frost the cake.
Place all the chocolate frosting, yes, all of it, in the middle of the cake. Use a palette knife, butter knife, offset spatula or the back of a spoon to spread the chocolate frosting all over the cake.
Adorn the cake with the remaining 50 grams of nuts and 25 grams of the milk chocolate chips.
To make it even more decadent, drizzle another 60ml / 4 tablespoons (about 1/4 of a cup) of the salted caramel sauce all over the nuts and chocolate chips.
You can serve this cake right away as it is delicious warm with the soft frosting and dripping caramel sauce or you could put it in the fridge or leave it to cool at room temperate to let everything set.
I served it with rich vanilla ice-cream and with extra salted caramel sauce dripped on top of that!
This cake will keep well for five days in an air tight container.
Over the next five days when I was serving the cake I put it in the microwave for about 10 to 15 seconds just to warm everything up and start the melting process. Scrumptious.
So, what do you think of my Salted Caramel Chocolate Cake Recipe with Chocolate Frosting? Did you try it out? Did you like it? What improvements would you make? Share a photo of your own attempt at this recipe or leave any feedback and comments below, I'd love to hear from you.
Bon Nomnom
If you like this recipe, please share with others.