How to be a music photographer, kinda. The second part of this blog series can be found here: how to become a music photographer.
Carry a camera. Always.
At seven years old I received my first ever camera. It was a first holy communion gift from my auntie Kay.
Since then, I haven't been without a camera in my hand. I love taking photos (have you seen my portfolios?) but like most things I love doing, I am pretty average at it. But that doesn't stop me from trying or from putting my stuff out there. I am a fairly unskilled photographer, but I have done quite well due to my enthusiastic approach to everything.
Be ballsy
Never underestimate the power of enthusiasm to get you where you want to be. It's a great trait to have. Being a little bit ballsy also helps.
So, here is how I became a music photographer for a few years and how I built my first website.
Love music
In October 1998 my ex-boyfriend played me the song called 'A Thousand Trees'. I instantly fell in love with him, the song, and the band. From then on, I became obsessed with the Stereophonics and went to every single gig that I could.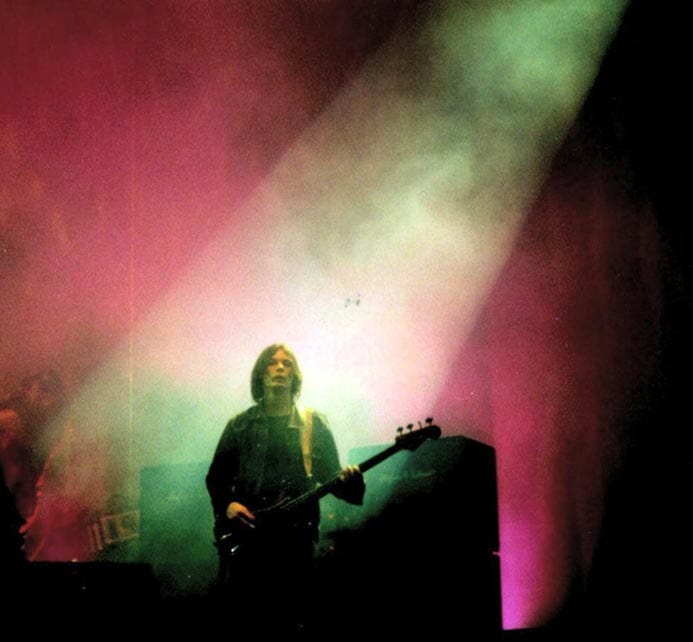 Go to gigs (probably the top tip on How to be a music photographer)
Eventually, I got to know the crew well as they would see me queuing up outside venues for hours. At the end of every gig, I would lean over the barrier and ask the crew for anything that I could take as a memento. These could be a guitar pluck, the set list, drumsticks or (embarrassingly enough) used sweaty towels. I told you I was obsessed.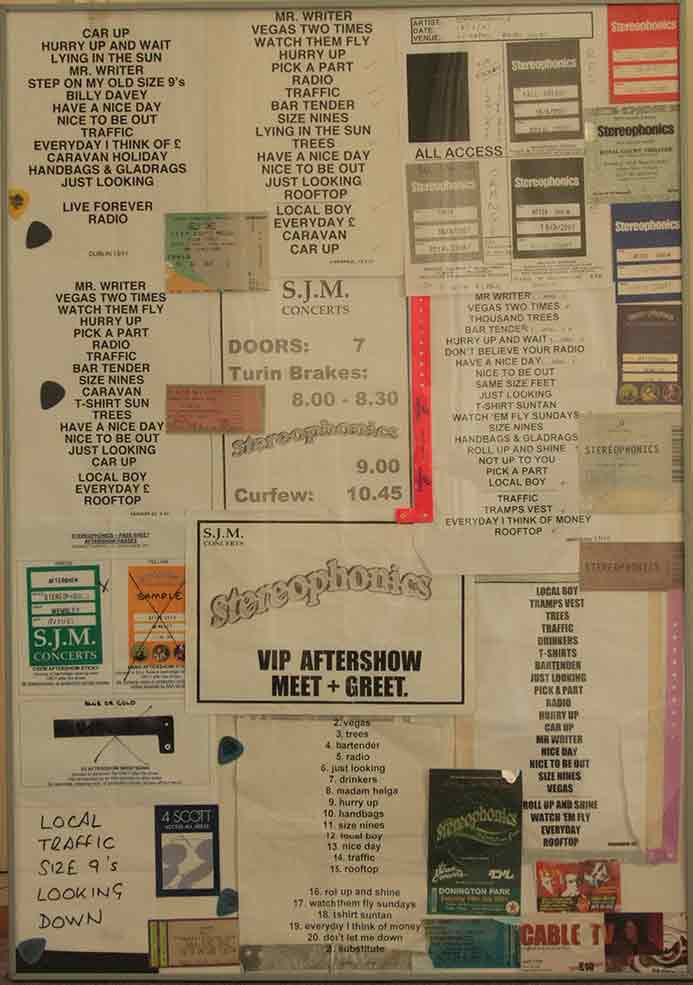 Get to know the crew and fans
Because I went to so many gigs I met lots of other groupies (let's face it, that's what we were). We quickly became known to the crew and techies that travelled with the band.
Try not to sleep with the band
The other girls were given many jobs to do, mainly handjobs and blowjobs. But that's the last you'll hear of those, what happens on tour stays on tour. I was given other jobs – take a look at how chubby I was and you will understand why.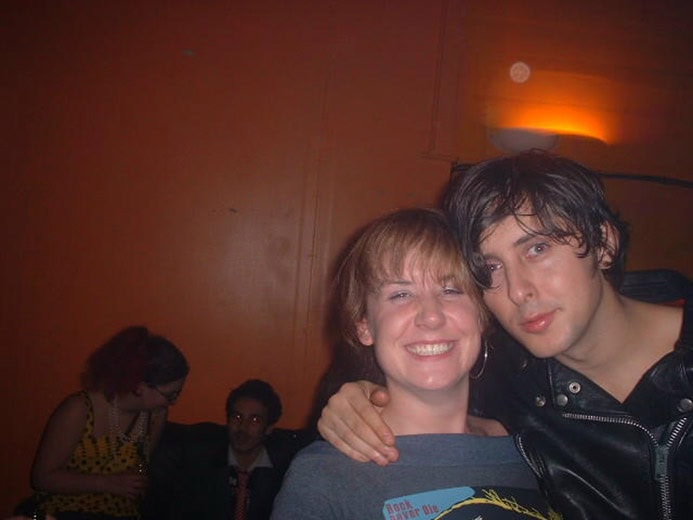 In all seriousness, groupies still do exist and get up to all sorts with anyone one associated with bands. I was madly in love with my boyfriend at the time so this wasn't a consideration for me. To be honest, I think this is why I was allowed to hang out with the bands so much. I had no hidden agenda and everyone knew that. Thus, I think people, especially the male crew, felt relaxed around me. This got me a lot more privileges like VIP treatment and even my own key to a tour bus!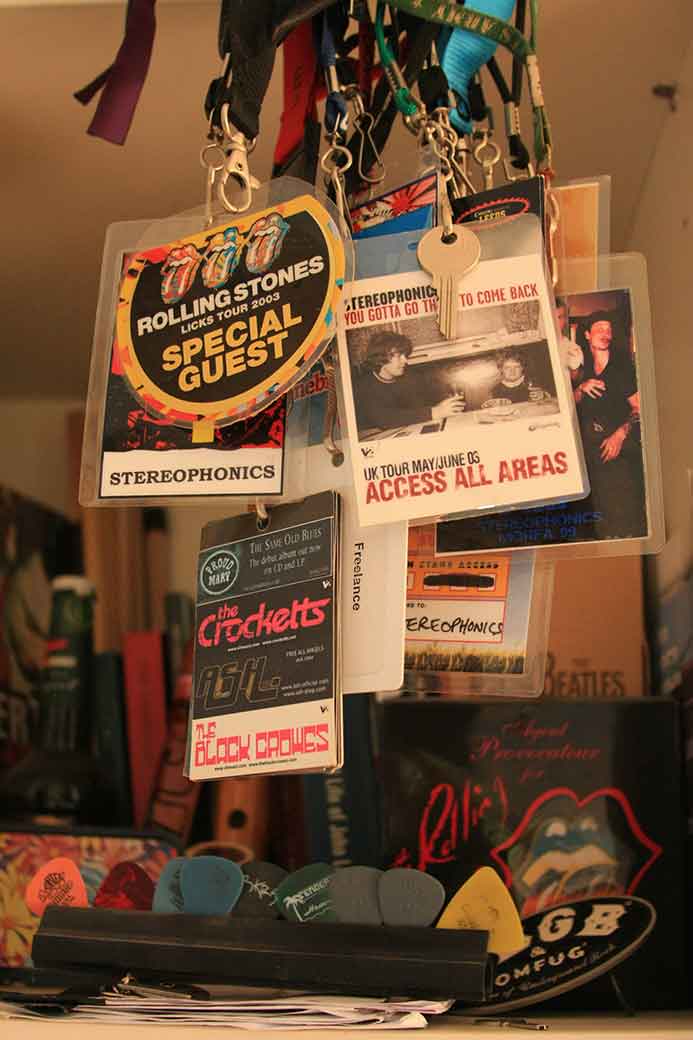 At one gig, I was unable to get anything off the stage to take away with me so I went up to the sound engineer and asked for the set list. He gave me a backstage party pass instead (no jobbing required). I was over the moon. I was officially 'with the band' (make of that what you will).
After a while, I could sit in on the sound checks and rehearsals, and I could take photos of the band without being hassled for any 'credentials'. I also got to know other bands who would regularly play with the Stereophonics like The Crocketts. The lead singer of this band, Davey MacManus, grew up around the corner from me. So, I used that connection to chat to him and get to know him. Eventually I was 'with that band' too.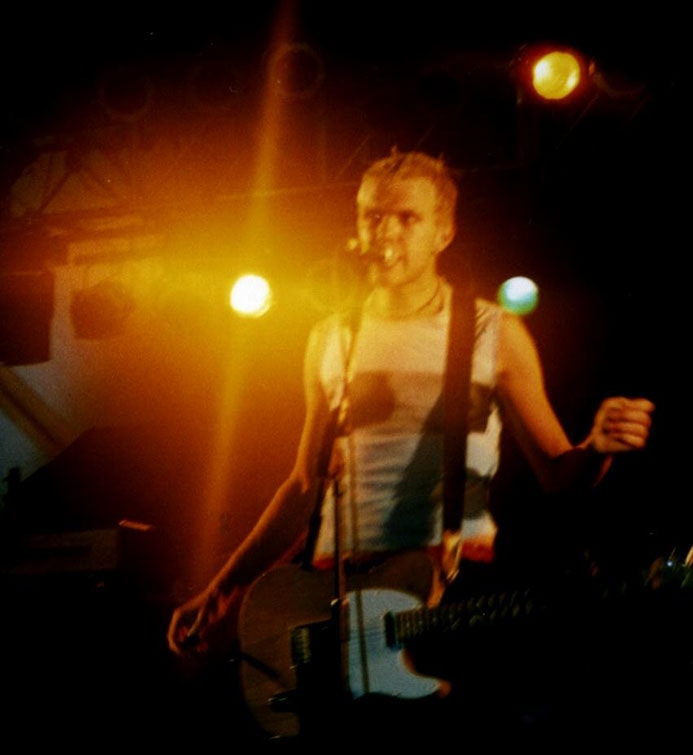 Play it cool
All of this lead to me being pretty comfortable talking to 'rock stars', crew members and security guys. So, I became pretty relaxed around people when I was at these gigs and especially backstage. This is where it is really important not to annoy the musicians after a gig. Many a time I saw an over-eager groupie being told it was time to leave. Mainly due to her in your face behaviour, autograph hunting and repeated requests for photos with each band member.
Stand out from the crowd
I was always the first in the queue which meant that I was always at the barrier. This meant I could take up-close photos of the band without anything obstructing the shot. This made my photos different from other fan photos, which usually had loads of heads and hands obscuring the band.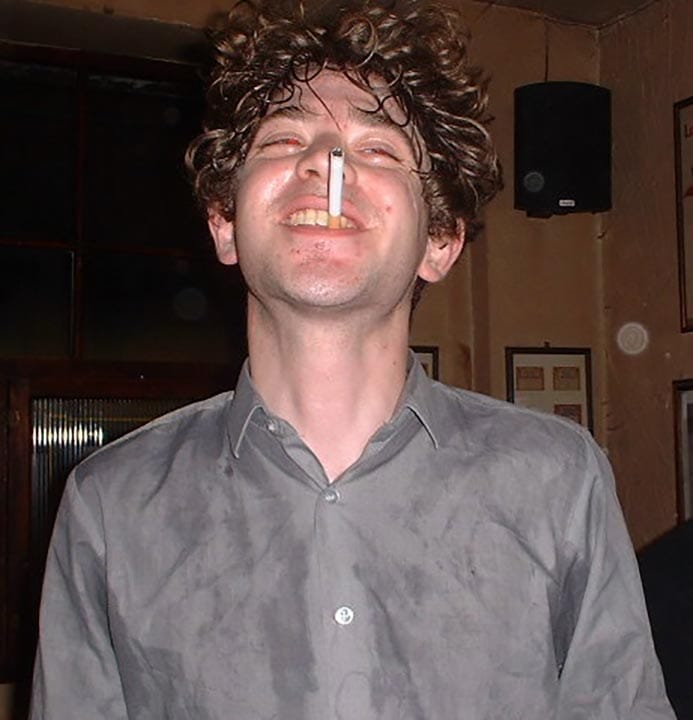 Know your subject
Also, as I was totally obsessed with the bands, I knew their every move on stage. I knew when they'd step away from the mics, when they'd clap their hands and when they'd strike a pose. Consequently, I was always ready to press the shutter at just the right moment. These things really helped me get some good shots.
How to be a music photographer – tips and advice
Embrace the 'no'
So, after a few years of taking photos from behind the barrier, I decided to try get a little closer. It was at the most amazing gig of my life in December 2003 in the infamous Rhythm Factory in London. My new favourite band, The Libertines, were playing. Knowing that the worst thing people can say to you is 'no' I went to the side of the barrier. I asked the security guy if I could just go to the side of the stage to get a few photos. I promised him I come straight back out 'pretty please?'. He said 'yes'. Just like that, 'yes', no questions asked. So off I went and snapped away.
I stayed there for the whole gig. I didn't dare move in case someone asked me who I was and what I was doing there. But nobody did. I am loath to put this down to luck. I think it was more down to the haphazard, crazy guerrilla style of that gig. And down to me going after what I wanted.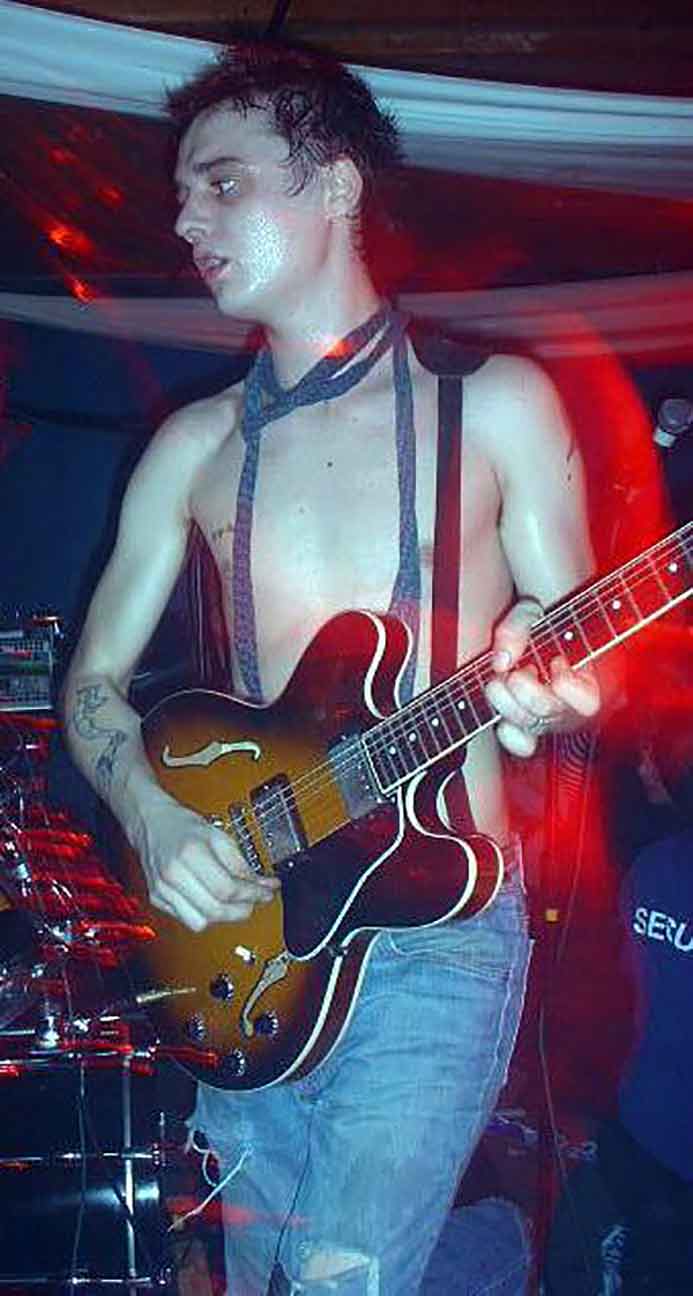 Show your subjects your photos
The very next night I went to see the band The Strokes play in Alexander Palace. As I was moshing away who did I see in the crowd only Pete Doherty, the lead singer of The Libertines. So, with my confidence sky-high I made my way over to him and told him I was at his gig last night and that I got some really great shots of him. I proceeded to show him a few on my camera. I should add that my camera was a very basic point and shoot Sony Cybershot, nothing fancy at all. He said he really liked them and good luck with everything. I was over the moon.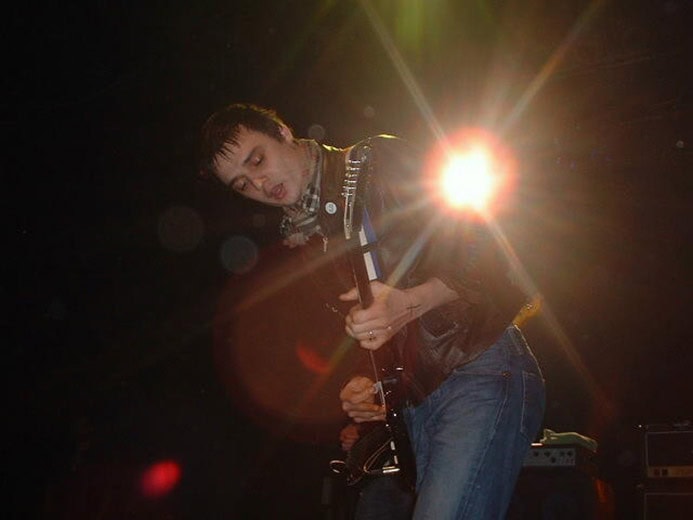 Show everybody your photos
A few weeks later, I went to another Libertines gig. This is the gig here. I am on the stage dancing with The Libertines, one of the highlights of my life so far. Again, I took lots of photos from behind the safety barrier. When I looked back at the photos from the gig I realised that some of them were pretty great. Even better than the ones that appeared in Melody Maker (IMHO). I put that down to the fact that I loved this band so much. I knew their moves so well that I captured the right moments as I had anticipated when they would happen. There and then, I decided to display my work and the best way to do that was to build a website.
Google is your best friend
Now, this is where things get a little bit fuzzy. I have no idea how I built my old website. I have no idea how I found a host, how I bought my domain name, and how I constructed the site back in 2003. Nevertheless, I did, and looking at the site now it turns out I built it all using HTML. All I can think is I must have researched the shit out of everything and taught myself how to do it. Alta Vista was my best friend during this time.
Put in the work
The one thing I do remember however is sitting at the kitchen table till 5 a.m. most mornings determined to get the site up and running because I was so excited to show off my photos as I thought they were great. I still do think some of them are great. The quality is crap. I didn't know anything about digital editing (I still don't really), so the photos are all dark and grainy. But the energy and feel of the gigs are well captured, I think.
Promote your website
So anyways, once I had the site up and running I found Pete Doherty's email though The Libertine's fan forum as he used to contribute to it quite regularly, (also, I'm an expert creeper). I sent him an email asking him to check out my site. This was his reply:
Dear Melanie, thanks for the photos and your kind words.. all the best for the holidays and what not snap snap! peter xxx
As you can imagine I was over the moon, even though he never said anything about the photos being good! I also quite liked the photos I had taken of a band called the Towers of London so I emailed them and told them to check out my site and this is what they said:
hey melanie! Thats briliant!! Just took a look at the site which looks cool – pics too! Thanks v. much just below the strokes on the 6th – my bithday – crazy – went too! We really do need more photo's than ever now and it would be great if you fancy comin down to the next gig, or rehearsal room to take some live photos perhaps! We do have a few people who generally do take photo's as well but really liked your ones especially a couple of them which caught a bit of what we are about. so come on down. mail me back, best Dirk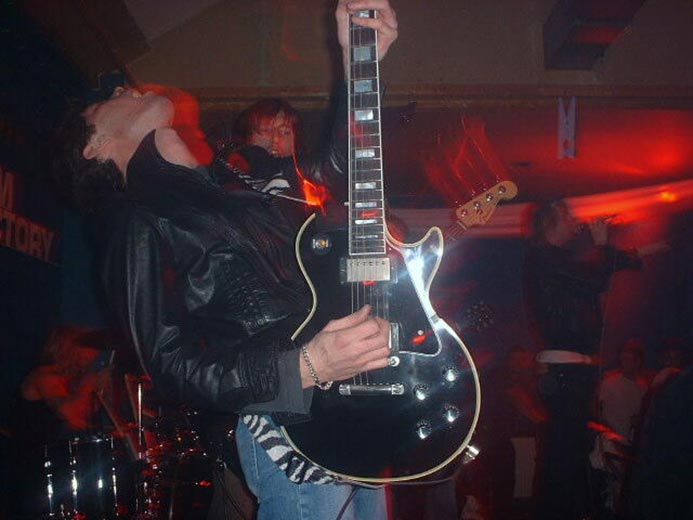 Say yes. Always
Now, as you can imagine my ego exploded and went through the roof, but I also lacked confidence in my abilities. I emailed them back and said thanks for the offer but I am not good enough to do any photo shoots. Plus, I was embarrassed that all I had was a basic little point and shoot camera. So, this is one opportunity that I didn't jump at and quite possibly wasted. But I was just happy enough with the positive feedback. So, I kept going despite my lack of skill and confidence and things started to get better…
"Happy snapping"
You may also like my post 18 top photography portfolio tips.
Have a read of my post with more info on how to become a music photographer.
Read my post and learn how to become a snowsport photographer.
Check out my photography portfolios.
If you like this post on how to be a music photographer, please share with others.
Related posts…