Last year I was invited to a Spanish food and wine pairing and cookery masterclass at the Instituto Cervantes Dublin.
The Spanish food and wine pairing workshops were part of a series. Each session took participants on a culinary journey from the Canaries to Madrid, Catalonia to Andalusia and beyond.
Over five sessions, participants saw and understood how professionals prepare some of Spain's most iconic dishes. We also got to sample some of Spain's best regional wines and sherry varieties. We also learned about the distinctive cultural identities of Spain's principal, autonomous regions, as reflected in its cuisine.
Each Spanish food and wine pairing workshop focused on a different geographical area and its distinctive cuisine:
Asturias, Cantabria and Galicia
Canary Islands, Andalusia and Murcia
Catalonia, Valencia and Balearic Islands
Castilla y León, Castilla-La Mancha, Extremadura and Greater Madrid (check out my Madrid food and drink guide)
Aragón, La Rioja, Navarra and Basque Country
Chef Juan Luis Casero from Cangas de Onís, Asturias (northern Spain), hosted the Spanish food and wine pairing cookery workshops. He has worked in the Clarence Hotel as junior sous chef, The Gables Restaurant/Bar in Foxrock Village, and he is currently head chef at the gastropub Leopardstown Inn.
The best thing about watching him cook was that he used Spanish food and wine available in Ireland. This meant participants could reproduce the dishes at home. We also got a printout of all the recipes.
Antonio Lorente chose the selection of Spanish wines from Vinostito, an independent wine distributor based in Ireland. So, if you have any questions about the wine mentioned in this post, it's best to give him a shout or follow him on Twitter.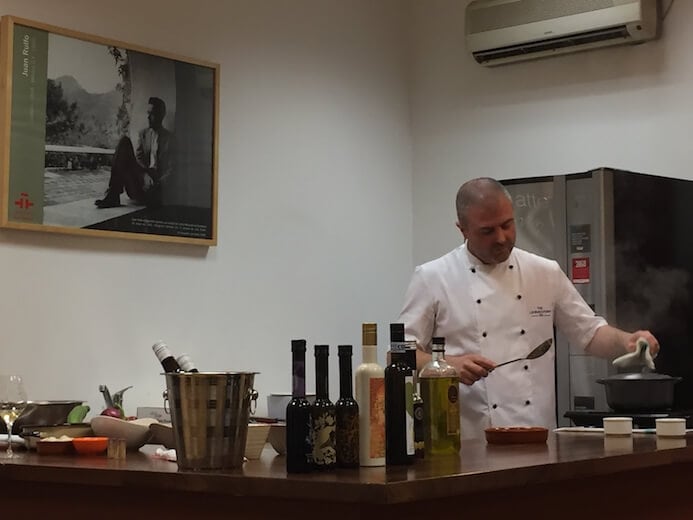 Due to work commitments, I could only attend one Spanish food and wine workshop. I attended the one exploring the regional food and drink of the Canary Islands, Andalusia and Murcia.
Here's what I learned from that wonderful exploration of Spanish food and wine pairing.
We learned about three different dishes for each Spanish region explored, including Andalucía, the Canaries and Murcia. Beside the name of each dish are some wine or sherry wine pairing notes. Then follows a wine suggestion that we either tried on the night or pairs well.
But first, a few tips for Spanish food and wine pairing:
The idea behind pairing food and wine is to find the right balance. Neither food nor wine should overpower each other.
Find balance by pairing mild food with mild wine and rich foods with rich wines.
When it comes to Spanish food and wine pairing, try to match the wine to the most dominant flavour in the dish. For example, when choosing a wine to serve with rabbit with salmorejo sauce, I matched the wine to the strong flavourful sauce, not the milder rabbit.
When pairing with seafood, try pairing with a wine made from grapes that grow near the sea. The salinity of the wine will pair with the saltiness of the seafood.
You can create balance by contrasting flavours too. Think about how a sweet treacle-like Pedro Ximenez sherry would be a lovely contrast to cold fresh vanilla ice cream.
A safe bet that works for all countries, not just Spanish food and wine pairing, is to match foods and dishes to wines from the same region.
Remember your personal taste. If you don't like a wine, then don't serve it. However, perhaps serving a wine you don't like with perfectly matched food will enhance the wine in a way you've not tasted before, and you may grow to like the wine.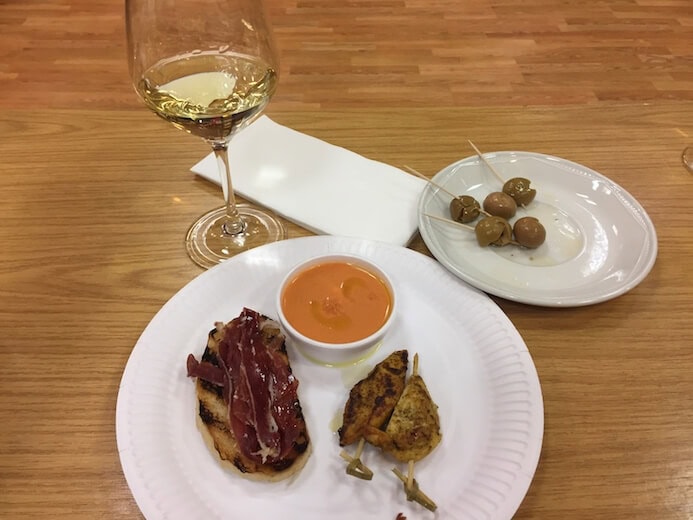 Andalucia:
Gazpacho – a cold soup made from tomatoes, cucumbers, red bell peppers and garlic, seasoned with olive oil, vinegar and salt.
Wine pairing – La Goya Manzanilla, Sanlúcar de Barrameda, Andalusia
This bright pale gold, slightly acidic sherry pairs wonderfully with the bright acidic tomato flavour of the soup.
Tortilla de Camarones – fried shrimp fritters
Wine pairing – Lustau Papirusa Manzanilla, Sanlúcar de Barrameda, Andalusia
Sweet wines or sherries such as fino, manzanilla, amontillado and dry oloroso are a great choice for this fried fish dish. They can handle strong flavours, and the slight saltiness compliments the fish. Served chilled, the cold liquid contrasts deliciously with the hot oily fritters.
Flamenquines – fried breaded pork with ham
Wine pairing – Castillo Perelada Cava Brut Reserve, Penedes, Catalonia
Brut Cava is good with fired food like this as the acidity and crisp bubbles will help to clean the fattiness from the palette. You can pick up some great Cava at La Boqueria food market Barcelona.
Canary Islands:
Ropa vieja – 'old clothes' – is a stew dish consisting of shredded beef and chicken, sometimes pork or a combination of all three mixed with garbanzo beans (chickpeas), tomato sauce and boiled potatoes.
Wine pairing – 2013 Suertes del Marques, 7 Fuentes, Valle de la Orotava, Tenerife
This wine is 90 per cent Listán Negro and 10 per cent Tintilla and has a wonderfully intense cherry colour. It bursts with red fruits and spices and has mineral hints. It pairs perfectly with big flavours like beef and game.
Papas arrugas y mojos – salted potatoes served with mojo sauce. The best part is the salty crust that forms on the skin of the potatoes. The truly authentic way to make them is to cook the potatoes in seawater.
Wine pairing – 2015 Bodegas Monje, Hollera, Tacoronte Acentejo, Tenerife
A red from Denominación de Origen (DO) Tacoronte-Acentejo in Tenerife made from the Listán Negro variety is a good choice as these wines can withstand the strong flavours of the mojo sauce.
Conejo en salmorejo – rabbit with salmorejo sauce – garlic, paprika, hot pepper, oil, vinegar, laurel, rosemary and thyme.
Wine pairing – Williams & Humbert Collection Don Zoilo Manzanilla, Sanlúcar de Barrameda, Andalusia
This sherry's saline tang, thanks to being produced near the sea, and its light acidity will highlight the bright tomatoes and smoky paprika while echoing the sherry vinegar in the sauce.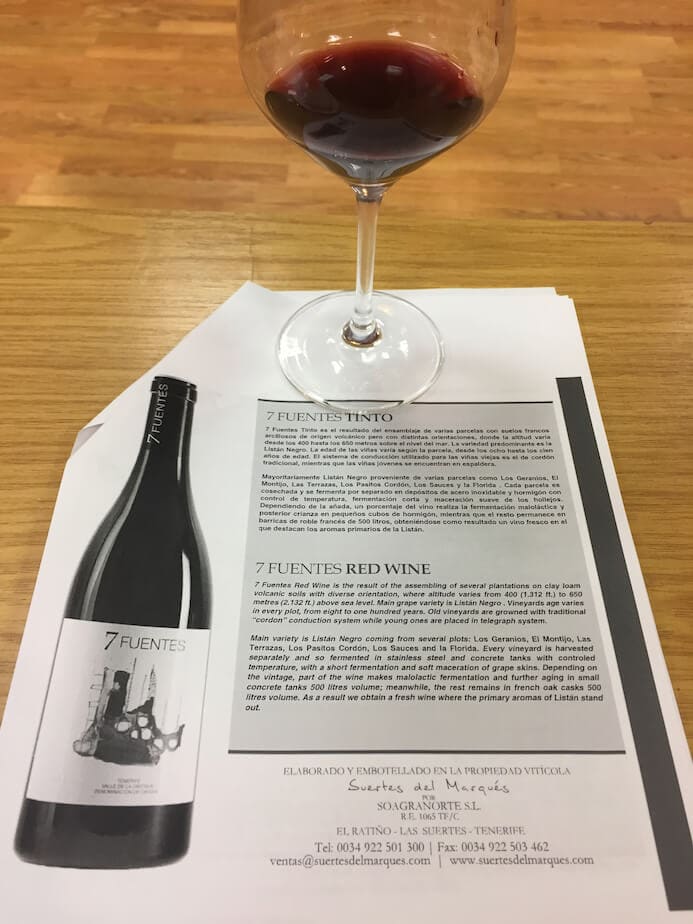 Murcia:
Zarangollo – a dish consisting of scrambled eggs with courgette and onions. It is usually served as a tapa or accompanying other dishes.
Wine pairing – Valdespino, Fino Inocente Single Vineyard 'Macharnudo' NV, Jerez, Andalusia
It's sometimes difficult to pair wine with egg dishes, but sherry has become a secret weapon for food and wine pairing, and a fino sherry wine will sparkle with egg dishes. The one listed is bloody expensive, but it is bloody good. It is a single vineyard sherry from grapes grown in the High Jerez zone. It is also the only fino sherry fermented in oak barrels and boasts a Solera system with 10 'criaderas', while most fino sherries have only three, hence the price.
Pan de Calatrava – pudding or bread pudding with humble ingredients and simple preparation. Like many dishes of traditional cuisine, it has many variations.
Yet another sherry but sweet dessert, sherry is the perfect accompaniment to desserts. This sweet version, made from the Pedro Ximenez grape, is super-unctuous and combines raisins, figs, and caramel notes with a salty tang. So, it is a wonderful pairing for this creamy, caramel flan dessert
Menestra – a stew dish with traditional vegetables of white asparagus tips, onions, potatoes, carrots, cauliflower, artichokes, Swiss chard, spinach, and green beans with ham and seasoned with lemon, salt and parsley.
Wine pairing – 2014 Clos Lojen, Bobal, Castilla La Mancha
This wine smells and tastes of sweet red and dark berries and has a hint of chocolate and herbs. It has good structure, balance, flavour and acidity, making it a great variety to pair with hearty, tasty peasant dishes like this stew.
If you want to make a popular and simple Spanish dish at home, here is my gambas al aioli tapas recipe (prawns in garlic and chilli oil). The post also includes more Spanish food and wine pairing ideas and suggestions.
If you want to learn more about Spanish wine and food pairing and cooking, check out the Instituto Cervantes Dublin website or subscribe to its newsletter.
The Instituto Cervantes (Lincoln House, Lincoln Place. Dublin 2) is Dublin's official Spanish Government Centre. This public institution was founded in 1991 to promote Spanish language teaching and knowledge of the cultures of Spanish-speaking countries worldwide.
Apart from learning Spanish, there are plenty of workshops, like the Spanish cooking one I did, art exhibitions, concerts, flamenco workshops, a drama club, a cinema club, a library and workshops for children. It really is a fantastic resource for all things Spanish.
"Cheers"
Click here for my Madrid food and drink guide.
Click here for my guide to La Boqueria food market Barcelona.
You may also enjoy my Rosé Wine Guide and Recommendations.
Please check out my blog post on Rosé Wine Food Pairing – Expert Tips.
If you like this Spanish food and wine pairing post, please share it with others.
Related posts…
Sorry, no posts were found.