Cologne City Guide – all you need to know about visiting this beautiful city on the Rhine in Germany.
My Cologne City Guide will tell you how to get to the centre of Cologne from the airport. It will give you some suggestions on where to stay and my top things to do in Cologne. Going to Cologne for the Christmas markets? Make sure you read my guide to the Cologne Christmas markets.
Cologne is an interesting city full of history and pretty streets to stroll around with very friendly and welcoming locals. There are plenty of things to do, too. I spent three days and four nights here. Whilst I got to see a lot of the city there was so much that I didn't get to do. I guess that means I just have to plan a return trip and write a Cologne City Guide Part II.
Cologne is perfect for all
Many people go to Cologne for the Christmas markets, which is a wonderful time to visit. Also, it's a great place to enjoy a relaxing romantic getaway or a fun-filled trip with a group of friends. It's a perfect solo getaway too. I came here by myself and had a very chilled out time. History buffs will love it as will food and drink aficionados. Additionally, if you enjoy thermal baths, you are in for a treat. It's also a very family-friendly city with plenty of museums and activities and entertainment options to keep the children happy. I cover all of these in this Cologne City Guide.

Cologne City Guide practical information
Cologne City Guide – getting to Cologne centre from the airport
From Dublin, you can fly direct with Ryanair to Cologne/Bonn Airport. From the airport, it's just a short train or taxi ride into the city centre.
Getting the train from Cologne/Bonn Airport into Cologne City
Cologne/Bonn Airport has its own train station. This is very handy and it takes just 15 minutes to get into the centre of Cologne. Take the S-Bahn S13/S19 towards Düren and get off at Köln Hauptbahnhof.
A one-way adult ticket costs €2.80 (CityTicket, Preisstufe 1b) and it is €1.60 for children. Tickets are valid for 90 minutes and can be purchased from ticket machines at the stations.
The S-Bahn trains depart every 20 minutes on weekdays and every 30 minutes on weekends and public holidays.
For more transport information to and from Cologne/Bonn Airport check out the Cologne Bonn Airport Bus and Rail website.
Getting a taxi from Cologne/Bonn Airport into Cologne City
A metered taxi or mini-cab from Cologne/Bonn Airport to the centre of Cologne should take about 20 minutes (traffic dependent). It will cost about €25, but first, ask the driver roughly how much it will cost.

Cologne City Guide – accommodation
I stayed in the cheap and cheerful City Hotel Storch. I was here by myself. All I needed was somewhere to sleep with good Wi-Fi and decent breakfast. City Hotel Storch did the trick. The hotel is quite small and quiet. It has a nice atmosphere with guests chatting with each other. I felt safe there. It was also very clean.
I booked a single room with external private bathroom meaning the toilet was just a few meters away in the hallway but the shower was in the bedroom. The other rooms have en-suite facilities. The bathroom was small but the shower was good and that's all I really cared about.
The single bed was comfy. I slept soundly each night. The room was warm and there was a tv as well as a table and chair so it was great for getting some work done in the room.
As a welcome treat, there was a bowl of fresh fruit and a bottle of Auerbach Sekt Trocken in my room.
The staff were very friendly too and they kept the breakfast buffet stocked up. There was ok coffee from a capsule machine, fresh bread rolls, traditional German deli meats, small German sausages and cheeses. There was also fresh fruit, cereals, yoghurt, boiled eggs, fruit juice, fruit salad and slices of cake.
If I was going back again by myself I would stay here and if I was looking for a cheap getaway with friends I would also come back here.
For me, the best thing about this hotel, apart from the price, is the location. It is a few minutes walk away from the Media Park where there is an ice-rink in winter and you can walk to Cologne Cathedral in about 20 minutes. In fact, you can walk nearly everywhere in Cologne city centre in about 20 minutes from this hotel. I spent very little money on transport whilst staying here.
Alternative accommodation in Cologne
However, if you are looking for a family-friendly hotel check out the Hotel Casa Colonia.
If you are looking for a more romantic hotel check out The Humbolt1.
If you are looking for a hostel check out the Cologne Downtown Hostel.

Cologne City Guide – getting around
I found Cologne to be quite compact. I walked everywhere. however, I love walking and will spend hours upon hours just rambling around a city. If you are a bit pressed for time, Cologne is well served by tram, subway, bus and suburban railway.
S-Bahn means Schnellbahn ("fast tram") and it stops at the train stations.
The trams, subway and bus all use the same ticket. You can buy a one day pass for one person or a one-day pass for five people. Also, you can buy a week-long or month-long pass. Cologne is very well geared up for tourists. On the Kölner Verkehrsbetriebe (KVB) website there is plenty of transport information. There's a handy print out of the public transport system including ticket types, fares and maps.
Cologne City Guide – top things to do
Lindt Chocolate Museum / Schokoladenmuseum
The chocolate museum is located in the Rheinau harbour, directly in front of the old town, near the Cologne Cathedral in a building that looks like a glass ship. If you come at Christmas time there is a market right in front of the Chocolate Museum.
The Chocolate Museum in Cologne is huge and fascinating. When you arrive you walk through a history of chocolate and chocolate makingexhibition then you go up into the Lindt factory where the magic happens. You actually watch the chocolatiers make the mouth-watering Lindt creations and you can get them to make your own bespoke chocolate bar to take home or eat before you even leave the building.
You get a few samples of chocolate as you go around but it isn't enough, it merely whets your appetite. However, lucky for you, but not your wallet or waistline, there is a chocolate shop when you exit the factory.
There's also the scrumptious Chocolate Grand Cafe.
Please, do yourself a favour and treat yourself to a slice of cake and a coffee or hot chocolate. I recommend the himbeer sahne torte (raspberry cream tart). Grab a table by the window and sit back and relax and watch the city of Cologne and the Rhine river go by. It is well worth it and the cakes are divine.
Claudius Thermal Baths / Claudius Therme Koln
I love thermal baths and the ones in Cologne are magnificent. For me, the Claudius Therme is very relaxing and health orientated and full of locals, there didn't seem to be many tourists. It's more modern than other European baths but it is huge and has so many different types of thermal suites. The various thermal pools of the Claudius Therme include a large central pool and several indoor and outdoor pools. There are healing pools, swimming or sitting pools, hot tubs, and a hot-and-cold grotto. Massage jets will ease your aches away, as well the jacuzzi, neck showers and a counter-current pool. There is also a salt-water floatation pool nestled in the Rose Terraces where you can enjoy the feeling of weightlessness in a 15 per cent brine solution (much like a tin of tuna), enriched with Dead Sea salt (fancy tuna).
There are three large sauna areas in the Claudius Therme.
By Maksym Kozlenko – Own work, CC BY-SA 4.0, https://commons.wikimedia.org/w/index.php?curid=46752025
There's a 'mild' herbal steam bath (there was nothing mild about it), a panoramic sauna with a view of Cologne Cathedral, some Finnish saunas, a Seraglio Bath with beauty treatments, a Russian banya and a very intense hot earth wall sauna with a fireplace.
Additionally, throughout the day there is a range of services and various rituals on offer. These rituals involve infusions being poured on the hot stones.
I took part in a salt and honey ritual where a woman stood in the middle of the sauna, which was turned up to eleven, and whipped a towel around her head to create a cooling breeze. She then poured herbal water on the stones before letting us out to rub ice and salt and honey all over our bodies before heading back in for more punishment, I mean 'wellness'.
There are women-only saunas and there is also an exclusive Ladies Day.
Ladies Day takes place in the indoor area of the sauna facility every Monday (apart from on public holidays and during the Christmas holidays). I went on the Ladies Day and I loved it. It was all women and we were all naked, a personal preference, not enforced and it was a very relaxing day and one I cannot wait to go back and experience again.
You don't have to go naked if you don't want to, in fact wearing swimwear is compulsory in the thermal area and bathing area, however, you do have to get naked in the sauna area. The floatation pool can be used with or without swimwear.
Evenings and weekends are especially nice.
For a very relaxing and almost romantic experience, in the evenings and at the weekends, underwater music is piped through the pools and there are soothing lights and sound effects to help you relax and unwind even further. The Claudius Therme Koln is my 'must-do' when in Cologne. It is one of my favourite thermal baths in all of Europe.
4711 House of Fragrances

Visit the home of the famous "Eau de Cologne" manufacturer "4711", which is situated opposite the opera house. Hang around until you hear the house carillon which chimes on the hour. The shopkeepers are happy for you to browse around and just 'window shop'.
El-de-Haus
This is the NS Dokumentationszentrum (NS Documentation Center of the City of Cologne) but it used to be the headquarters of the Gestapo. It is now a very sobering and fascination museum documenting the Third Reich.
The Gestapo were here from 1935 to 1945 and set up ten prison cells in the basement, as well as some guard rooms, primitive bathroom facilities and a gallows. The upper floors were used as the Gestapo's Cologne HQ.
The cells were crammed with prisoners and confessions were extracted via torture and executions were also carried out on site.

As depressing as all this is, El-de-Haus is such an important place to visit.
I learned so much about the atrocities of war and what happened to the City of Cologne and its people during World War II. There is plenty to see, read, watch, touch, listen and feel. As a result, you won't be bored. It is a very well thought out exhibition and is sensitively handled and yet packs an emotional punch. This isn't just a place for those interested in history, it is for those who care about humanity and not forgetting what happened.
Cologne Cathedral / Kölner Dom
No Cologne City Guide would be complete without a mention of the city's star attraction, Kölner Dom. This is the fourth tallest church in the world and it is breath-taking both inside and out. The Cologne Cathedral towers can be seen from almost every point in the city. You can go inside and wander around and take photos. You can also climb up 553 steps in the South Tower to get a panoramic view of the city. The Cologne Cathedral opening hours are available on the City of Cologne's website.
Love Locks Cologne
Want to lock your love in whilst in Cologne and take part in a romantic tradition? Fix a love lock padlock on to the railings on the Hohenzollern Bridge. However, to ensure everlasting love, you then have to throw the key into the Rhein river below.
Cologne City Guide – what and where to eat in Cologne
Currywurst
Although not traditional to Cologne, if this is your first time in Germany then try currywurst mit pommes. Currywurst is a steamed and then fried traditional German bratwurst pork sausage that is cut into slices and smothered with curry flavoured ketchup and served with skinny French fries. It is the best German fast food ever and you can get a really good portion at the Currywurst and Pommes shop at Media Park in Cologne. I am now addicted to curry ketchup.
Bratwurst
Tuck into a traditional German hotdog, which is a huge bratwurst sausage in a crusty white bread roll with stripes of ketchup and yellow mustard decorating this handheld feast. They do a really good one at the pirate ship at the Harbour Christmas Market. However, any wurst street food vendor will do a decent one.
Coffee and lunch in Cologne
Kaffee & Kuchen
For great coffee and salads and sandwiches, the Kaffee & Kuchen café is wonderful and the food is fresh and vibrant and very tasty.
Cake in Cologne
Madame Miammian
For the cutest, most creative, exquisite homemade cakes and candies head to Madame Miammian and indulge in a sweet treat and hot drink.The cakes do look too pretty to eat but once you take one bite you'll be longing for the next.
I went here for my 34th birthday and treated myself to the best-ever chocolate birthday cake. It was a fabulous way to celebrate.
Himmel un Ääd (Heaven and Earth)
Brauhaus Früh am Dom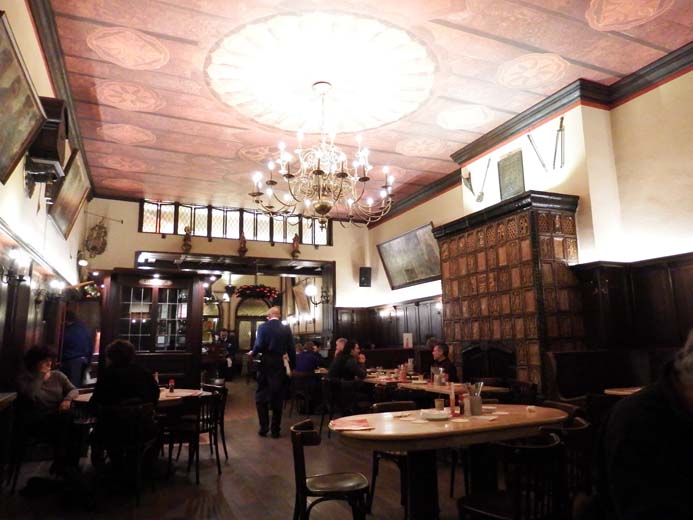 If you want to experience a traditional old Cologne establishment then head to the Brauhaus Früh am Dom (Früh brewery at the cathedral). This traditional brewery is something of a Cologne institution. The Brauhaus has been here since 1904 and is a meandering labyrinth of chambers, each with its own atmosphere. You can enjoy a Kölsch beer and typical regional dishes served by the waiters at ancient bare tables.
The food is very good indeed.
The prices are reasonable too and it is an excellent way to immerse yourself in traditional Cologne food, drink and ambience and enjoy a hearty German meal and welcome. I ordered the regional dish called Himmel un Ääd (Heaven and Earth), which is a very tasty mix of mashed potatoes (the earth) and apple purée (the heaven) served with fried melt-in-the-mouth blood sausage and topped with crispy fried onions that gave the dish a lovely contrasting crunch. This dish cost €9.20 in this very popular restaurant but you can find it a lot cheaper in less central places.
Halve Hahn (Half Chicken)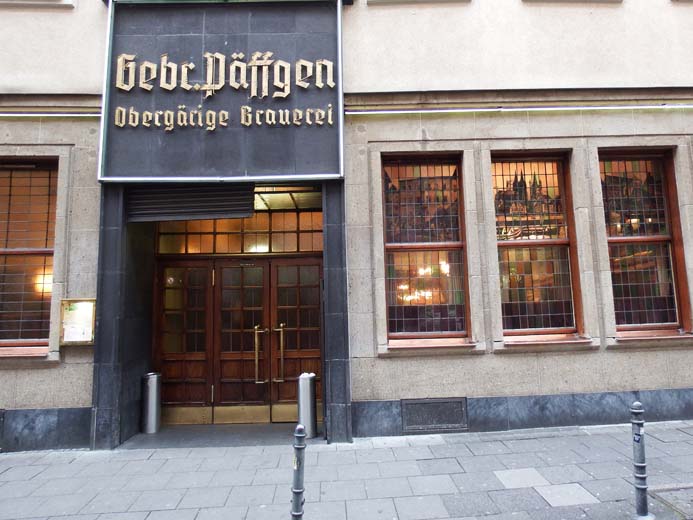 Another wonderfully traditional Brauhaus that I wandered into was Hausbrauerei Päffgen. The dining room was huge with over 200 tables but the place was very quiet and not very busy. I was surrounded on all sides by towering dark-wood walls with decorative panelling. The large windows had colourful stained glass. It was fabulous and exactly the type of place I was hoping to find. I wasn't that hungry, but I had heard about the local dish of "Halve Hahn" (half chicken) and I wanted to try it. It's actually found under the käse (cheese) menu and it isn't chicken at all. It is a rye bread roll with a thick cut slice of Dutch cheese served with butter and mustard. It is a perfect snack for keeping the energy levels up and a cheap way to try some regional dishes in a traditional restaurant. The dish cost me €4.50.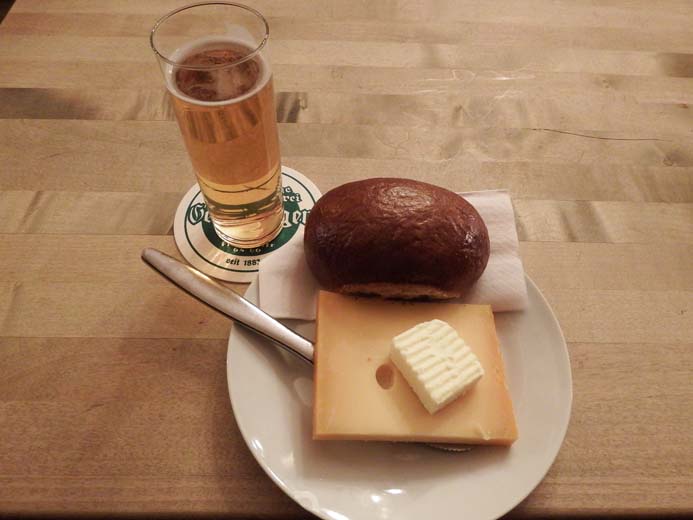 I'm not actually doing this place the justice that it deserves. It is marvellous and fascinating and full of history and character. There was so much to see and take in here that I urge you to find it and go and order a few drinks and do some people watching. Watching the workers pour beers from the barrels is so interesting and it really does give you a feel and appreciation for how the Brauhaus used to work.
Speaking of German beers…
Cologne City Guide – what to drink in Cologne
With more pubs and taverns per capita than any other major city in Germany when in Cologne you'll never be too far away from shouting 'Prost!'.
The local beer is Kölsch and it is no surprise that it is served everywhere. When you order a Kölsch it is served in a 200ml glass known as a 'Stagen'. When the waiter brings you a beer they will mark the beer mat. The waiters will keep bringing you a Stagen of beer unless you place your beer mat on top of the glass to signify that you do not want any more. When you are done they will total up the marks on the beer mat to see how many glasses you had and they'll calculate your bill. In Brauhaus Früh am Dom my beer was €2.60 but again there are cheaper places to have a beer.
Other local drinks to try are Sünner gin and vodka.
Cologne City Guide – bakeries and sweet treats
If like me you have an insatiable sweet tooth then you are going to love Cologne. There are bakeries everywhere luring you in with the heady aromas of sugar and spice and all things nice. Keep room in your tummy for sugar-coated treats like apfelschnecken, a sugary apple doughnut type creation, and streuseltaler, a yeast dough pastry with butter crumble and fondant.
Additionally, if you are there for the Cologne Christmas Markets then you really should try to find the cute weckmann which is a pastry made from Stuten, a sweet leavened dough and is shaped like a man with raisins for eyes and he has a clay pipe. Not only does it look great it tastes great too, a bit like a fruit-filled brioche.
"Happy travels"
Have you been to Cologne? What did you do and see and eat and drink? What would you add to the Cologne City Guide? Tell me all about it in the comments below. I love to hear from you.
Click here for my Madrid food and drink guide.
Click here for my blog post on the Cologne Christmas markets.
You might also like my guide to La Boqueria food market Barcelona.
Looking for some far flung travel inspiration? Have a read of my Galapagos Islands Travel – Dream Trip post.
If you liked this Cologne city guide, please share with others.
Related posts…