Spelt bread recipe
According to the Irish Nutrition and Dietetic Institute, approximately 5% of Irish children and 3% of Irish adults suffer from food allergies.
The following foods account for nearly 90% of all allergic reactions:
Cow's milk

Eggs

Shellfish

Fish

Soya

Peanuts

Wheat

Treenuts
Food intolerance symptoms are usually described as unpleasant reactions to particular foods and occur when our body cannot digest those foods successfully. Can you tell I'm trying to sound authoritative here? Just go with it.
"The most common food intolerances are to gluten and lactose"
However, my spelt bread recipe is free from the most common allergens and is low in gluten.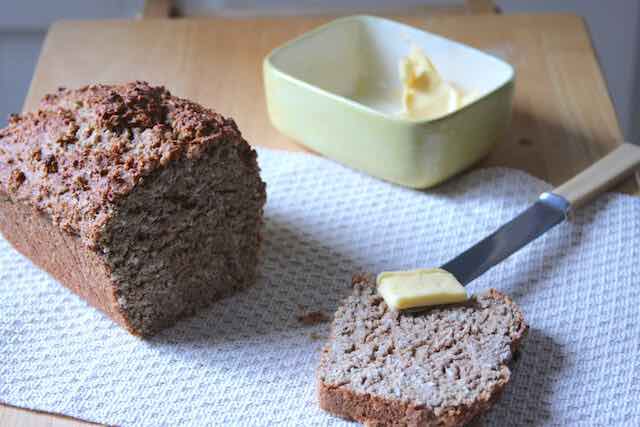 With increased food allergies and intolerance comes greater awareness and greater dietary choices. Supermarkets now stock dairy-free milk, butter, cheese, and yoghurt alternatives. Those with gluten intolerance now have a choice of bread, cakes, and other baked goods made with a wide range of gluten-free flour and grains. Check out the wonderful blog Dublin Gluten Free for a list of gluten-free food alternatives and other great resources.
However, even with all this great choice and convenience, I still hear many allergy sufferers bemoan gluten and dairy-free bread with cries that they miss freshly baked, moist, tasty and substantial bread. Gluten-free bread is often dry and crumbly. Due to health reasons, I was on a gluten-free diet for a year and found I did not bother with bread substitutes because they tasted like corrugated cardboard.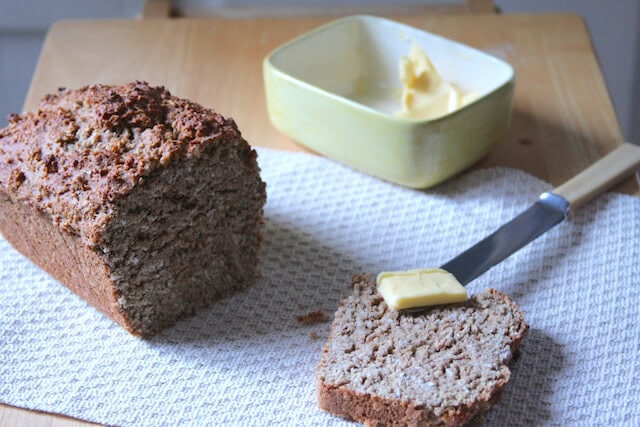 Tasty filling bread
With this in mind, I set out to create a recipe for tasty and filling bread that will satisfy and cater for most people with specific dietary requirements. It will also appeal to those following a low-sugar, unprocessed diet or those still managing to stick to a healthy diet (what are your secrets?).

I created this spelt bread recipe so it can be enjoyed fresh (a lot of allergy-friendly bread needs to be toasted to taste better). It goes great with soup, is delicious, smeared with butter, jam, or both (feck it, why not?), and holds together well enough to make a sandwich. This was a tough challenge, trying to cater for many different diets, but one I enjoyed, and I hope you enjoy it too.
So here it is, my free from / food intolerance / allergy-friendly…
Spelt Bread Recipe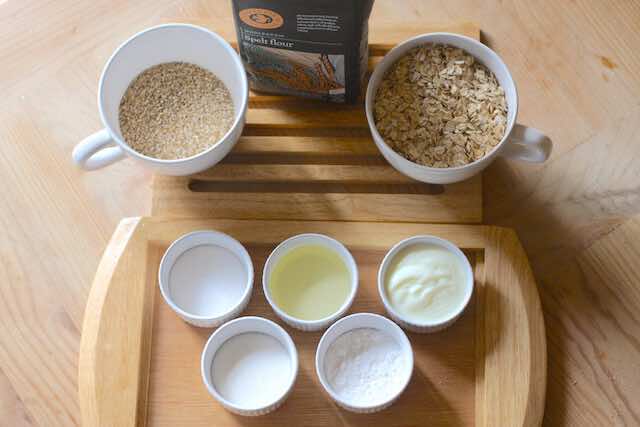 Prep Time: 10 minutes
Cook time: 50 minutes
Yield: 1 loaf
Ingredients
400 grams of whole grain spelt flour (spelt flour does contain a small amount of gluten but is well tolerated by most. However, if you are intolerant to spelt flour, just substitute brown rice flour or any gluten-free flour)
2 teaspoons of bread soda (gluten-free if necessary)
1/2 a teaspoon of salt
2 teaspoons of fruit sugar (fruit sugar is sweeter than sucrose cane sugar and has a lower glycemic index, which is preferable for diabetics. However, if you don't have fruit sugar, substitute granulated sugar at a ratio of 3 to 1. If you are on a no-sugar diet, leave it out)
100 grams of pin-head oats (gluten-free if necessary)
150 grams of porridge oats (gluten-free if necessary)
4 tablespoons of sunflower oil (or any other mild-tasting oil)
500 grams of natural/plain dairy-free yoghurt or 450 millilitres of milk – soya/rice/almond etc. (use leftovers to make my lemon yoghurt scones or raita)
As you can see from the ingredients, this bread can be easily adapted to suit all tastes and dietary requirements.
Prep
Grease a 2lb loaf tin and line the bottom with parchment paper.
Pre-heat oven to 190°C / 170°C fan assisted / 375°F / gas mark 5.
Instructions
Sieve flour, bread soda, salt, and fruit sugar into a large mixing bowl.
Add in pinhead oats and porridge oats.
Mix in the oil and combine for a few minutes with a wooden spoon.
Add in the yoghurt or milk a little at a time and mix well. You may need to add more of the wet ingredients depending on the flour used. Use enough until the mixture is thick and sticky (like the folk in Coppers of a Saturday night).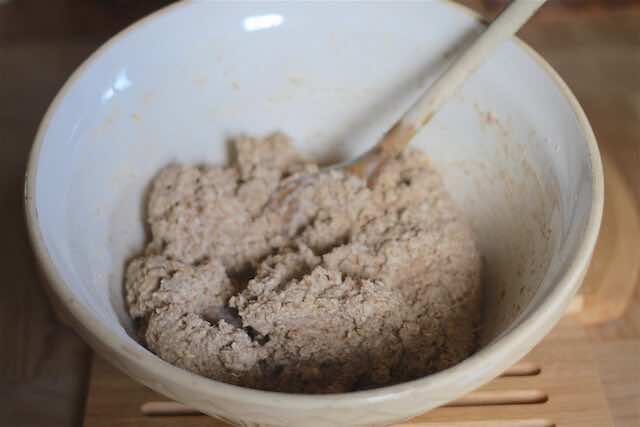 Pour the mixture into the tin.
Bake on the middle shelf for 50 minutes. Or until a skewer comes out clean or until the bread 'sounds' done. Or whichever way you like to test your bread's doneness.
The finished product should be moist and dense (like your one next door, wha?) with a wonderful doughy texture.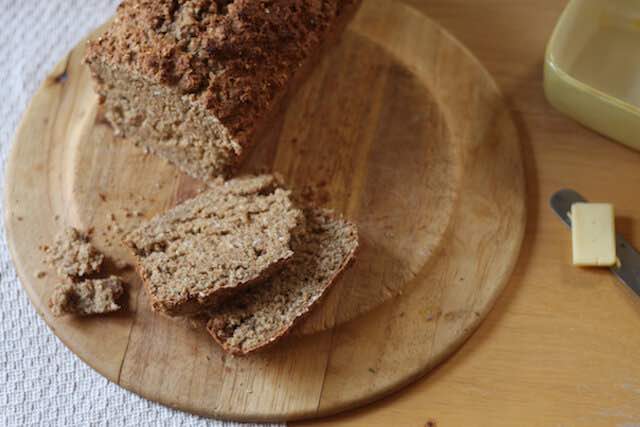 Simples, no?
Cut yourself a slice and eat it whilst it is still warm and before the smell of freshly baked bread draws everybody into the kitchen to see what's cooking. This bread disappears quickly.
"Bon Nomnom"
So, what do you think of my spelt bread recipe? Did you try it out? Did you like it? What improvements would you make? Share a photo of your attempt at this spelt bread recipe, or leave feedback and comments below. I love to hear from you.
You might also like to try my light and fluffy scones recipe.
Be sure to check out my honey butter recipe, which is delicious smeared on a warm slice of the spelt bread.
Use any leftover yoghurt in my lush lemon yoghurt and sultana cake recipe.
You can use any leftover milk or spelt flour by making my fluffy American pancake recipe.
If you like this spelt bread recipe, please share it with others.
Related posts…