Getting ski fit, bit by bit.
Did I tell you that I used to chase the winter? That I was a proper snow bunny?
Make a cuppa and pull up a seat…
My first ski holiday was a heartbreak holiday. I was newly single (ok, nine months single, but the wound was still fresh) and I needed a distraction to help me get over the boy (you can read more about him here). My Australian housemate (hi Dan!) asked if I want to go on a ski holiday to Austria as he had nobody to go with. I said yes and on Boxing Day 2004 – the same day as the Indian Ocean earthquake and tsunami – I boarded a plane to Munich.
The resort was, at the time, a bit of a well-kept secret, but now it is world famous. I was in Kirchberg in the Austrian state of Tyrol in the Kitzbühel district. This is one of the most beautiful places I have ever been to. Back then, it was a cheap ski destination full of Australian and New Zealand backpackers. Nowadays, Kirchberg is an upmarket and expensive resort. I stayed in the legendary Club Habitat hostel, which has now, sadly, closed down.
My first day on the slopes didn't go too well.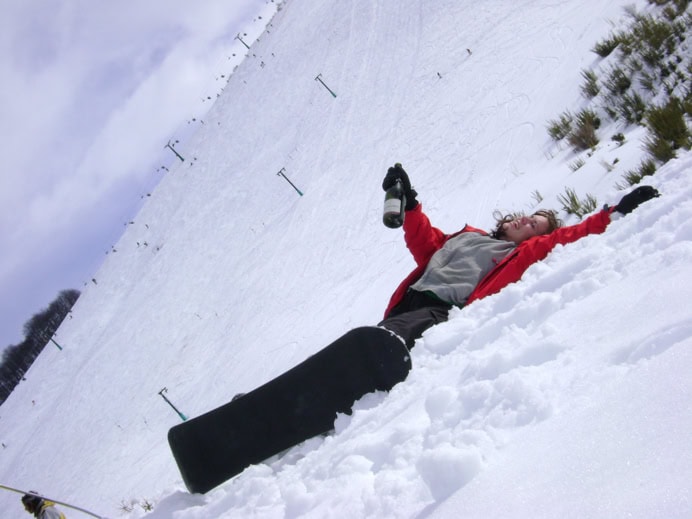 I decided to be one of the cool kids and take up snowboarding and not skiing. I was having my first group lesson and everything was going great. Then I got a little air and did a little jump – woohoo – and I even landed and stopped ok. This was completely by accident, by the way, I wasn't some sort of natural snowboard pro. Then my board slipped and I landed on my tailbone. Ouch!
Unbeknownst to me, I had ripped open a disc but it turns out that Jägermeister, copious amounts of Jägermeister, is great at dulling pain. For the next week, I still continued with my lessons and self-medicating with that tasty teutonic beverage.
It wasn't until I got back to the UK (where I was living at the time) that I sobered up and the excruciating pain materialised.
To cut a long story short, I needed two operations.
I walked with a limp for years. In total, I was in pain and walked with a limp for about ten years. I'll spare you the details of the operation or how my mam had to help me in and out of bed for years. But let's just say I honestly thought I would never be able to walk or move ever again without being in agony.
However, the thing is, even though I was in all that pain, it didn't stop me from chasing the winter.
You see, I loved my first ski holiday so much that I went back again in February and again March. I then quit my job as a school teacher to become a watersports instructor and after my first summer season job, I went back to the slopes.
I did a full winter season back in Kirchberg working behind the bar in the swanky Hotel Alexander and the grotty London Pub. Working all night, I would get a few hours sleep and then snowboard all day, saving every single penny that I could.
At the end of the season I had saved up about €5,000 and this is what I used to go travelling around the world.
After Kirchberg, I went to New Zealand and worked on the ski slopes as a childminder. I worked in the Cardrona Alpine Resort. I then went to Argentina and worked in Pudu Hostel in Bariloche and snowboarded in Cerro Catedral Alta Patagonia Ski Resort.
But the thing is, I realised that I wasn't progressing with my snowboarding. I couldn't link my turns properly. I had damaged by back but I think I did more damage to my mindset. My brain just wouldn't let my body move the way it needed to on the snowboard. It was holding me back. I didn't feel nervous on the snowboard but I think deep down I must have been afraid of hurting myself again.
The last time I snowboarded was September 2008.
I love winter holidays so much. I love being on the slopes. The crunch of snow underfoot is music to my ears. I feel far sexier in my ski suit than I do in a bikini. I love being outdoors and active all day and crashing from tiredness at night. The long lingering lunches on the mountain and the apres-ski mayhem. I miss it so much.
So this year I have decided to get back on the board and hit the slopes again. Well, not back on the board. I am going to try skiing as I am hoping that my mental block won't take hold if I take up a new sport.
However, this time round I am going to take the sensible approach to getting back on the slopes. I am going to do everything I can to prevent another injury.
I am going to get ski fit.
And I am going to get ski fit with Anytime Fitness in Clondalkin.
Yay, my first long-term collaboration! For me, working with Anytime Fitness is a great match. The gyms are open 24 hours and as I have such an erratic schedule (that freelance life) I never know when I'll be free to go to the gym. As the Anytime Fitness gyms (there are three in Dublin) are open 24 hours I can go whenever suits me. On top of that, membership gets you access to all of the Anytime Fitness branches across the world. That means when I am travelling, which I do a lot, I will have no excuse not to keep up my fitness routine. Yay! Oh, wait, what have I gotten myself into? Ugh!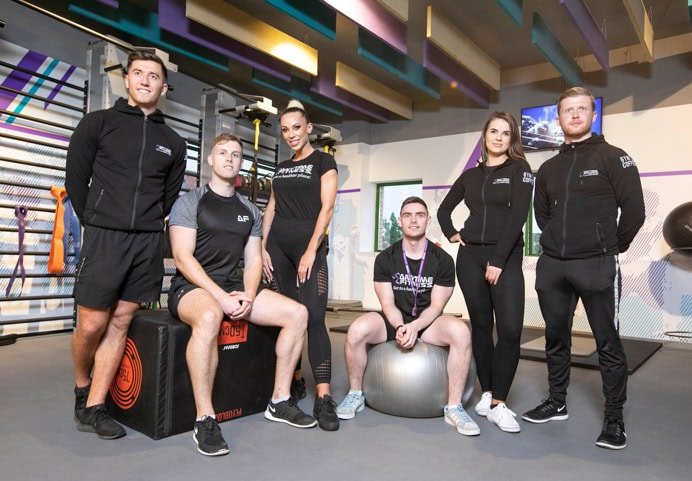 So Mike, my lovely trainer, is putting me through my paces to get me ski fit.
And over the next few months, I'll be documenting my road to fitness and the slopes. I'll be telling you about my ski fitness routine and how it is helping me and updating you on my progress getting fit for my ski holidays.
I'll also be bringing you a lot more ski content, so if there is anything you would like to know about working on the ski slopes, or getting fit for your skiing holiday or what gear to bring or how to score the ski instructors (well, that's what I spent most of my time trying to do), then just let me know in the comments below.
"Thanks for reading"
You might also like my guide to becoming a snow sports photographer.
Be sure you check out my snow sports photography portfolio too.
And if you want to learn more, here are my 18 top photography portfolio tips.
If you liked this ski fit blog post, please share with others.
Related posts…