Learning to Ski on an Artificial Slope – this post is in collaboration with the Ski Club of Ireland in Kilternan.
If you read my last post, From Back Surgery to Back on the Slopes, you'll know that I am in training for my first ski holiday in ten years. I am trying to get ski fit.
I'm getting physically fit for the slopes with the help of the lovely folk at Anytime Fitness.
I am also learning to ski with the lovely folk at the Ski Club of Ireland.
I used to snowboard. But a nasty fall left me with a back injury and some sort of psychological damage too. When I tried to get back on the snowboard my brain just wasn't having any of it. It was like it remembered the pain and was doing all it could to prevent me from falling again. No matter how hard I tried, I just couldn't make any progress on the snowboard.
So, I have decided to forget snowboarding and I am learning to ski instead. However, I am not waiting until I get on the slopes to learn how to ski. I am learning to ski in Dublin. The Ski Club of Ireland has an artificial ski slope in Kilternan in South Dublin.
But it isn't just skiing, at the Ski Club on Ireland in Kilternan you can learn how to do lots of snowsports including snowboarding, freestyle, ski racing and snow tubing.
There are a few reasons why I am learning to ski before I go on my ski holiday.
First, it is so much cheaper to learn how to ski in Dublin than it is on the actual slopes. For example, Austria is the top destination for Irish holidaymakers. If we look at the prices of ski lessons in Soll, one of the most popular resorts, three days of beginner Skischool (including a beginner lift pass) costs €159 per adult. That's two hours of lessons for three days. At the Ski Club of Ireland in Kilternan, you get 8 hours of lessons for €160.
Not only that, but you actually spend more time skiing on the ski slope in Dublin than you do on the real slopes. Hear me out. When you are in a ski resort you have to walk for ages to get to a chairlift. You queue for a chairlift. You take the chairlift up to the top of the mountain and then you ski down. If you are a good skier, you will probably get down in one go and then you do it all again.
If you are not a good skier (like me), you will probably spend a lot of time falling over, dusting yourself and your ego down and then going again. It is a lot of stop-start on the slopes. On the artificial ski slope, there is none of that – well, apart from the falling. I'm still falling over. Everything works so quickly and you spend more of your time skiing and you cover a lot of kilometres during your lesson. Alright, you don't exactly get an epic long run, but you do spend a lot of time actually skiing.
Learning to ski at the Ski Club of Ireland in Kilternan.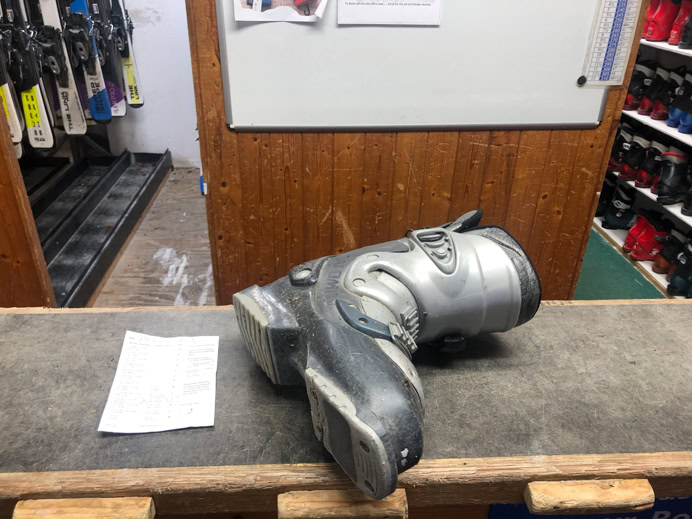 You rock up to the Ski Club slopes about thirty minutes before your lesson begins. You get your ticket and head to the desk where you'll be asked to fill in a docket with your weight and height. These measurements determine the size of the skis you get. It is important that you get this right as the proper equipment will make all the difference.
You will then be given ski boots to try on to make sure you are happy with the size and fit. Boots should be snug. Your heel should not lift up in the boot.
Pro-tip, make sure you have proper ski socks. These should have no big seams and be a smooth as possible. You do not want to tuck anything else into your boot. Just have your socks in the boot. This will really help with comfort.
Another pro-tip: make sure you trim your toenails before your lessons.
There are secure lockers for you to use for your valuables. The lockers take a €1 coin and you get this coin back at the end.
On the slopes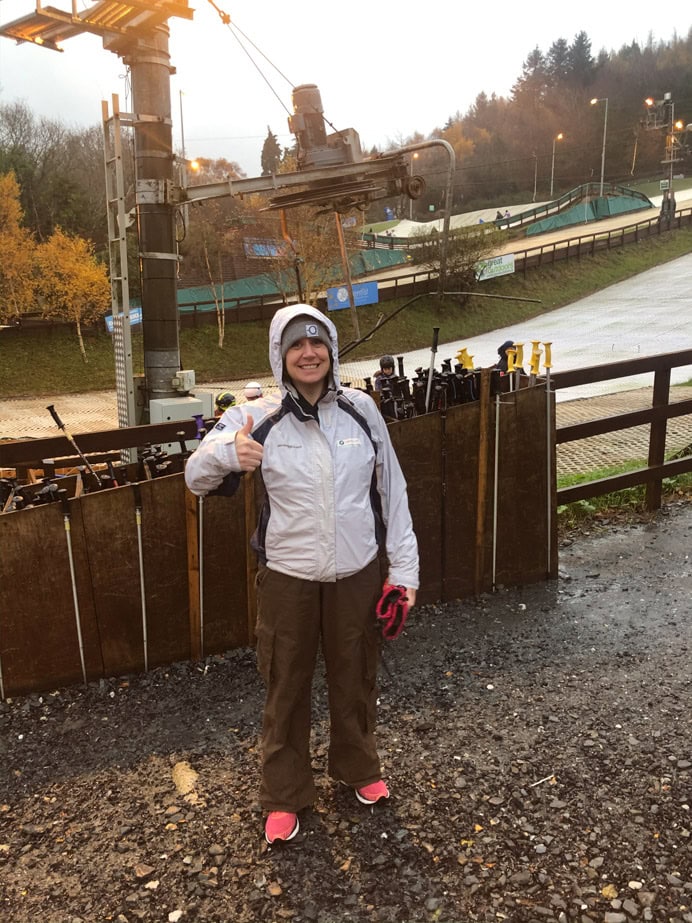 When you have your equipment, you head out to the slopes picking up your ski poles along the way. Your instructor will lead the way and show you how to carry your equipment so you don't hurt yourself and so you look super cool on the slopes – over your shoulder and tips down.
Once out on the slopes, you'll learn how to clip into your skis and how to sidestep up the slope.
There are different slopes for different abilities. The beginners' slope is very gentle and not intimidating at all. But there are steeper slopes for when you improve.
Group size varies, there were four of us in the first lesson and six of us in the second lesson. During the second lesson, the group was split in two so we could get even more tailored instruction.
My first lesson
I learned how to snowplough, how to stop and how to hold myself in position at the top of the slope. I also learned how to slightly turn my skis to the left and right. We then moved on and went up the travelator to go slightly higher on the nursery slope. We practised skiing down with poles, without poles, with our hands-on our knees, shins or behind our heads and we also had a go at weaving in and out of a few obsticals.
I only fell once, but falling on the slope doesn't really hurt and the material is quite soft and cushioning. Falling over taught me how to help myself up off the slopes. A much-needed skill.
I was wrecked after my first lesson. We had a good two hours on the slopes and it was non-stop action from the get go. I honestly never spent that much time standing up and going on a slope before.
My second lesson
It was the same for the second lesson – two hours of non-stop instruction and skiing. You really do feel that you are getting great value for money.
On the second ski lesson, I learnt how to do a little hop whilst skiing and I learned how to sink into my skis at the apex of my turns. I also learned how to control my speed and movements a bit better.
I was so surprised how quickly I took to skiing as I'm not naturally sporty or athletic and my fitness level is probably below average. So I have to put it down to the great tuition and the amount of time you actually spend skiing.
What to wear to a ski lesson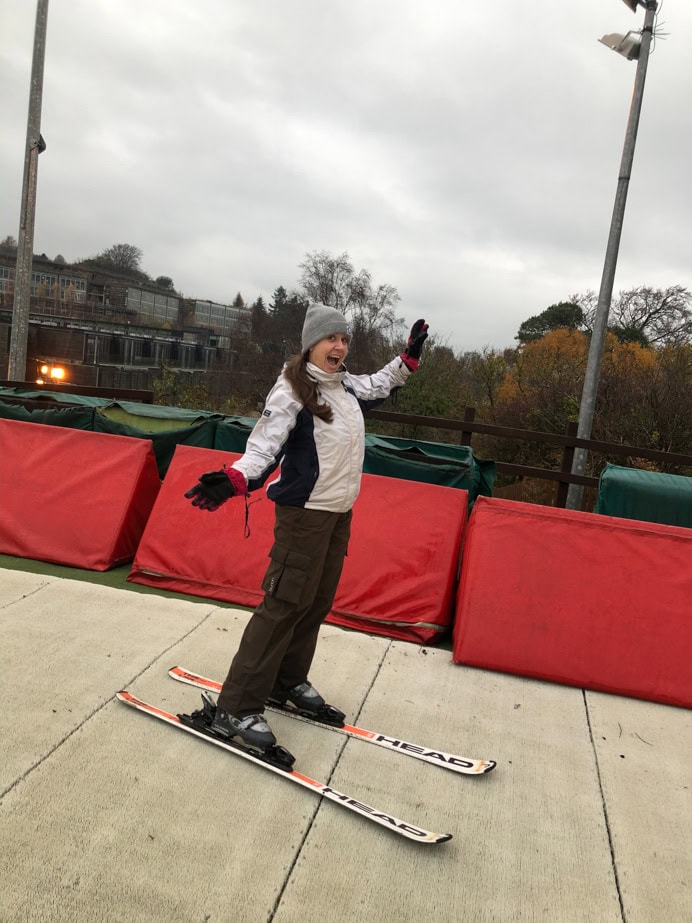 The slope is studded with sprinklers that spray water throughout the lesson to keep the slope wet. So you need some waterproof trousers. Even a pair of leggings with waterproof pants, or golf trousers, over them would do. You need a pair of gloves and maybe a hat but these don't have to be waterproof. Ski socks are a great idea otherwise long tube socks will do. However, if they have thick patterns or seams they might dig into your legs. It is a good idea to wear layers. I wear a thermal top and a t-shirt on top of that and a hoodie and then a raincoat. I am always too warm but I just open my jacket and hoodie to cool down. You don't need goggles.
Apres-ski lesson
When the lesson is over, you just walk back into the ski club office and hand back your equipment.
It's all very easy and it is a lot of fun. The instructors are gas and great craic. They really make the lessons enjoyable and there is a great vibe on the slopes.
There are people of all ages and abilities on the ski slopes too. We met a gang of UCD students getting lessons before the big college ski trip. They were doing lessons to save a bit of money on lessons when they get there. Some were hoping that they wouldn't have to get any lessons at all when they hit the Alps.
One guy got the lessons as a gift from his parents. He is going on his first ski holiday in February. His mates can all ski and he wants to be able to ski with them and not have to spend the whole holiday on the nursery slopes.
Leaning to ski on an artificial ski slope.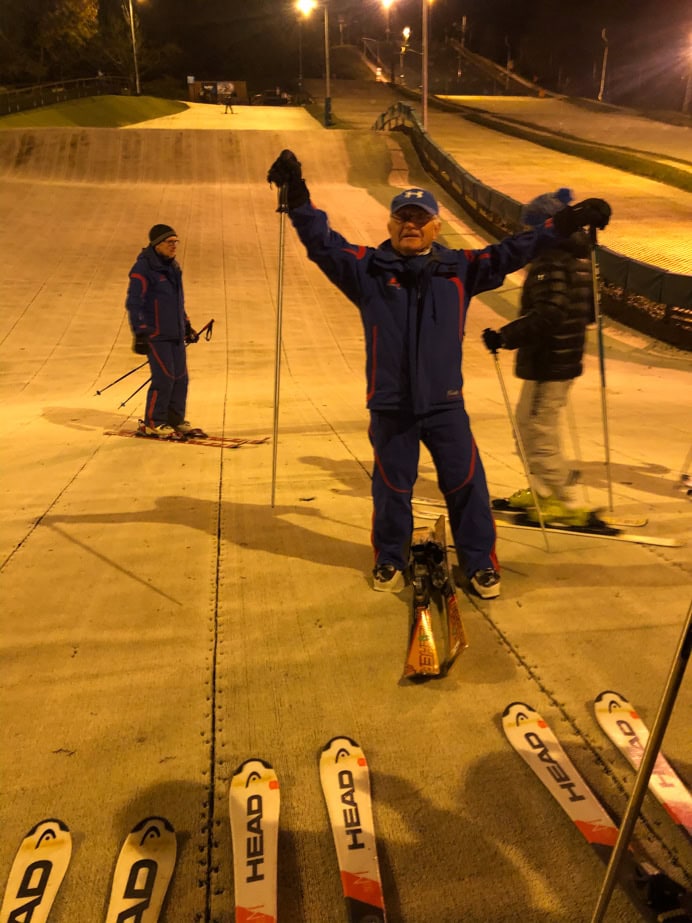 For me, I wanted to learn so that when I get to the ski slopes I don't have to spend my first few days learning the basics. I can get lessons at an 'improvers' level. This means I will be able to go straight up to the blue or even the green slopes and get lessons there. This will be better value for money as I will be making the most of my ski pass. It also means that I can see more of the ski area and feel like I am making the most of my time on the slopes.
Even after just two ski lessons with the Ski Club of Ireland, I can stand up, go, turn, stop and use the travelator. My confidence is sky high and I would have no problem trying out a blue or green ski run. Whether I make it down in one go, or one-piece, is another issue. But I certainly feel confident enough to give it ago.
Ideally, when you get lessons you would be able to make the same class each week. With my schedule or lack thereof, I could only make the night time class on Tuesday and the morning class two Saturdays later.
But as long as there is an appropriate level class running, they are quite flexible. So don't worry if you can't make every Tuesday, you might be able to take a class on a Wednesday or Thursday etc.
Learning to Ski with the Ski Club of Ireland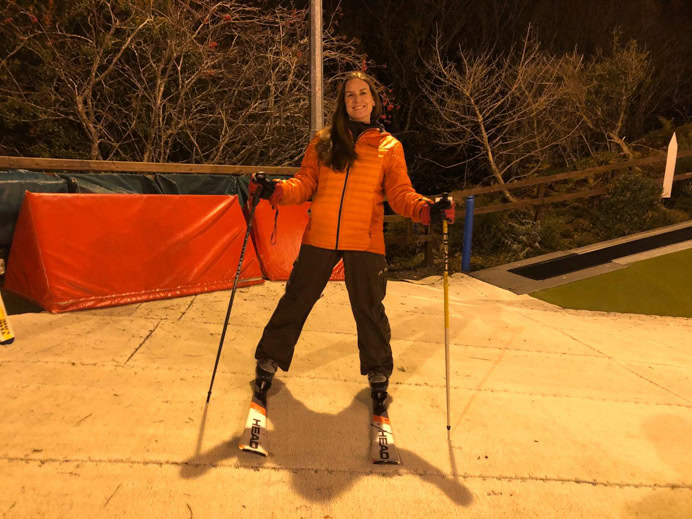 The Ski Club of Ireland very generously gave myself and my partner two free lessons to try out the facilities. I am going back tonight to book four more lessons (€160). If you book four classes you save €40 compared to booking just one lesson at a time.
I am super sure that by the end of the four lessons I'll be doing backflips and black runs. I'll keep you posted.
"Thanks for reading."
If you liked this blog post you might also like my post on how to become a snowsports photographer.
Check out how my love for winter holidays began in my post From Back Surgery to Back on the Slopes.
And don't forget to check out my snowsports photography portfolio.
Related posts…