Disclaimer: Transparency in my Galgorm Review
In the interest of full transparency, my stay at Galgorm was provided complimentary as a part of my role as a travel writer. However, I assure my readers that while I enjoyed the gracious hospitality extended to me, my review and opinions remain impartial and honest. The views expressed in this article genuinely reflect my personal experiences. Any assessments I give are based solely on the merits of the resort's offerings. My commitment to integrity and unbiased reporting is paramount. I take pride in delivering accurate and authentic insights to help my fellow travellers make informed decisions.
Galgorm in Ballymena, Co Antrim, Northern Ireland
Nestled in the serene landscapes of Ballymena, Co Antrim, Northern Ireland, the Galgorm presents a realm of luxury and relaxation that leaves an indelible mark on every guest. With its enchanting surroundings, world-class amenities, and extraordinary spa experience, this haven of elegance stands as a testament to the art of refined hospitality. This comprehensive Galgorm review delves into the essence of one of my favourite hotels in Ireland. I'll talk about my experience and impression of its accommodations, spa offerings, dining options, and the overall atmosphere that defines this exceptional retreat.
From the moment you step foot onto the grounds of Galgorm, you're embraced by a tranquil haven that seamlessly merges nature's beauty with sophisticated architecture. The lush gardens, flowing river, and scenic woodland create an idyllic backdrop that sets the stage for an unforgettable stay. The architecture and design reflect a harmonious blend of modernity and tradition, exuding an inviting ambience that immediately puts guests at ease.
A warm welcome awaits, literally
As the doorman welcomes you into the hotel, the inviting aroma of a roaring log fire wafts through the air, instantly enveloping guests in a warm embrace. The crackling sounds of the firewood create a symphony of comfort, setting the stage for an unforgettable stay. The lobby areas, elegantly adorned with plush furnishings and tasteful decor, offer a relaxing sanctuary. Guests can recline in luxurious armchairs, sipping tea that warms the cockles as they read or watch the world go by through large windows that frame the scenic beauty outside. Time slows down in these spaces, and every moment is savoured amidst the gentle ambience of Galgorm.
Galgorm Review: The bedrooms
Galgorm's accommodations are equally warm and welcoming. Rooms and suites are comfortable and cosy, with plush furnishings, modern amenities, and views overlooking the rushing river or the lush gardens. I stayed in one of the Delux Rooms and adored the bed, bedding and pillows. I had such a sound night's sleep that I had to check the make of the mattress when I woke up. The soundproofing is also excellent, as I didn't hear a thing all night.
The spacious, spotless bathroom featured a rainfall shower with great pressure and hot water. My only grip on the room was that the seating area needed to match the rest. It looked a little dated and drab compared to the plush bed with the colourful heritage-style bedding.
Local touches
Another aspect that I loved was the local touches that worked really well to place you in Northern Ireland. For example, the artwork of local beauty spots and attractions, the local magazines on the table, the local beer in the minibar, and the welcome goodies from local artisan producers.
Bedroom amenities
Other much-appreciated touches in the bedroom were the GHD hairdryer, Dyson fan, and beautiful toiletries – bath bomb, shampoo, conditioner, body wash, hand and body lotion, and soap. There is also a coffee maker with four coffee pods, a kettle with breakfast tea and herbal teas, sugar and milk (you can request fresh milk from reception). There are also robes, slippers, an iron and ironing board, and many extra large fluffy towels. The minibar in the room is free and was well stocked with a can of local beer, a small bottle of white wine, soft drinks, and two bottles of water. In the evening, as part of the turndown service, you are given two more bottles of water and some calming chamomile teabags.
Accommodation options
In addition to its deluxe rooms, other room categories and suites are available in the main hotel building. Alternatively, Galgorm offers other forms of accommodation that promise a unique and immersive experience. Located within the tranquil grounds are a charming range of Log Cabins, Cottage Suites, Shepherd Huts and Residences, each exuding its own individual character. These quaint hideaways offer a sense of seclusion and exclusivity, allowing guests to unwind in a private haven. With modern amenities seamlessly integrated into their rustic charm, these cottages perfectly balance comfort and immersion, offering a truly enchanting escape from the ordinary. They are ideal for groups or families.
Galgorm Review: The Spa
The spa at Galgorm is a place of rest and rejuvenation. With a diverse array of treatments meticulously crafted to cater to various needs and desires, guests are invited to embark on a holistic well-being journey. From indulgent massages that melt away tension to invigorating facials that restore radiance, every treatment is performed by skilled therapists who weave together ancient techniques and modern innovations.
Staying in a deluxe room includes a private bathing experience, mud rasul or Galgorm detox therapy. I chose detox therapy, which involved being cocooned in the MLX iDome machine. Combining Far Infrared technology, Plasma, and Light treatment, the machine makes the body perspire (oh boy, does it), and the head section helps skin rejuvenation and detoxification. I felt like I was sunbathing on a very hot tropical beach. I've never sweated so much in my life. I loved the treatment. My skin was glowing afterwards, and I had such a deep sleep that night, which the therapist said would happen.
Galgorm Review: The Thermal Village
OK, on to the star of the show. Well, for me, anyway. I love thermal suites and villages. I have been to loads all over the world, and let me tell you, the Thermal Village is tied at the top as my all-time favourite. What I love about it is the outside garden setting by the river. It is so pretty and even prettier at night when all the fairy lights come on.
I also love how many different facilities there are; you will never get bored. I also never get to try them all, as I just run out of time. Also, as there are so many, it means you can usually find one empty so you can enjoy it all alone.
You get access to the Thermal Village when you stay overnight at Galgorm. However, you can also visit as a non-resident, as plenty of morning, night, and day packages are available.
The Riverside Garden
The Thermal Village comprises a range of meticulously designed areas and facilities, each offering a distinct experience within the soothing embrace of nature. It is so big that you need a map, which you can download on the Galgorm App. The Riverside Garden is located on the banks of the River Maine. This garden has a variety of hot tubs and saunas, including a Finnish sauna, a steam room, and a cedar hot tub. There is also a relaxation area with comfortable seating and a water feature. You'll also find the Salt Cave made of Himalayan salt, which has several health benefits.
The Alpine Garden
The Alpine Garden is on the banks of the River Maine. This garden offers a variety of relaxation experiences, including a Vitality Pool, a private cabana, and a Sauna Pod. The Vitality Pool is a refreshing way to cool off on a hot day. The pool has a variety of jets and waterfalls to help you relax and rejuvenate. The private cabana is the perfect place to take a break and enjoy the scenery. And the Sauna Pod is a great way to sweat out toxins and invigorate your senses.
The Walled Garden
The Walled Garden offers a steam room, sauna, hot tubs, and stunning private bathing areas amongst the fruit-laden apple trees. My favourite part of the Walled Garden is the Palm House, where you can sip on frozen cocktails. Apart from the Palm House, you can also grab a bite to eat and drink in Elements in the Thermal Village.
But there is so much more to the Thermal Village. You can swim laps in the 20-metre indoor pool, or try the Beltane Experience, which offers an invigorating escape with saunas and a snow cabin. Meanwhile, the Celtic Sauna Ritual presents an authentic experience with traditional rituals and herbal infusions.
My favourite area is the Riverside Garden's heated experiences and hydrotherapy pool. There are four heated experiences, shower experiences, a hydrotherapy pool, an outdoor hot tub, and heated relaxation loungers. This area is usually much quieter than the rest of the Thermal Village.
Culinary Delights at Galgorm: A Gastronomic Journey
The Galgorm beckons not only with its luxurious accommodations and rejuvenating spa experiences but also with an array of delectable culinary offerings that cater to every palate. From upscale dining to casual indulgence, the resort's diverse food options promise a gastronomic journey that elevates the entire guest experience.
The River Room Restaurant: A Symphony of Flavors
The River Room Restaurant, an epitome of refined dining, is a testament to the resort's commitment to culinary excellence. Set against a backdrop of panoramic views, this elegant dining establishment crafts a symphony of flavours using the finest locally sourced ingredients. Indulge in meticulously crafted dishes that showcase creativity and tradition, leaving taste buds tantalised and guests immersed in a memorable culinary journey.
Breakfast
The River Room is my favourite breakfast room in all of Ireland. The river and forest views are glorious, and the sumptuous armchairs are a luxurious perch from which to indulge in a hearty breakfast. The buffet is laden with a bounty of Northern Irish produce, and the hot menu also features local delicacies. I enjoyed fruit, juice, a frothy cappuccino, strong Americano, pastries, and a taste of the tropics with the mango, coconut, and pistachio yoghurt shot. The perfectly cooked and deftly seasoned ham and cheese omelette ended a blissful breakfast that lasted two hours. Top tip: the River Room is almost empty at 7.30 am. So, if you would like a quiet breakfast, come first thing in the morning.
Gillies Bar & Grill: Rustic Charm and Hearty Fare
For those seeking a more relaxed dining experience without compromising on flavour, the Gillies Bar & Grill is a cool spot. Embracing a rustic yet contemporary ambience, this casual restaurant serves hearty fare. From juicy steaks and succulent burgers to fresh seafood and vibrant salads, Gillies offers a diverse menu that caters to every craving, making it a perfect option for casual gatherings and satisfying meals.
Dinner
During my stay, I had dinner in Gillies. I had the finger-licking good Korean bbq pork belly with rainbow kimchi slaw and red pepper ketchup. The meat was tender and melted in my mouth as the sticky, sweet and spicy sauce danced on my tongue. The slaw provided a nice crunch and a hit of freshness.
For my main, I opted for the cured pork chop from the grill, which came with a fried hen's egg and hot honey-glazed pineapple. The portion was more than generous, but after a hard day relaxing, I had a ferocious appetite and cleaned my plate. The meat was juicy with a delicious char, and the pineapple gave it a lovely sweetness and extra juiciness. The skin-on-fries were spot-on crispy and salty, the perfect accompaniment.
If you know me, you know that if sticky toffee pudding is on the menu, I'm ordering it. This warm, soft, buttery pudding came swimming in a bowl of decadent toffee sauce. A scoop of just-about-melting vanilla ice cream infusing its cool creaminess into the sauce. This, to me, is heaven in a bowl.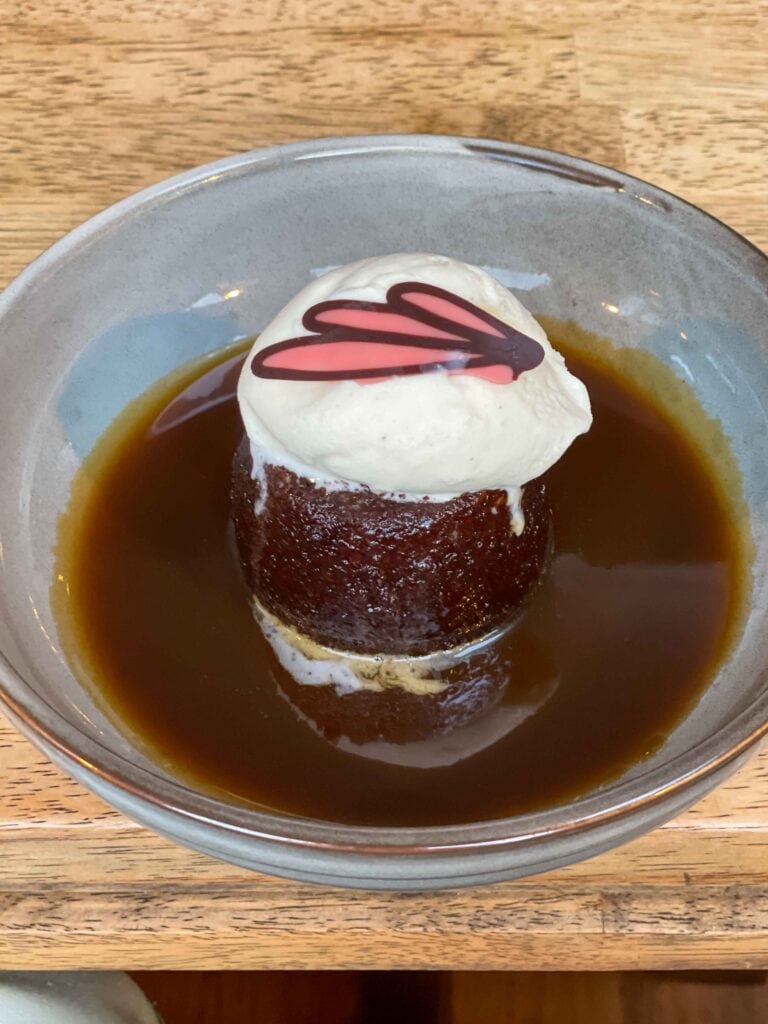 The playlist is also great and matchings the vibe of the place perfectly. The night I dined there, tunes from INXS and LCD Soundsystem played softly in the background.
Fratelli Ristorante: A Taste of Italy
Transporting guests straight to the heart of Italy, the passionate chefs of Fratelli Ristorante craft dishes that pay homage to Italian culinary traditions, infusing every bite with the flavours of Tuscany. Pasta lovers can delight in the range of handmade dishes. Meanwhile, pizza enthusiasts can savour wood-fired creations that showcase a perfect blend of simplicity and sophistication.
Afternoon Tea: Elegance and Indulgence
Indulging in a time-honoured tradition, afternoon tea at Galgorm is an experience that adds a touch of elegance to your stay. Amidst the sophisticated surroundings of the Lobby Lounge, guests can savour an array of delicate finger sandwiches, freshly baked scones, and a tempting assortment of pastries. Paired with an extensive selection of teas and optional champagne, this is a delightful way to unwind and enjoy the company of friends or loved ones.
Bar & Lounge Areas: A Toast to Relaxation
Whether it's a pre-dinner aperitif or a nightcap to end the day, Galgorm's various bar and lounge areas cater to every desire. Enjoy expertly crafted cocktails, fine wines, and a range of beverages in settings ranging from contemporary chic to cosy charm. The ambience of these spaces is tailored to provide an inviting atmosphere where guests can unwind, socialise, and savour the pleasures of life.
Top tips for visiting Galgorm
To make the most out of your time at Galgorm here's what I recommend doing:
Stay at least two nights to experience everything Galgorm offers fully. There is just so much to see, do, eat and drink.
Book a stay in a Deluxe Guestroom, Junior Suite, Suite, or Signature Suite. This will give you the most time in the Thermal Village. You can enter the Thermal Village at 12 pm on the day of check-in if you stay in these rooms. You also get a later check-out time of 12 pm.
I think arriving around 10 am gives you enough time to check in, grab some scones and tea or coffee in the lobby and then head to the changing rooms. You can leave your luggage at the Spa reception if you stay overnight. They will bring it to your room at around 3-4 pm.
The spa is always busy, especially between 3-6 pm. So, book treatments during these busy times. The Thermal Village quietens down around 6 pm. You can then stay in the village until about 9 pm if you book dinner for around 9.30 pm.
Get up early and swim in the indoor pool, which opens at 7.30 am. Then head into the Thermal Village, which opens at 8 am. Spend a few hours here and then grab a late breakfast around 11 am. Avoid heading to breakfast at 10 am as this is the busiest time. You can then have a leisurely breakfast and check out at 12 pm.
Overall
Galgorm is more than just a luxury hotel; it combines culinary delights, relaxation, pampering, and nature. From the award-winning spa experiences to the sumptuous accommodations and delectable dining options, every element creates a wonderful escape from the ordinary. Whether you seek a peaceful retreat, a romantic getaway, a group gathering, or a destination to celebrate life's milestones, Galgorm welcomes you into its embrace, promising an escape that rejuvenates both body and mind.
I thoroughly enjoyed my stay. I highly recommend coming to this hotel and experiencing all its charms and everything it offers. You won't regret it.
Thanks for reading my Galgorm review.
So, what did you think of my Galgorm review? Have you stayed there? Is there anything I left out? I'd love to hear from you in the comment section below.
If you liked this Galgorm review, you might also like my review of the Abbeyglen Castle Hotel.
You might like my review of the Glenlo Abbey Hotel in Galway.
If you are looking for another great hotel dining experience, read my Longueville House Restaurant review.
Finally, if you are looking for more dining indulgences, here is my list of Dublin hotels with posh afternoon tea.
Related Posts
Go on, share this post x