Things to do in Cahir, Tipperary.
This blog post on things to do in Cahir, Tipperary is part of a series of posts from my Munster Vales travel guide.
After a hearty breakfast in Longueville House we hit the road and followed the Knockmealdown Drive to experience 'The Vee' in Co. Tipperary.
This route through the south-east of Ireland starts in Lismore and takes in The Vee, Clogheen, Goatenbridge, Newcastle, Mount Melleray and Cappoquin.
The route leads you through some spectacular scenery with an impressive landscape of ever-changing textures and colours. The road takes you through wooded countryside, along a river valley and past peatlands, rocky headlands, pretty rhododendron groves and heather-covered banks.
This stretch of road in the Knockmealdown mountains in South Tipperary is well-known to locals for having a magnificent view when you reach The Vee. The Vee is so-called because of the V-shape the road makes that which opens up a gap to a beautiful vista. The Vee in Tipperary is one of the most beautiful places in Ireland. It's panoramic paradise and it's definitely worth stopping the car and getting out and taking a photo or two million. Make sure you pull in at one of the lay-bys and enjoy a picnic as you soak in the seemingly endless views.
The drive itself is undulating and full of twists and turns so it makes a great road for those who love to drive.
If you are looking for some more recommended driving route in Ireland, be sure to read my article Nine Scenic Drives That Make the Most of Autumn in Ireland. The routes listed are beautiful in the autumn months but are great fun to drive any time of the year.
Things to do in Cahir, Tipperary
Tour Cahir Castle, Co. Tipperary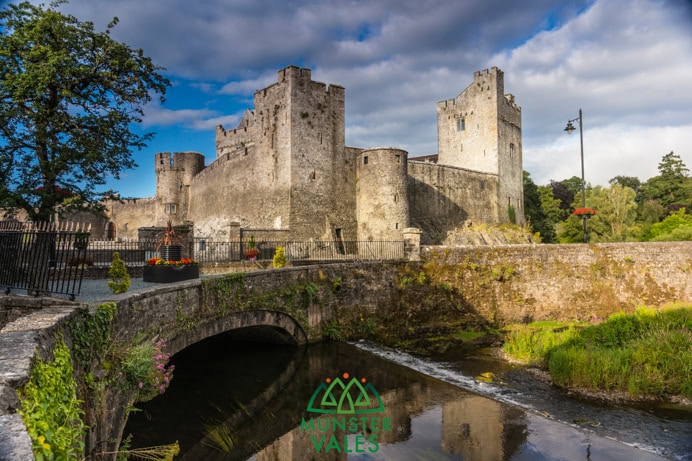 After a pit stop at The Vee we drove into Cahir to take a tour of Cahir Castle, one of Ireland's largest and best-preserved medieval castles.
Cahir Castle was first built in the 13th century on the site of an earlier Irish stone fort known as Cathair Dún Iascaigh (the Stone Fort of the Fortress of the Fishery). The stone fort of Dún Iascaigh was one of the ancient royal residences of the kings of Munster before the arrival of Christianity. Cahir Castle looks like it is growing from the actual rock on which it stands surrounded by the River Suir. It was designed to be a state-of-the-art defensive castle and the castle was the scene of many sieges and bombardments throughout the centuries.
Once the stronghold of the powerful Butler family, who, over the centuries considerably rebuilt and extended their stronghold. However, by 1599, the castle had reached its present appearance, with the only later alterations taking place in the 1840s.
In 1961, the last Lord Cahir died and the castle reverted to the State.
Today, Cahir Castle retains its impressive keep, tower and much of its original defensive structure.
The castle's attractions include a very informative audio-visual show entitled 'Cahir Castle and the Story of Irish Castles'.  It is only 15 minutes long and well worth watching before you go into the castle.
Much of the castle that you can see today is a result of extensive renovations in the 19th century. The castle is still an imposing and atmospheric place to see and served as a setting for Stanley Kubrick's 1975 film Barry Lyndon. It was also the setting for many other films, a list of which can be read on a large rock outside the castle.
What I loved about Cahir Castle is that you can walk around the grounds and rooms yourself without a guide and you can touch everything! It is very interactive and you see many of the features that made it such a formidable fortress in the medieval period. We had great fun pretending to be Lord and Lady of the castle. As you do.
For information about Cahir Castle entry fees and opening hours, visit the Heritage Ireland website.

The Swiss Cottage, Cahir, Co. Tipperary
If you have the time I highly recommend the 2km riverside walk to the Swiss Cottage. This beautiful 'cottage orné' was built in 1810 by Richard Butler, 1st Earl of Glengall. It was designed by the famous Regency architect John Nash.
The Swiss Cottage has been carefully and lovingly resorted and it is a very tranquil and beautiful place to visit.
Lunch in River House Restaurant & Cafe Bar in Cahir, Co. Tipperary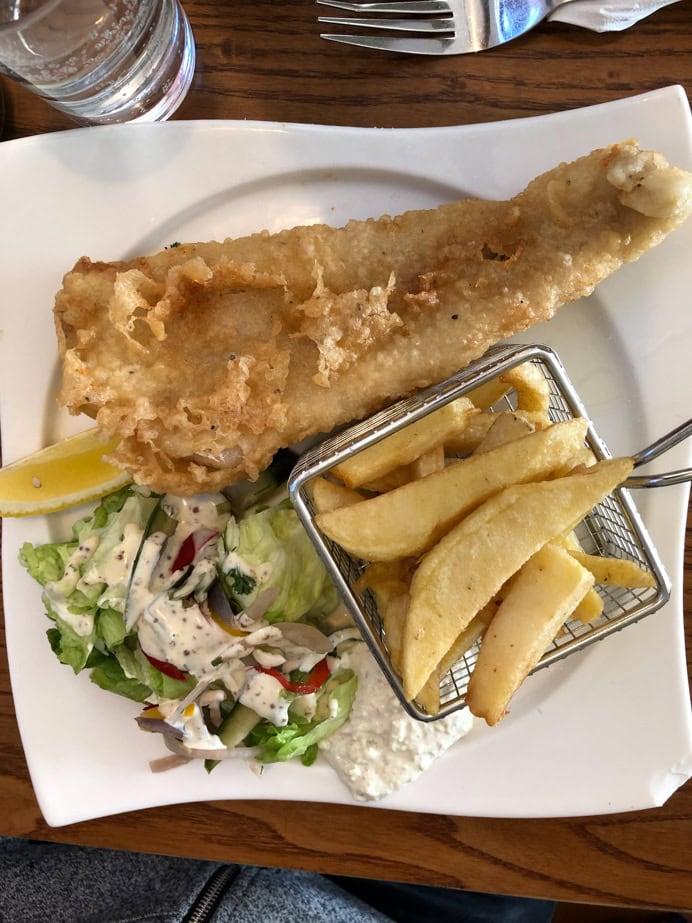 When you get hungry, right opposite Cahir Castle, with fantastic river views, is the River House Restaurant and Cafe Bar. We popped in here and had a filling and tasty lunch. I had a made-to-order bagel and Dave had fish and chips.
The food was fresh, well made and we didn't have to wait long at all. Dave's fish and chips were cooked to perfection with super crispy batter and big, fat, chunky chips. My bagel was soft and chewy and filled with a whole array of salads and decent vegetarian toppings. The coffee was also very good with nice big cups and a healthy dusting of chocolate on top of my cappuccino. Just the way I like it.
The menu is extensive and you can also get a decent home cooked meal here. There's also some sumptuous desserts and ice-cream. The place is popular with locals, which is always a good sign but is also very welcoming to tourist too. Grab a window seat upstairs and watch the River Suir flow by. As this was part of our Munster Vales tour we didn't pay for the food. However, the prices were very reasonable and the portions generous.
Things to do in Cahir, Tipperary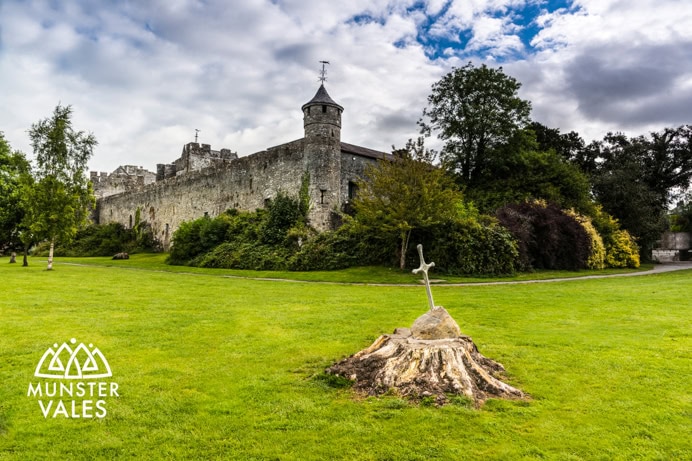 Cahir is a charming town filled with interesting and pretty historical features. For example, there is the medieval Augustinian priory, and the quaint Church of St. Paul's. So, it is well worth spending some time strolling around and exploring the area.
Thanks to Tríona O'Mahony of Munster Vales organising our trip and our lunch at the River House.
The following are the other blog posts in this Munster Vales series:
Munster Vales Ireland travel guide
Lough Gur Heritage Centre review
Deebert House Hotel Restaurant review
Cafe Townhouse Doneraile review
Longueville House restaurant review
and my Longueville House Beverages Hot Apple Cider recipe
Fethard Town Walls Heritage Trail
Fethard Horse Country Experience
Hanora's Cottage Country House and Restaurant review
"Thanks for reading"
Have you driven The Vee in County Tipperary? Let me know how you got on and I'd love to see any photos you took.
If you liked this blog post on Things to do in Cahir, Tipperary, you might also like my review of the Finn Lough Bubble Domes in Northern Ireland.
Additionally, you might enjoy reading my review of the Pullman Restaurant in the Glenlo Abbey Hotel in Galway, Ireland.
Another blog you might like is my review of the Abbeyglen Castle Hotel in Galway, Ireland.
If you liked this Things to do in Cahir, Tipperary blog post, please share with others.
Related posts…