This post is a quinoa salad with halloumi recipe.In my last blog, I wrote about the health benefits and versatility of quinoa. I also posted a recipe for quinoa porridge.
To demonstrate quinoa's versatility, I am creating a breakfast, lunch and dinner recipe using quinoa as the main ingredient. As promised, here is the lunch recipe (or have it for dinner, what do I care?).
Quinoa for lunch

For a delicious lunchtime option, why not add quinoa to a salad? You can eat quinoa hot or cold so it is a great lunchbox addition. One of my favourite quinoa salads is with warm halloumi cheese and roasted red peppers. Do you like the sound of that?
Well, you are in luck because here it is, my…
Quinoa Salad with Halloumi Recipe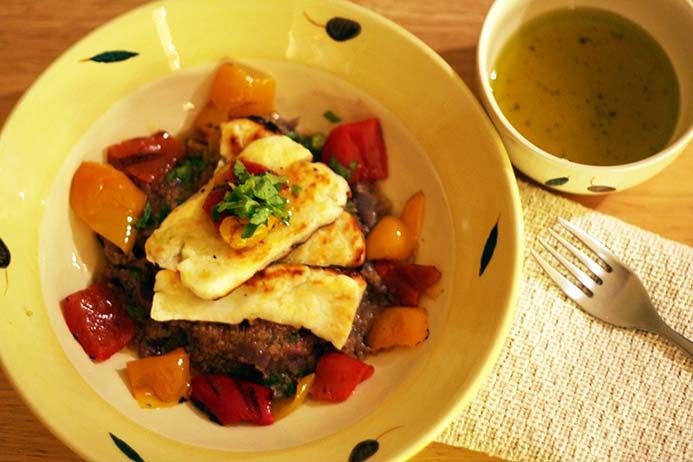 Prep Time: 5 minutes
Cook Time: 30 minutes
Yield: 2 portions
Ingredients
80 grams of uncooked quinoa (use up left over quinoa to make my recipe for quinoa porridge and quinoa turkey meatballs)
1 tablespoon of oil (for frying)
1 red onion (chopped)
500 millilitres of vegetable stock
150 grams of halloumi (sliced)
2 teaspoons of flat leafed parsley (chopped)
100 grams of roasted peppers (chopped)
Fresh cracked black pepper (to taste)
For the Dressing
4 tablespoons of extra virgin olive oil
2 tablespoons of freshly squeezed lemon juice (about a whole lemon)
2 teaspoons of honey (or brown sugar)
1 teaspoon of lemon zest (about a whole lemon)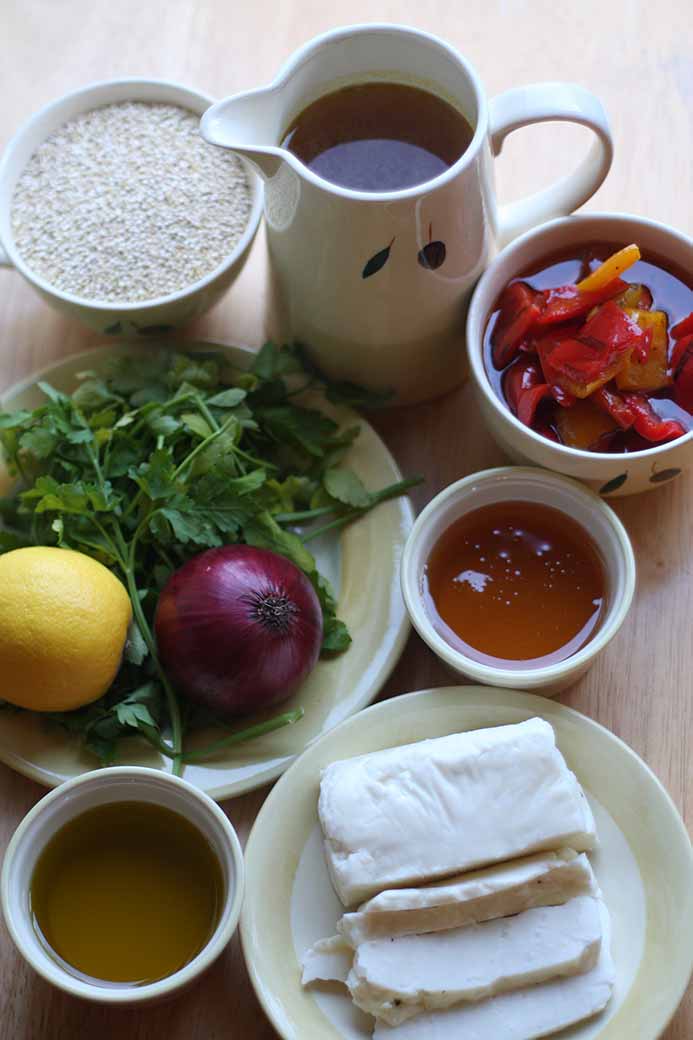 Instructions
Place the quinoa in a sieve and rinse well under cold running water.
Heat the frying oil in a saucepan and gently sauté the onion for five minutes.
Add the rinsed quinoa to the onion and continue to sauté for a further five minutes.
Pour in the stock and bring to the boil before reducing the heat and allowing to simmer for thirty minutes or until the quinoa absorbs all the liquid and is light and fluffy.
Once the quinoa has been simmering for about twenty minutes, lightly coat the halloumi with olive oil; this stops the cheese sticking to the grill.
Heat the grill or a griddle pan and add the slices of halloumi and grill on both sides until crisp and golden. This takes about five minutes each side.
Whilst the quinoa and cheese are cooking start making the dressing.
Combine the extra virgin olive oil, lemon juice and honey. You can do this in a bowl with a whisk or place in a clean jam jar, secure the lid, and shake vigorously until your arm hurts!
When the quinoa is cooked, turn off the heat and stir through most of the chopped parsley, save some for the garnish.
Season with pepper. The halloumi is salty enough for me so I don't season the quinoa with salt.
To plate, add warm quinoa, spoon over roasted peppers, top with grilled slices of halloumi, sprinkle with remaining parsley and drizzle with dressing.
Easy peasy, literally lemon squeezy! This salad is gorgeous warm but is just as tasty cold so can be made in advance and thrown into a lunch box to enjoy the next day wherever your dining location may be.
So, what do you think of my Quinoa Salad with Halloumi Recipe? Did you try it out? Did you like it? What improvements would you make? Share a photo of your own attempt at this recipe or leave any feedback and comments below, I'd love to hear from you.
"Bon Nomnom"
You might also like my quinoa porridge recipe and my recipe for turkey quinoa meatballs.
And check out my recipe for creamy pumpkin soup served in its shell.
If you like this quinoa salad with halloumi recipe, please share with others.
Related posts…