Review Number Twenty Two Dublin
Rating: 3 out of 5 
stars
Disclaimer: I was a guest of the venue and did not pay for the meal. However, what follows is an honest review and account of my experience. I dined here on the 21st January, 2017
"A drama in two acts: music and food depending, your night could be deserving of an encore at this eclectic spot."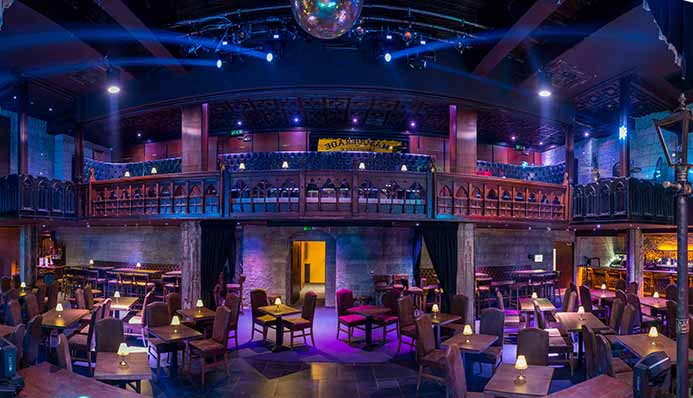 Review Number Twenty Two Dublin – the location
"Number Twenty Two is a unique and exciting new venue that combines a library bar, restaurant and theatre club."
I nearly walked by Number Twenty Two as it is squished between two shops. But once you enter through that royal blue door you are greeted with a stunningly beautiful Georgian building decorated to make you feel like you are stepping back in time. It feels very special. I got excited walking down the corridor.
This place used to be McGonagles, where many icons of the Irish music scene used to play. It was also the home to The Crystal Ballroom. The pictures of legendary musicians which hang on the walls are a homage to the building's past.
At the end of this corridor is the box office and cloakroom. You then head down the opulent staircase to another floor where you'll find the Library Bar and balcony and some of the most glamorous toilets I have ever used.
Review Number Twenty Two Dublin – the space
The Library Bar is awash with stone walls, wooden beams and panels and rich burgundy leather chairs, stools and comfy sofas. It is illuminated with real candles and lights that look like old-fashioned oil and gas lamps. There is a wall jam packed with old books, hence the name of the bar and there is a real fire to warm up beside.
Leading off the bar is the balcony with an upper and lower level filled with tables and chairs and it overlooks the main stage area below.
To get to the Main Theatre area you go down another level and past some magnificent stained glass windows. Once in the Main Theatre, you are greeted with a large room bathed in a purple hue and candle light and filled with tables and elegant high-backed chairs. The stage is in the middle of the back wall and is visible from all the tables.
This place looks impressive and feels dramatic. I was really looking forward to the night.
The concept of Number Twenty Two is the old time tradition of dinner and a show. On Thursday nights, there is traditional Irish music. On Saturday evenings, there is the Cafe Society, which is a throwback to 1920s New York with music and visuals and performance typical of that era.
Review Number Twenty Two Dublin
We were here on a Saturday evening. We arrived at 7.45 p.m. and there were only a few tables left so we chose one at the back in front of the stage. It was great to see the place so full. There were loads of couples there and they ranged in age from early twenties to early sixties, maybe older. There were four big groups there too – a gaggle of very glam girls, suited and booted businessmen and two tables celebrating a birthday. It was such a varied mix of ages and occasions.
We took our seats and gave our drinks order and perused the menus.
There was the main menu and to my delight a vegetarian menu too. The vibe of the dishes on the main menu was comforting Irish food with some well-loved fish, beef and chicken dishes. Overall, from the two menus, there were six starters and four were vegetarian. Woohoo.
St. Tola Goat Cheese Salad under awful lighting.
We both ordered the whipped St. Tola Goat Cheese with beetroot, candied walnuts and frisée salad.
It's a common and not very exciting starter but it was a light, fresh and tasty dish. The portion was a good size, the whipped goat cheese was light and full flavoured and the candied walnuts were some of the best I've tasted – nice and sweet without masking the nutty flavour. I could have eaten a bowl of them alone. A great start to the meal.
Terrible light for food photography. Sorry.
Once our bowls were cleared we were waiting a good 35 minutes until our mains arrived. When the dishes finally arrived, my cousin's meal had mash potatoes on it when she asked for no mash, but once she said this to our server the dish was taken away and almost immediately it was returned with the mash removed and extra veg. The servers also forgot to bring our side order of fries but everybody looked so busy that we didn't bother reminding them.
My cousin ordered the daube of beef, (without the garlic mash), with broccoli, carrot and braising jus.
Even without the mash, the portion was a great size and my cousin said the meat was so tender and full of flavour and gave it a nine out of ten. She said she couldn't fault it. I could tell by her moans she was enjoying it and although I didn't try the dish, its aroma was making my mouth water.
I ordered the veg cakes with spring roll, broccoli tempura and tomato.
Typing those words now makes me wonder why this dish is on the menu and what made me order it. It was like three starters on the one plate and not a complete dish at all. Having said that, the two veg cakes were flavourful and had a great mix of spices and they had a great texture with a crisp crumb coating and soft fluffy middle. They sat on a bed of silky parsnip puree and a tomato based sauce. I would have been very happy with just that. However, the rest of the components of the meal weren't that great. The spring roll lacked any real flavour but it was nice and crispy and the single piece of tempura broccoli was undercooked.
If the spring roll and broccoli were removed from the plate and some mash and roasted veg were added this would be a lovely, simple, comforting vegetarian meal.
As soon as our mains were cleared the desserts appeared.
Review Number Twenty Two Dublin – strawberry cheesecake
My cousin was presented with a vibrant looking strawberry cheesecake with sorbet and strawberry crisp. It looked lovely with a thin sponge cake base, creamy whipped middle, jelly topping and shard of white chocolate. Unfortunately, the taste didn't match its good looks. The whole dessert was far too sweet and tasted of the raspberry syrup you put on ice-cream – sickly and slightly artificial. The cake base was also a bit dry.
We pushed it aside and moved on to my brownie with chocolate mousse, vanilla ice cream, honeycomb and walnuts.
Review Number Twenty Two Dublin – chocolate brownie
It looked inviting and well presented. The ice-cream was lightly flecked with vanilla bean and tasted rich and creamy. The chocolate mousse was light but had a real depth of flavour to it and contrasted lovely with the sweet sticky walnuts and melt-in-the-mouth honeycomb. There was only one thing that let this dish down and that was the brownie. It was dry and hard with little in the way of flavour. I have a feeling that the sponge base of the cheesecake and the brownie were not stored properly and dried out, at least that's what they tasted like.
"We didn't finish the desserts. A first for me."
Whilst we were eating our desserts the show started.
However, it was difficult to enjoy as there were servers bringing food and clearing tables and there was quite a bit of noise. Also, the tables are very close together so the servers had a tough job trying not to disturb people.
Review Number Twenty Two Dublin – Cafe Society
However, once all the tables were cleared things started to settle down – couples moved their chairs closer and snuggled up, the groups of people started swaying and mouthing along to the songs and we sat back, relaxed, sipped coffee and turned our attention to the stage.
The show consisted of a house band, who were wonderful entertainers, and a male and female singer.
There was a projection screen behind the band that flash old-time images as the band played.
At the start, the music had a bit of a cruise ship feel to it but as the night progressed the songs got better. The singers belted out well-known tunes and some less familiar ones. The ones I can remember are Mama Cass, Louis Armstrong and Duke Ellington. But for me, it was the band that stole the show. I could have listened to them all night.
Whilst the show was on I went out and had a look around the venue. The library bar and balcony were full with people who were laughing, dancing, clapping and singing along. The atmosphere was wonderful. People looked like they were genuinely having a fun night. The whole place was buzzing and had a great vibe.
Back in the main area the group of girls got up and were dancing in the corner.
Review Number Twenty Two Dublin – the entertainment
The show ended just before 11 p.m. and the server told us that the room would now be cleared of the tables and prepped for the night time club event. The Main Theatre hosts the Masquerade and Spectacle cabaret club at 11 p.m. every Saturday night with the first performance from 11.30 p.m. Fire breathers, knife eaters, snake charmers, burlesque dancers and aerialists all perform to a variety of music and guest DJs. We really wanted to stay and see what it was like but we couldn't, but we both said we would like to come back and check it out as it sounds like an interesting, different and fun night out.
"All in all, we had an enjoyable night, even if not all of our dishes were to our liking."
Overall
I think once the timings get sorted things should start flowing a bit smoother and the staff won't seem so rushed. I also think the vegetarian dishes could do with a bit of love and attention but it is great to see so many vegetarian options on the menu in the first place.
If I go again, I'd like to chill out in the Library Bar beforehand and then watch the show from the balcony and try the bar bites menu and then stick around for the club afterwards. I think this would be a more relaxed way to enjoy the night and it would be cheaper too. I would gladly come here on a date, even a first date, or with a mixed group of friends, or my girlfriends. It does suit all types of night out.
Some tips
If you are planning a night here and you want a table in front of the stage and not on top of other diners then arrive early and choose a choice table. Also, have a look on Number Twenty Two's website to see what show is on and what band is playing to make sure you get to see one that plays the type of music you like. You can then book your tickets here on Eventbrite. Tickets for the show and a three-course dinner without drinks cost €65 per person plus booking fee.
However, you don't have to have dinner you can just go to the show. Tickets for the Saturday night show cost €30 per person plus booking fee.
You can also book via the booking form on the Number Twenty Two website.
Review Number Twenty Two Dublin – the entertainment
Number Twenty Two is a welcome addition to the nighttime scene in Dublin.
It's a one-stop venue for drinks, food and entertainment. It feels special but not too exclusive, glamorous but not pretentious and exciting but not over the top. It has a really great vibe. Also, for someone who doesn't drink it is a welcome alternative to the traditional pub and club scene. This place is much more interesting. The staff are friendly and it seems to attract a decent fun loving crowd. I can see this place becoming the next go to spot. So you better get in and experience it for yourself before it gets too popular.
But don't just take my word for it; check out these other review Number Twenty Two Dublin blog posts:
Number Twenty Two
South Anne Street,
Dublin 2,
Ireland
(353) 01 7079899
Email:[email protected]
"Thanks for reading."
You may also like my Pullman Restaurant review.
And my rundown of the best nachos in the Dublin suburbs.
Or how about my list of the best places in Dublin to eat gambas al ajillo.
If you like this Review Number Twenty Two Dublin, please share it with others.
Related posts…