Wrights Findlater Howth review – rating: 3 out of 5 stars
Disclaimer: I was a guest of the restaurant and did not pay for the meal, however what follows is an honest review and account of my experience. I dined here on the 27th May, 2016
"A tale of two dinners: dish depending, your supper could be sink or swim in this seaside spot."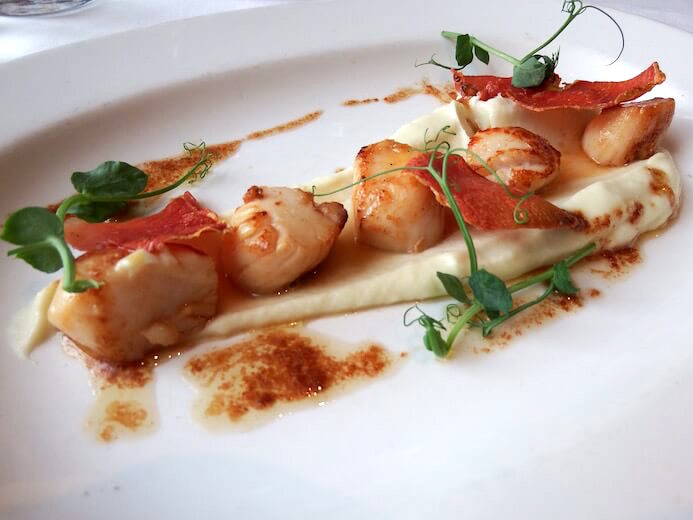 "Friday date-night dining is not something to which I am accustomed but it was something I was looking forward to, greatly."
Wrights Findlater Howth review
Driving into Howth village the first building you see is the impressive red-brick and glass three-story high Findlater complex – the ground floor is a bar, the third floor is another bar with open terrace and the first floor is the Asgard Restaurant, where we would be eating.
My first impressions of the space are favourable.
It is bright with lots of windows affording unobstructed views of Howth Harbour. The white linen tablecloths contrast nicely with the dark wooden floors, navy chairs, sea green wooden panels and grey exposed brick walls. Because of the natural light the place feels open and airy and the nautical touches, the draped rope, lanterns, buoys, fishing nets, oars and fish on the windows (well, maybe not that last one) are tasteful, not tacky.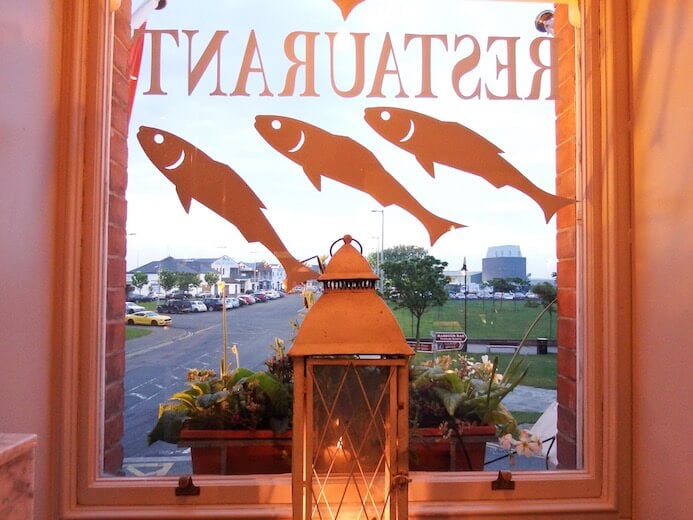 However, being a Friday evening I was expecting it to be full of starry-eyed couples but the only other diners were two American tourists. I assumed that the place would fill up later but it didn't. We were the only four patrons for the whole night.
Our server was also the barman. In fact, he was the only floor staff working in the restaurant that night. He was very pleasant, competent and chatty and got the balance just right of checking to make sure everything was to our satisfaction and leaving us alone to enjoy our meal.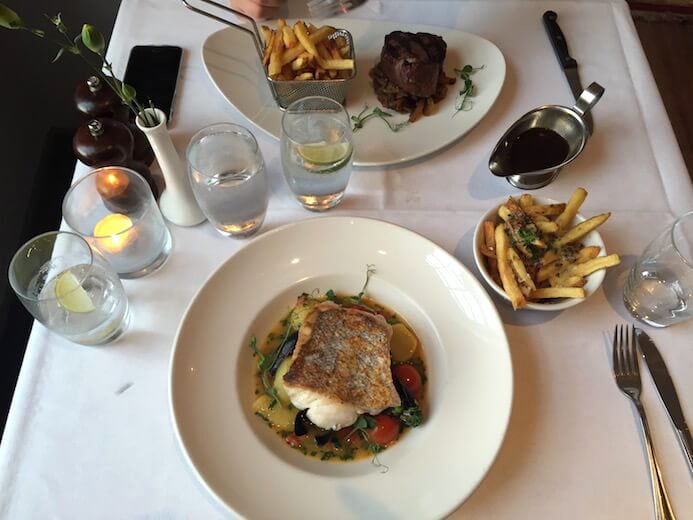 The menu had a good variety of dishes.
There were eight starters to choose from and two of those were vegetarian options. Seeing how this is a restaurant named after a boat situated in the seafood capital of Dublin I decided to stick with the 'from the sea' options.
I ordered the pan-seared scallops on a bed of cauliflower purée with crispy prosciutto and beurre noisette. It was beautifully presented and looked very appetising and fresh. The succulent golden scallops shimmered through the burnt butter and absorbed the subtle nutty flavour, which was well-balanced by the crispy salty shards of prosciutto. The velvet smooth cauliflower purée was just wonderful too. Its subtle flavour and delightful texture really complimented the other flavours and textures on the plate.
I'd go so far to say that this was one of the nicest starters I've eaten in a Dublin restaurant – I couldn't fault it.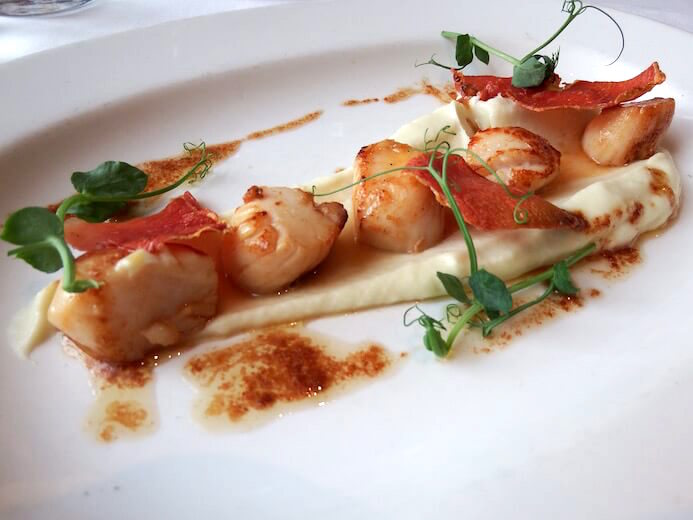 I wish I could say the same about the other dish of seafood crostini, which was a selection of seafood toppings on sliced bread. Firstly, the food came out on a slate, which was undressed apart from a smear of lemon mayonnaise. The bread was plain white baguette and was clearly not baked in house – fresh baked bread is what I would consider the norm in restaurants nowadays. The bread was toasted and dry – no butter, pesto, oil or sauce of any kind at all.
Two of the three toppings were a little bland – the crabmeat mixed with mayo and chives with a piece of roast pepper on top and the smoked salmon with a slice of raw white onion, tartare sauce and capers – and they needed an injection of flavour; some chilli and lemon wouldn't have gone amiss. However, the prawns with Marie-Rose sauce and chives were delicious and my date said he would have preferred the three crostini with just the prawn topping.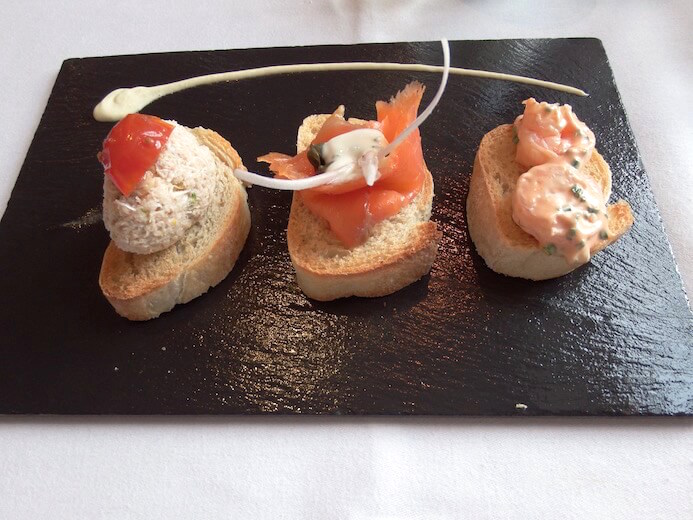 The mains were five 'from the sea' options and four 'to land' options.
There was no vegetarian option on the menu. There were six sides to choose from, although three of these were potatoes in some form or other.
I went for hake served in a herb broth with mussels, peas, chorizo and saffron potatoes. Again, I loved the dish and relished every bite. The portion of hake was very generous and it was cooked so that it was flaky with some bite left to it, just the way I like it. It was very fresh, too. The clear broth was delicately flavoured with garlic, chives and parsley and although I couldn't really taste the saffron I could see the orange strands, which lent the dish a beautiful colour as did the vibrant cherry tomatoes, bright green peas and pink spicy hot chorizo. There was a generous amount of mussels in there too, which added a great salty taste to the broth. This dish looked inviting and tasted very comforting and nourishing and I felt better just for eating it.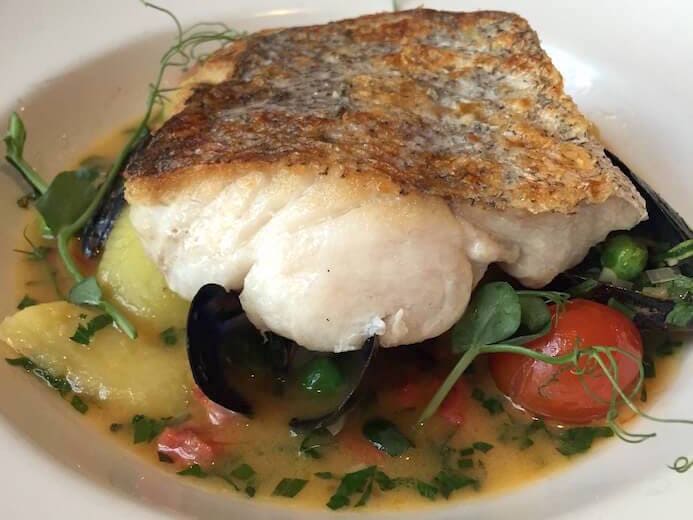 Again, groans of disappointment emitted from the other side of the table.
The fillet of steak ordered rare with sautéed onions and mushrooms and red wine jus was over cooked and even though it appeared to be char-grilled it just tasted burnt. Apart from the char, this was a really flavourless piece of meat and nothing was added to it during cooking, no seasoning, no butter, nothing at all. It was also quite fatty for a fillet and it was an effort to cut it. It wasn't tender at all. As for the jus, it was thick and congealed and unappetising. The chips were good, though! Nice and crisp and not greasy.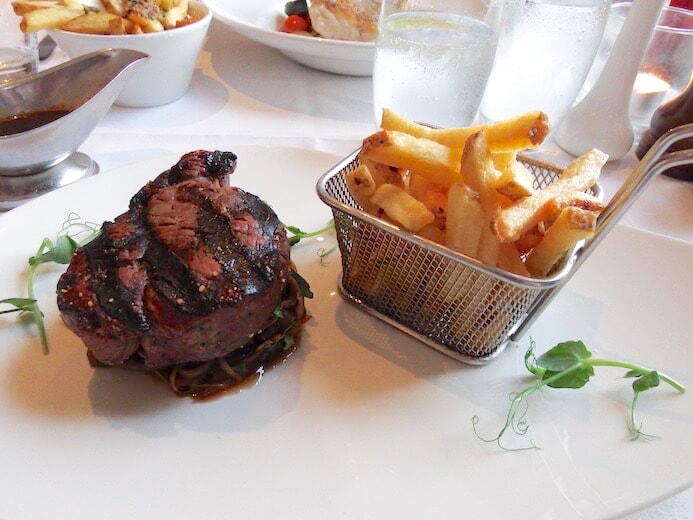 However, my truffle and parmesan fries were the opposite. The chips themselves were dry but there was an oil slick at the bottom of the bowl. The cheese and truffle just melted into one lump and didn't coat the fries at all. I wasn't impressed.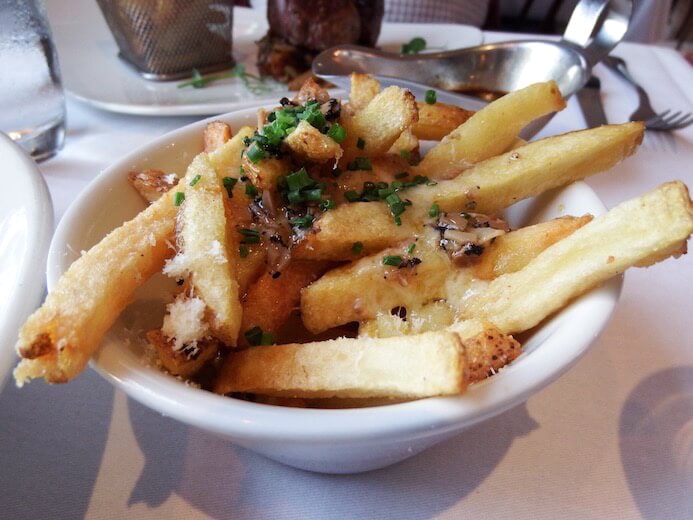 By this stage I was feeling very sorry for my partner-in-dine and for some reason felt guilty that my dishes were delicious but his were not.
We risked dessert.
I went for the dark chocolate fondant with chocolate sauce and vanilla ice-cream. It looked great, with the little cake displacing a deep pool of warm chocolate sauce. The cake was light and the centre was creamy and smooth like a soft melting truffle and was very chocolatey and rich but not overly sweet. It melted on the tongue, too. It was such a luscious dessert, however, the ice-cream was bland and watery and tasted very cheap. Such a let-down.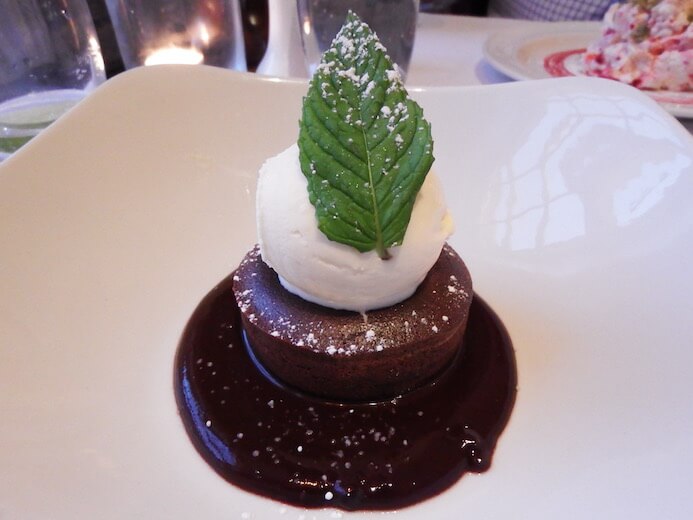 I was a nervous wreck hoping that the other dessert would be good too. However, I could tell from the silence coming from the other side that his raspberry and passion fruit Eton mess was good, very good by the speed at which it was being devoured. The swirling mound of pink, white and red looked joyful and was a sensational mix of sweet, tart and fresh flavours with pillowy cream and crunchy-chewy meringue pieces. It had the right amount of everything. Once I tried it, I was instantly filled with dessert envy. The verdict was that the dessert was so good it made up for the steak. Phew!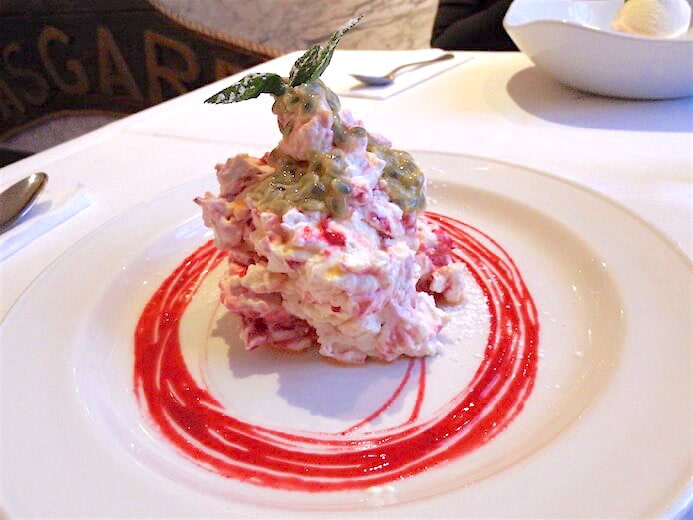 Overall
I would go back to the Asgard restaurant in Findlater Howth and I would order all of my dishes again. It is clear that they do fish dishes really well. I would give the parmesan truffle fries a miss, though.
Apart from the two dishes my date ordered everything else was lovely; the space, the music and the staff. However, I would love to see homemade bread on the menu, some dressing on the crostini and a rich creamy ice-cream to go with the dessert. These things can easily be added to the menu and would take the restaurant up a notch. As for the steak? Stick with the seafood and you won't go wrong. Sure, why would you want to come to the seaside and eat steak?
But don't just take my word for it, check out these Wrights Findlater Howth review posts by other bloggers
Wrights Findlater Howth, Findlater House,
Howth,
Co. Dublin,
Ireland
Phone: +
(353) 01 8324488
Email:
[email protected]
"Thanks for reading."
If you like this Wrights Findlater Howth review you might also like my review of Number Twenty Two Dublin
You might also like my review of the Pullman Restaurant in Galway.
And my review of Longueville House restaurant.
Looking for another seafood restaurant in Dublin? Check out my review of Sole Seafood and Grill, Dublin.
If you like this Wrights Findlater Howth review please share with others.
Related posts…