Shrewsbury Biscuits Recipe
Shrewsbury Biscuits and The Smiths – A Love Story
Skip the story and go straight to the recipe
"When I was seventeen it was a very good year"
Much like Old Blue Eyes himself, the year I turned 17 was a very good and seminal year. Not only did I leave home, but I also left my homeland. I moved from Dublin to Dudley.
I had never been to Dudley. Heck, I never heard of Dudley before. But at 17 my bags were packed, and I was moving there for three years.
I was going to study Drama and Film Studies at the University of Wolverhampton. I was going to be a world-famous actress, in Dudley, in the Black Country in the West Midlands of England.
My place was secured in mid-August, and by mid-September, I was settling into my dorm room.
My room at Uni. I am obsessed with the Beatles
The first week of University, I met a boy. The boy.
We only stayed a couple until Christmas, but we got back together a year later. A few months after recoupling, we took a drive to Church Stretton, a slumbering market town nestled in the Blue Forgotten Hills with traditional tea shops and black and white half-timbers. Quintessentially English and positively picturesque.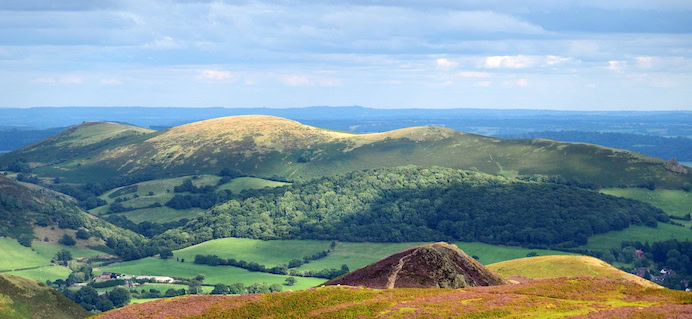 By Jim Roberts JR's Gallery
It was here, sitting on the grass, birds flying high, sun in the sky, breeze driftin' on by that I felt, for the first time, the flutterings of love. And I'm feeling good.
Feeling flushed, I could barely look at The Boy. But when I did it hit me hard. I wasn't falling in love. I was in Love. And it stoned me. I felt queasy and uneasy. Dizzy. Drunk on love.
This intoxicating time spent bewitched, bothered and bewildered didn't last long, but the relationship dragged on way past its best before date. It was toxic. But, I was in love with The Boy. And love is the drug got a hook on me.
We shacked up in Shrewsbury (his part of the world) but it soon grew to be my home.
I got a job as a school teacher at a local high school. To this day, it was the best job I ever had. I adored my little flat and basked in the quaintness of Shrewsbury, its beautiful surroundings and community feel. Life was good. I was content. Happy even.
Then, he left and moved away. I couldn't let go and I stayed.
I was heartbroken. Maria Callas had nothing on me. Patsy Cline's heartaches were a walk in the moonlight compared to my suffering. I was so emotional, baby.
The cliched breakup moves came thick and fast. I cried. Comfort ate. Became the protagonist of every sad song.
I don't know Al, "how can you mend a broken heart? How can you stop the rain from falling down?" I just don't know.
Oh, Celine, it really is so "Hard to be sure" and you are right, "Sometimes I feel so insecure And love so distant and obscure remains the cure". Hold me, my friend.
It was only when I emailed him lyrics to songs by The Smiths that I knew I had hit rock bottom.
"I am human and I need to be loved
Just like everybody else does".
Fucking. Cringe.
I want to pull my face off just typing that. I mean, there should have been an intervention.
After The Smiths saga, frankly, there was only one thing for it, I had to leave the country. It was the only option. Logical and rational. Runaway.
And I did.
I went to the Carribbean.
And it was the start of a brand new love affair. I fell in love with travelling.

I ran away to Mourne Rouge Beach in Grenada
Shrewsbury is still one of my most favourite places, despite the heartache. It will always hold a special place in my heart. As will The Boy, because if he hadn't of shattered my heart into a million pieces (I'm joking as I'm secretly hoping he is reading this), then I would never have gone travelling and developed this new, much healthier addiction.

Speaking of things that are addictive, here is my recipe for Lovely Shrewsbury Biscuits. You forgot this blog was about biscuits, didn't you?
This recipe is an ode to my love of Shrewbury and The Boy (sure why not?).
Shrewsbury Biscuits Recipe
Shrewsbury biscuits date back to the 17th century with the first Shrewsbury Biscuit recipe appearing in The Compleat Cook of 1658. Nowadays, Shrewsbury Biscuits are a geographically indicated food of the United Kingdom and have received Protected Geographical Indication (PGI) status.
The Shrewsbury Biscuits recipe from 1658 includes rosewater and ginger in the ingredients list. However, my Shrewsbury Biscuits recipe omits these ingredients and uses lemon and currants as this is what was in the Shrewsbury biscuits that I used to eat in Shrewsbury. For a little more crunch I've taken a tip from Mary Berry to sprinkle the Shrewsbury Biscuits with sugar. Of course, you can leave this part out if you wish.
This recipe makes 24 Shrewsbury biscuits (depending on cookie cutter size).

Ingredients
100 grams of butter, softened
75 grams of caster sugar
1 medium-sized egg, separated
1 unwaxed lemon, finely grated for the zest
200 grams of plain flour
2 tablespoons of milk
Optional
50 grams of currants
2 tablespoons of caster sugar, for sprinkling on top
Prep
Pre-heat oven to 200°C / 180°C fan assisted / 400°F / gas mark 6.
Line a large baking tray (or a few small ones) with baking paper.
Method
Put the softened butter and caster sugar in a large bowl and beat with a wooden spoon or electric beaters until all the sugar has dissolved and the mixture has increased in volume (about eight minutes using an electric whisk).
When the butter and sugar are creamed together, add the egg yolk and the lemon zest and mix well.
Sift in the plain flour and fold it through until it is well combined.
Stir in the currants and add just enough milk to make a soft dough.
Gather the dough into a ball.
Sprinkle a little bit of flour on the work surface.
Place the dough on the surface and knead it a little before using a rolling pin to roll out the dough until it is about 5mm thick.
Using a cookie cutter of your choice, cut out the biscuits and place on the baking tray.
Leave a small gap between each biscuit in case they spread when baking.
Bake for six minutes.
Whilst the Shrewsbury Biscuits are baking, lightly beat the egg white.
Remove the biscuits from the oven and brush the tops with the beaten egg white. Sprinkle the caster sugar on top.
Return to the oven for another six minutes, or until they turn a pale golden-brown colour and cooked through.
Do not over bake them as they will continue to cook a little more when taken out of the oven.
Leave the Shrewsbury biscuits to cool on the tray for a few minutes before transferring them onto a wire rack to cool completely.

These Shrewsbury Biscuits are light, lemony and sweet.
Perfect when heartache strikes as they temporarily fill the void and make everything alright for a little while.
If the heart trampling is particularly painful, serve them with a heaped helping of lemon posset or dunk them into a tub of Chunky Monkey.
I promise you, there is some sort of solace to be found in a batch of warm Shrewsbury Biscuits. Not only that, but baking is a great way to keep you occupied so you don't send your ex a pathetic emailing titled "heaven knows I'm miserable now". Trust me, you'll thank me later.
So, what do you think of my Shrewsbury biscuits recipe?
Did you like it? Did you try it out? What improvements would you make? Share a photo of your own attempt at this recipe or leave any feedback and comments below, I'd love to hear from you.
"Bon Nomnom"
If you liked this Shrewsbury biscuits recipe you might also like my foolproof scones recipe.
Or you might enjoy making my ginger nut biscuits recipe.
You might also like the recipe for crunchy coconut cookies.
And be sure to check out my recipe for traditional scones.
If you like this Shrewsbury biscuits recipe, please share with others.
Related posts…