Hulking out and a Crunchy Coconut Cookies Recipe.
Continuing from the biscuit theme in my previous post, here's my recipe for crunchy coconut cookies.
There isn't really much of a story here. One day my mum asked me to make her a batch of coconut cookies as she had a craving for some.
Now, I would do anything for my mum. But she very rarely asks anything of me and she never ever asks me to bake or cook, why? Well, um, I tend to take my kitchen duties very seriously. Baking and cooking for me are not relaxing. They are, in fact, quite stress-inducing activities. I can hear the whole house gasp and give each other knowing looks when they hear me rattling those pots and pans. Collective coats are thrown on and everybody escapes the house for various makey-uppy reasons. My family would rather go out and brave the menacing meteorological Irish elements than witness the raging monster in the kitchen trying to decipher recipes and convert quantities as if her life depended on it. Therefore, for somebody to ask me to bake something was a real honour. I put this down to the perfectly mild-mannered tasty batch of ginger nuts that I had made the previous week.
Natural Disaster
What I am beginning to learn is that I am very good at baking batches of small edible treats like cupcakes, muffins, bars and biscuits. I am however a natural disaster at big pots of food and any sort of large rising cakes (but of course that doesn't stop me from making them and being stressed over them not turning out very well).
My mum tells me that I am too much of a perfectionist when I bake and that I need to relax and understand that I am a home baker and not a professional. Things are not supposed to be perfect in a home kitchen. This is something I struggle to accept as I strive for perfection in almost everything I do. This is also why it takes me so long to make anything. The running joke in the house is that if I am cooking dinner I need to start cooking the night before. And it is true. It once took me nearly three hours to make a batch of inedible scones. As careful as I was, I ended up adding two tablespoons of baking soda instead of two teaspoons. This is one of the perils of being a dyslexic cook. Therefore, a whole three hours worth of baked goods went into the bin. This caused me to hulk out, storm off, and vow never to bake anything again, until next time.
But now, here was my mam asking me to bake her something. I felt so happy, so verified as someone who can make some edible stuff some of the time. Go me! So I interrogated her, determined to bake her exactly what she wanted. Did she want hard or soft cookies, plain or chocolate covered, big or small ones? Her response was medium-sized crunchy cookies with lots of coconut in them and no chocolate.
So off I went in search of recipe ideas
This is what I came up with; my crunchy coconut cookies recipe.
I have to admit, I ate a tray to myself before they even cooled, as they were so nice. Actually, I ate most of the raw cookie dough whilst making the first batch. Therefore, I can't give a number on how many cookies this makes apart from it makes about three trays of tablespoon-sized blobs of cookie dough (plus whatever I ate). Also, this is all made in one pot, so minimal washing and we like that.

Again, I wasn't going to blog about these cookies so I don't have any proper photos but I will be making another batch soon, which I will photograph and then put up the images but I wanted to get the recipe up as someone on Instagram requested it, and I didn't want to delay.
So here it is, my good enough to eat raw…
…Crunchy Coconut Cookies Recipe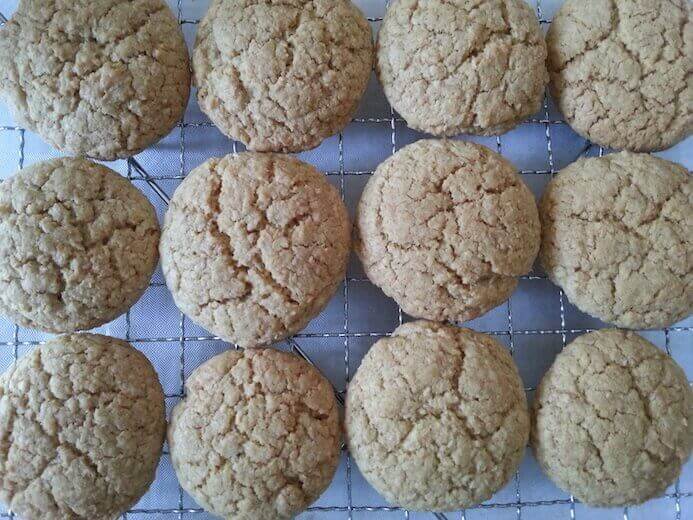 Prep Time: 15 minutes
Cook Time: 20 minutes
Yield: Loads
Ingredients
100 grams of room temperature unsalted butter
50 grams of coconut oil (if you don't have this just use butter)
125 grams of soft light brown sugar
100 grams of caster sugar
2 teaspoons of vanilla extract
1 whole egg cold from the fridge
1 egg yolk cold from the fridge (hold on to the egg white and make my lime and coconut macaroons)
300 grams of flour (I used 150 grams of spelt flour for extra nutty flavour and 150 grams of plain flour)
½ a teaspoon of bicarbonate of soda
200 grams of desiccated coconut (use any leftover coconut to make my lime and coconut macaroons)
Prep
Line a cookie sheet with baking parchment.
Preheat the oven to 160 degrees Celsius / 140 for fan assisted / gas mark 3.
Instructions
Melt the butter in a saucepan and then take it off the heat and let it cool for a bit.
"You need to let the butter cool so the egg doesn't cook when you add it to the mixture."
Beat the brown and white sugars into the cooled butter.
Beat in the vanilla, cold egg and cold egg yolk until the mixture is light and creamy.
Finally, slowly sieve in the flour and bicarbonate of soda until just blended and then fold in the desiccated coconut.
The mixture should come together into a lovely sticky but oily dough and it is addictively tasty at this stage (I now understand the American obsession with cookie dough!).
Put tablespoon-sized blobs of the mixture on the lined cookie sheet, leaving about 5 cm between each blob as they spread out when baking.
"Do not flatten out the blobs, leave them domed, as this will give a lovely slightly chewy centre and crisp crunchy edge to the cookie."
Bake the biscuits on the middle shelf for about 15 to 20 minutes or until they are turning a golden shade around the edges.
"Never judge the doneness of cookies by feeling them as they will continue to cook and harden up after removal from the oven."
Once cooked leave them to sit on the sheet for five minutes to harden before transferring them to a wire rack to cool completely (or not, as who can wait for biscuits to cool?)
You can then start making the second batch if you haven't already eaten the cookie dough like I did.
"The second batch should take slightly quicker to cook as the oven will be nice and hot so keep an eye on the time they have been baking."
These cookies went down a treat and were very moreish. Too moreish in fact and they disappeared within minutes of coming out of the oven. They have a perfectly crunchy texture without being hard and they are brimming with coconut flavour.
As these were gobbled up on the day they were made I have no idea how long they will keep for but a good guess for fresh cookies is five days in an airtight container.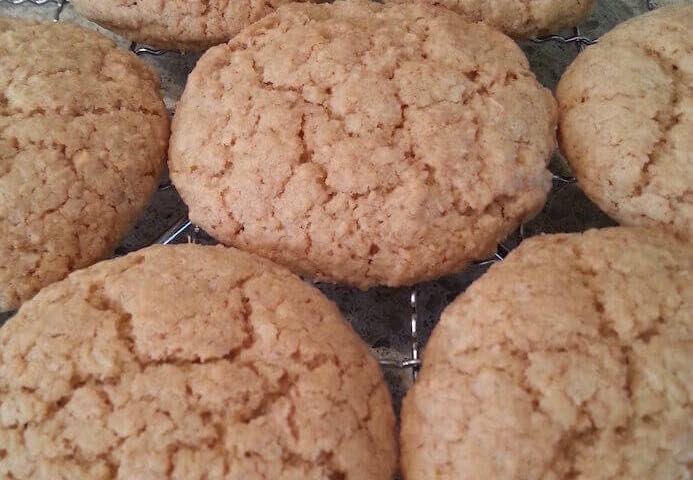 So, what do you think of my Crunchy Coconut Cookies Recipe? Did you try it out? Did you like it? What improvements would you make? Share a photo of your own attempt at this recipe or leave any feedback and comments below, I'd love to hear from you.
"Bon Nomnom"
You might also like my recipe for crunchy, spicy ginger nut biscuits.
And check out my recipe for lemon ricotta cookies, too.
If you like this Crunchy Coconut Cookies recipe, please share with others.
Related posts…