What a waster: Cleaning my plate and my famous soft baked lemon ricotta cookies recipe.
The United Nations website shows that I've been to 16 developing countries. The most impoverished was Bolivia. Therefore, I've spent most of my travels in what are sometimes called 'third-world countries'. Consequently, the things I have seen and experienced whilst wandering these places have influenced me profoundly. They helped change and shape who I am today, and I'd like to think for the better.
The stories of these experiences will unfold throughout my blog posts. But this post focuses on food waste.
Food waste is my biggest pet peeve.
I hate to see food left on a plate, put in a bin or chucked in any other way. I haven't witnessed extreme poverty but I have been part of a way of life where food is scarce. I've lived in communities where they use every single grain of corn or part of an animal to make food stretch and feed as many people as possible. When travelling, I would never dream of leaving a piece of food on my plate. Locals usually had very little to eat. I felt that 'leaving a little on my plate' was a very luxurious and 'Western' thing to do. As was my vegetarianism.
When I got to South America I realised how privileged I was to be able to not eat a whole food group.
To decide to exclude meat from my diet because it didn't sit comfortably with my morals was such an indulgence.
I was a vegetarian because there was an abundance of non-meat products back home. The choice of veggie food was excellent. I was spoiled for choice and very lucky. But, within a few days of arriving in South America all that changed. It was embarrassing when I asked for dishes 'sin carne'. I felt ashamed somehow for shunning this food group that was a luxury to a lot of people here. So, I started eating meat again after thirteen years of being a vegetarian.
Seeing people with so little food and seeing how they appreciate everything they eat has stayed with me. Thus, now that I am back home in Ireland, I am very conservative with my food. This is especially true when it comes to buying produce and baking and cooking.
For example, I never do a 'big' weekly shop. I know I will never get around to eating it all before it perishes. Therefore, I buy my fresh produce every second or third day. When I buy big quantities of an ingredient I'll have a set of recipes that I'll cook over the week. This ensures I use all the ingredient before it passes its use by date. I also never chuck things just because of their use by dates. I will always taste them to see if they are ok. If they are, I'll use them up or freeze them. If I know I am not going to use something before it goes off, I'll freeze it. I fill my freezer with everything from pastry to egg yolks and breads, fruits and cheeses.
I try not to cook or serve more than I will eat.
However, if I do, I insist on finishing every mouthful, no matter how stuffed I am. I know this is an issue as I sometimes eat more than I should but I'm working on this. It's just that I can't bear to see the food go to waste, unless it goes to the dog. I also get restaurant leftovers wrapped up and give them to the homeless. Now, I am not trying to come across as a do-gooder or Little Miss Righteous but I'd rather do this than let the restaurant throw it out. I can't justify that. I've even gone from a restaurant to a nightclub with pizza slices in my handbag smelling out the dance floor!
Ok, I'm not trying to preach here or ask anyone to do the same.
This ramble does have a point and that is to explain the format of the next few recipes. Sometimes my recipes will call for unusual ingredients or half a tub of this or a spoonful of that. So, to make sure you are not wasting food and your money I'll create recipes that use up leftover ingredients. The last recipe called for ricotta but not a whole tub, so this recipe uses up the leftover ricotta.
The last recipe calls for lots of lemon zest but not the lemons so the next few posts (lemon yoghurt scones and lemon yoghurt cake) will use up those lemons. This recipe and my lime and coconut macaroon recipe use up the left-over egg white from the pastiera Napoletana cake. So don't go throwing that out. Do what I do (a tip stolen from Nigella) and freeze leftover egg whites in sandwich bags.
OK, let's start. The following recipes use up the leftover ingredients from my traditional pastiera Napoletana recipe. I do hope it saves you some money and food waste and that you enjoy them.
These cookies featured on the TV show The Great British Bake Off: An Extra Slice.
So, read on to make my famous, soft-baked…
Lemon Ricotta Cookies Recipe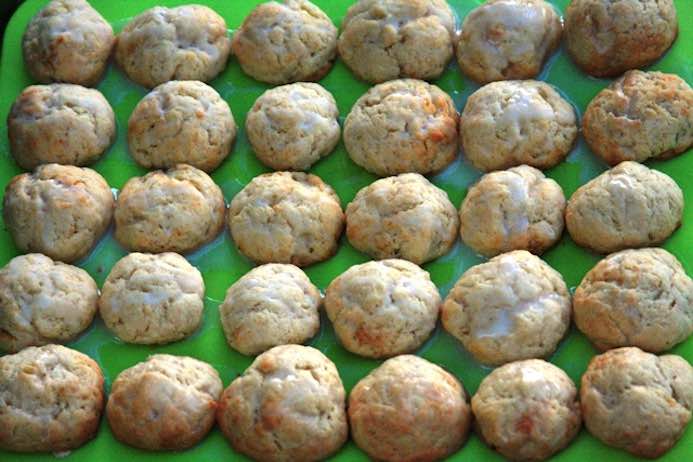 Prep Time: 15 minutes
Cook time: 15 minutes
Yield: 36 cookies
Ingredients
100 grams of butter
150 grams of sugar (caster sugar is best but granulated will do)
150 grams of ricotta (use leftovers to make my pastiera Napoletana)
50 grams of cream cheese (or any amounts of ricotta and cream cheese make 200 grams)
30 millilitres of lemon juice (about 1 lemon)
1 egg white
250 grams of plain flour
½ teaspoon of baking powder
½ teaspoon of bread soda
For the glaze
15 millilitres of lemon juice (about ½ a lemon)
15 millilitres of milk or water
85 grams of icing sugar
Prep
Pre-heat oven to 190°C / 170°C for fan assisted ovens / 375°F / gas mark 5
Instructions
In a large bowl, cream together the butter and sugar.
"I always use an electric beater to cream ingredients because you need to keep beating them until the sugar dissolves into the butter and this usually takes about eight minutes. Not only does creaming dissolve the sugar but it aerates the mixture and therefore will increase in volume the more you beat, just like cream, so make sure you have a big enough bowl to accommodate the increase in volume. To check that the sugar has dissolved, place a bit of the mixture between your thumb and index finger and rub them together. If it is smooth and you cannot feel the sugar granules, it is well creamed."
When your mixture has reached this stage, add in the ricotta, cream cheese, and lemon juice and continue beating until fully combined and the mixture is fluffy.
In a cup, lightly whisk the egg white before folding it into the bowl.
"Doing this will make the cookies nice and light and give them structure, as they are not a flat cookie."
Get another bowl and sieve in the flour, baking powder and bread soda and then fold these dry ingredients into the creamed mixture to form a workable dough.
"If the dough is too wet, then add more flour."
Take a teaspoon (5 grams) of dough and roll it between your palms to make a ball.
Place the balls of dough on an ungreased cookie sheet with a generous amount of space between each ball.
Do not flatten the balls out.
Bake for fifteen to twenty minutes until they come easily off the baking sheet and are a pale golden colour.
The cookies are soft, so their texture is not a good indicator of their doneness. If you want a firmer cookie leave them in the oven for an extra two to three minutes.
Leave them on the cookie sheet to settle for five minutes then transfer them to a wire rack to cool fully.
Make the glaze
Whisk the lemon juice / milk /water and icing sugar in a bowl until it forms a sticky paint-like consistency – not too runny but not like a paste.
Taste and adjust – if it's too sweet add more lemon or if it's too tart add more sugar.
Spoon the glaze over the cookies.
If you can wait until the cookies are cooled before tucking in, then good on you. Send me some of your willpower. If, like me, the temptation is just too much just tuck right in! They are delicious warm and can be used like bread to mop up any leftover glaze.
These Lemon Ricotta Cookies are a cross between a scone and a soft baked cookie (a scookie?). They melt in the mouth and can be adjusted to suit preferences in terms of how lemony or sweet you like them.
As with most of my cookies, I ate them all on the day. Therefore, I've no idea how long they will keep. But a safe bet is about three days in an airtight container. Just make sure they are fully cooled before you store them as this will keep them fresher for longer.
For those of you who know the TV show the Great British Bake Off, I sent in a photo of these cookies and it featured on the spin-off show An Extra Slice with Jo Brand. So, there you are, these cookies are BBC TV worthy both in looks and in taste.
So, what do you think of my Lemon Ricotta Cookies Recipe? Did you try it out? Did you like it? What improvements would you make? Share a photo of your own attempt at this recipe or leave any feedback and comments below, I'd love to hear from you.
Bon Nomnom
Have you tried my crunchy coconut cookies recipe?
You might also like my spicy ginger nut biscuit recipe, too.
If you like this Lemon Ricotta Cookies recipe, please share with others.
Related posts…