Gambas al ajillo tapas recipe of fried prawns in garlic and chilli flavoured olive oil is inspired by my time in Madrid.
I first had gambas al ajillo when I visited my aunt in Madrid (click here to read my Madrid Food and Drink Guide). Up until that point, I had never tasted prawns before. I remember watching the chef in the tapas bar flip the gambas around on this huge open flat grill and I gazed as they danced delightfully around in the hot splattering garlic and chilli infused Spanish olive oil. It was a wonderful scene as was the aroma but when they were served to me in the little earthenware dish I had no idea how to eat them. The gambas still had head and tails. But a quick glance at my aunt and uncle showed me what to do.
You just hold the prawn by the tail and twist the head off and suck the juice and meat out of the head. You then either bite in and eat the shell or you can tease the middle of the shell off with your hands and then pull the meat out or bite the meat out. It's quite a messy dish but so tasty. If you are eating this at home you can use a small fork to pull the meat out or you can shell and devein the prawns before cooking. I cook them in the shell as I think it adds depth to the flavour of the dish.
When it comes to deveining the prawns, it's up to you.
Some people choose to devein the prawn and some choose not to bother. The black vein that runs down the back of the prawn is usually removed in restaurants for aesthetic purposes but with small to medium sized prawns that I am cooking for myself, I just leave the vein in as I can't be bothered with the fuss. When making my gambas al ajillo tapas recipe you can leave the vein in or not, it's up to you.
I have done my research though and apart from maybe having a bit of a gritty texture (I've never actually experienced this) it is not dangerous to leave the vein in the prawns. The vein isn't really a vein it is the digestive tract and prawns eat mainly plankton so, as long as the prawns are cooked to kill bacteria, it is a personal choice to devein or not. Many cultures eat the whole prawn; head, eyes, and all.
If you do want to devein you can do it without removing the shell so you can still get that added flavour. Learn how to devein and peel prawns by watching Gordon Ramsey do it in this YouTube video or learn how to devein the prawn with the shell still on by watching this video.
Traditionally, tapas are served in Spanish cazuelas which are glazed clay cooking dishes (sometimes referred to as terracotta dishes). If you have one of these you may as well go all out and use it for this recipe.
Gambas al ajillo are prawns cooked in a pungent garlic and oil mixture and gambas pil-pil are prawns cooked in a garlic and chilli oil mixture. Gambas pil-pil is traditionally associated with the Basque region of Spain and the chillies used are called guindillas. I guess my recipe is a combination of the two dishes as it features chillies but I use dried chillies, however, you can just leave the chillies out if you want to make gambas al ajillo or add more in if you like your dishes to have a little more heat.
Best Gambas al Ajillo and Gambas Pil Pil Tapas in Dublin
On a side note, if you don't want to cook but want to head out and let someone else do the cooking, well, I have been tracking down the best places in Dublin to try gambas al ajillo and gambas pil-pil and you can find out where those restaurants are by reading my post: Best Tapas in Dublin – where to eat gambas al ajillo and gambas pil pil.
So, here it is my Madrid inspired tapas…
Gambas al Ajillo Tapas Recipe
This recipe will serve one hungry person or makes a great sharing dish between two people.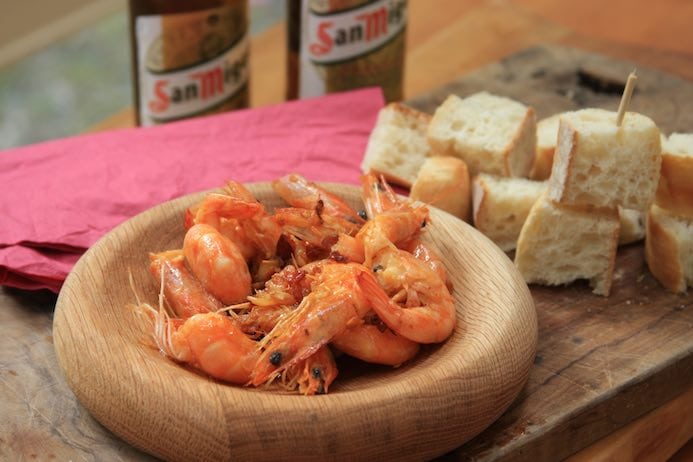 Prep Time: 10 minutes
Cook time: 5 minutes
Yield: 1 serving
Ingredients
2 tablespoons of good Spanish olive oil (or any flavourful frying oil)
9 whole dried birds eye chillies / 1-2 fresh birds eye chilli / 1-2 guindillas
3 cloves of garlic, roughly chopped
9 prawns
Optional
1 teaspoon of Spanish brandy or dry sherry (I use fino or manzanilla) or very dry white wine or sherry vinegar
1 teaspoon fresh lemon juice
Handful of chopped parsley
Bread for dipping and soakage
Prep
Start warming up the plate or bowl that you'll be using to serve the gambas al ajillo.
If you want to you can remove the shells and devein the prawns.
Peel and chop the garlic.
If using fresh chillies, finely chop them.
If using parsley, finely chop it up.
Instructions
In a wide, shallow pan over medium heat, place the olive oil and the garlic.
'I like to cook my garlic by placing it in the cold oil and allowing it to heat up slowly rather than putting it into the hot oil. By heating it up slowly the flavour is released into the oil and there is less chance of the garlic burning.'
Keep stirring the garlic to make sure it doesn't burn.
After about one minute add the chillies and keep stirring.
After about one minute add the prawns.
Sauté quickly for about 2-3 minutes. When they are cooked, the prawns will curl into a U shape and turn orange and the heads will turn a red colour with no black parts other than the eyes.
If you are using the optional brandy/sherry/wine/sherry vinegar/lemon juice add these to the pan now and stir everything together.
Transfer to the warmed serving dish and sprinkle with the parsley.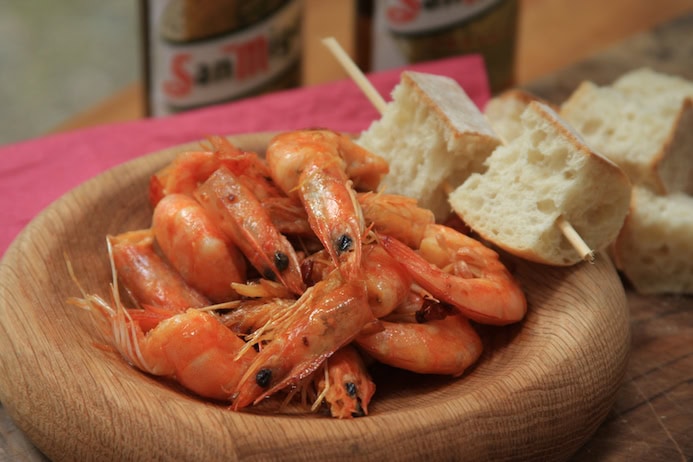 Serve with crusty white bread which can be used to dip into the hot oil and soak up all the lovely juices.
Wash it all down with a Spanish beer or Spanish white wine.
"Bon Nomnom"
Spanish wine pairing with my gambas al ajillo tapas recipe
Prawns pair well with crisp citrus notes with the wine acting like a splash of lemon, so pick up a Godello like the 2014 Cuvée de O from Bodegas Avancia in Valdeorras or a Rueda like the 2015 Marqués de Riscal, Finca Montico, Rueda.
You could even try an unoaked white Rioja like the CVNE 2015 Monopole Rioja Blanco.
Alternatively, as garlic loves sauvignon blanc you could try a 2016 Jose Pariente Sauvignon Blanc. However, my favourite Spanish wine to pair with garlicky prawns is the 2014 Alba Martin Albariño from Rias Baixas region. With these wines, the bright acidity cleanses the palate while the citrus notes enhance the ocean-fresh flavours of the prawns.
You know what else pairs well with my gambas al ajillo tapas recipe? Sherry. No, seriously, it does. Try a manzanilla or fino sherry. Have a chilled manzanilla like La Guita, Sherry Manzanilla as it the fresh and salty notes of the sherry that highlights the sea flavour of the prawns and the wine can really handle strong flavours like garlic and chilli. Fino sherry also pairs well with seafood and strong flavours. Try a bottle of Gonzalez Byass Elegante Fino Sherry.
So, what do you think of my gambas al ajillo tapas recipe?
Did you try it out? Did you like it? What improvements would you make? Share a photo of your own attempt at this recipe or leave any feedback and comments below. I'd love to hear from you.
"Thanks for reading"
You might also like my rosé wine guide and recommendations and my rosé wine food pairing tips.
And check out my recipe for quinoa turkey meatballs and quinoa salad with warm halloumi.
For another quick and delicious seafood dish, try my seared scallops with chorizo and pea purée recipe.
So, if you like this gambas al ajillo tapas recipe, please share with others.
Related posts…