An edible gift inspired by the flavours of Mexico – my lime and coconut macaroons recipe.
This blog is about travel and food and, in particular, food that has been inspired by my travels
Well, today's post and recipe is kinda like that. My friend invited me over to his house for dinner. This is a big deal for me because apart from my mam (thanks mammy) nobody ever cooks for me. What's more exciting is that it is a guy cooking for me. One thing I find attractive in a guy is the ability to cook, or at least a willingness to try. My ex-fella use to make me a breakfast sambo of fried egg, veggie sausages, and cheddar cheese covered in ketchup. It wasn't the fanciest meal in the world. It was the fact that he made it for me that made it one of the most delicious. I'm very easily pleased, low maintenance, don't you know!
But I digress, as someone is cooking me dinner tonight it's only polite I bring something over as a gift. I don't know enough about wine to pick one out, so I've decided to make an edible gift.
The last time he cooked for me I made a batch of almond fudge and it went down a treat. So I want to make something along the same lines.
Ok, confession time, there is another reason why I want to make something along the same lines as my fudge; I'm not the best at baking! I know, I know, a shocking statement coming from someone who writes about food. I do however love to bake. However, like most things I love – photography, snowboarding, surfing – I'm not very good at it. That stuff just doesn't come naturally to me; I really have to work at them.
It is the same with baking. For some reason, things just don't turn out the way I had envisioned them; you know, edible. I never really burn things, in fact, the opposite seems to happen to me quite a lot; things just don't cook. I have made more under-baked cakes and tarts than I care to remember. It is heart-breaking sometimes, especially when it has taken me so long to research the recipe, put my own spin on it, and then photograph the whole process. Thankfully, you can't see my food wobble in the photos. However, for some reason I am good at baking 'little' things. Small dainty treats like fudge, cookies, and now, it would seem, macaroons.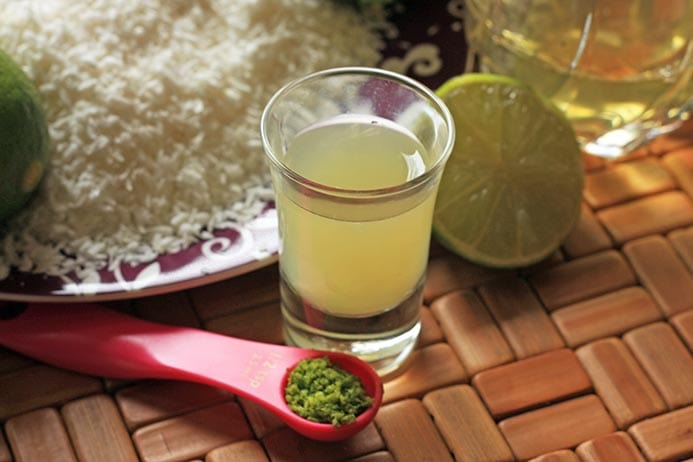 As it is Cinco de Mayo I've decided to bake something inspired by the flavours of Mexico.
Now, I have never been to Mexico but I am going in less than three weeks so this is a good way of getting my palette ready for that trip. When I think of Mexico I think of tequila and lime and for some reason coconut, but I think that may be more to do with the song 'you put the lime in the coconut and mix it all up'. So, after a little bit of Google action I stumbled upon lots of recipes for lime, tequila and coconut macaroons, and macaroon bars, some made with condensed milk and some with eggs. Using all this coconutty information, I combined some ideas and came up with the recipe below. The recipe is gluten free and dairy free too and it is vegetarian, but to make it vegan you would have to use an egg white substitute.

For me, the whole point of making an edible gift is not only to put some effort and thought into the gift but to save some money and not spend more than I would just buying a gift. So, this recipe should contain tequila, but I couldn't find any miniature bottles of the stuff this morning and I was not going to go and buy a whole bottle just to use one shot in a recipe. So, I left it out. This way I kept the cost down but if I had tequila in the house I would have lashed a shot of it into the mixture to make these macaroons really boozy – authentically Mexican. If you have a bottle of tequila and want to add it to the macaroons, just half the amount of lime juice and add one tablespoon of tequila.
So, there you have it, a long introduction for my short…
Lime and Coconut Macaroons Recipe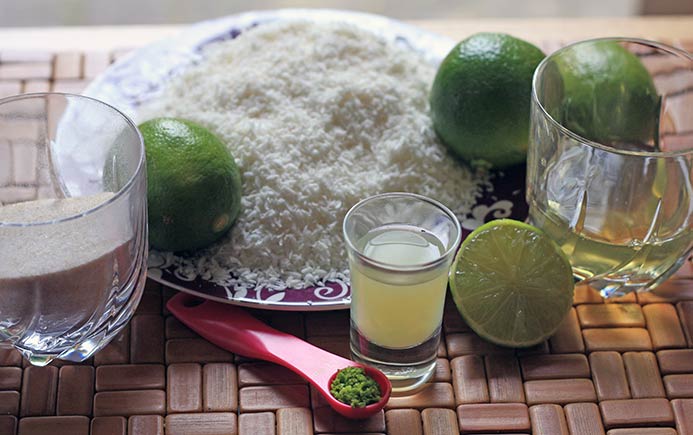 Prep Time: 10 minutes
Cook Time: 15 minutes
Yield: 15 Macaroons
Ingredients
100 grams of caster sugar
2 egg whites (hold on to the egg yolks and use them in my pastiera Napoletana cake)
2 tablespoons of freshly squeezed lime juice (about one lime)
1/2 teaspoon of lime zest (about one lime)
180 grams of desiccated coconut (use up any leftover coconut to bake my crunchy coconut cookies)
Prep
Grease a sheet / cookie pan.
Pre-heat oven to 180°C / 160°C fan assisted / 350°F / gas mark 4.
Instructions
Combine the sugar, egg whites, lime juice and lime zest in a bowl.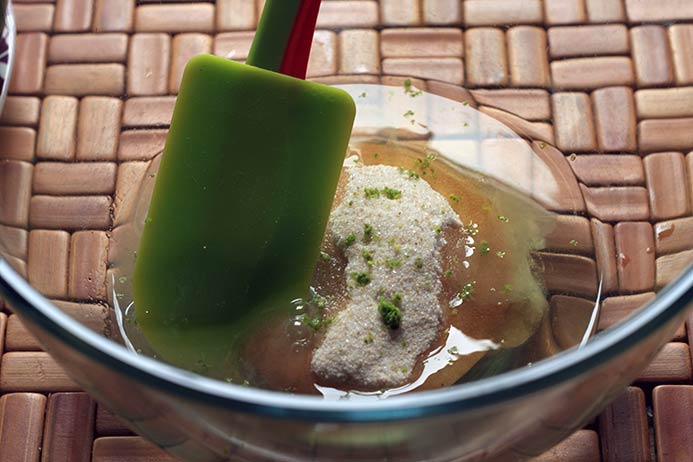 'I didn't have any caster sugar, and i hate buying unnecessary ingredients so i just made my own. I put 50g of granulated white sugar and 50g of soft brown sugar into a blender and blitzed until it turned into caster sugar. Simples, and saves money. I'm thrifty like that.'
Add the coconut and give it a good auld mix.
Shape the mixture into small balls using your hands, an ice cream scoop or, as i did, a tablespoon sized measuring spoon.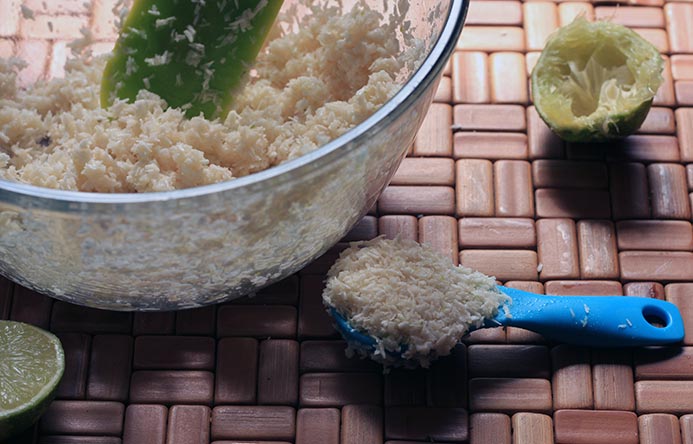 Place them on the cooking sheet and bake in the oven for 15 minutes.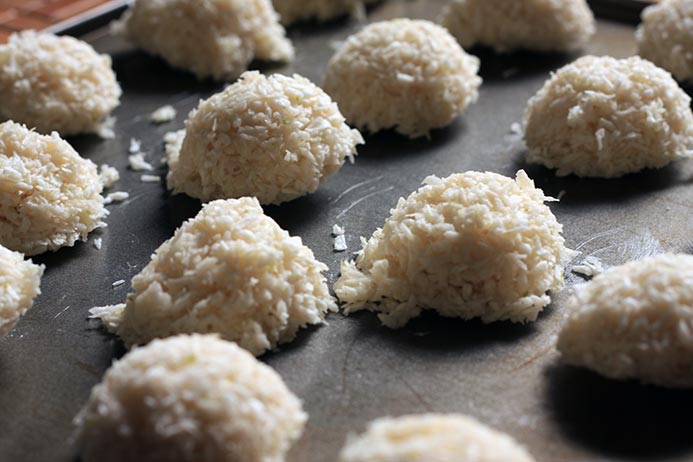 The coconut should be lightly toasted and golden, but the macaroons should still be soft.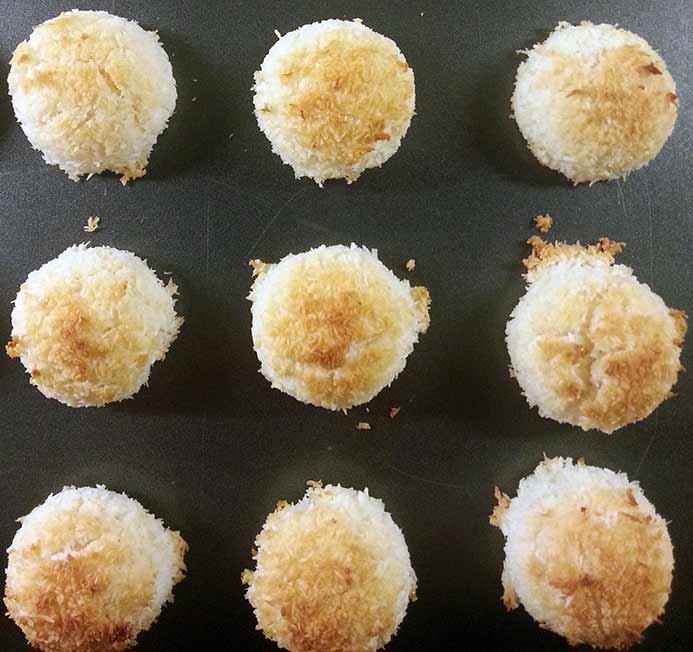 When cooked, take them out leave them on the sheet for a few minutes before carefully lifting them off with a fish slice and then leave them to cool completely on a wire rack.
These are very delicate when they are warm so you need to let them cool completely before handling them or else they will fall apart, as I found out! I never have the patience to let things cool before trying them.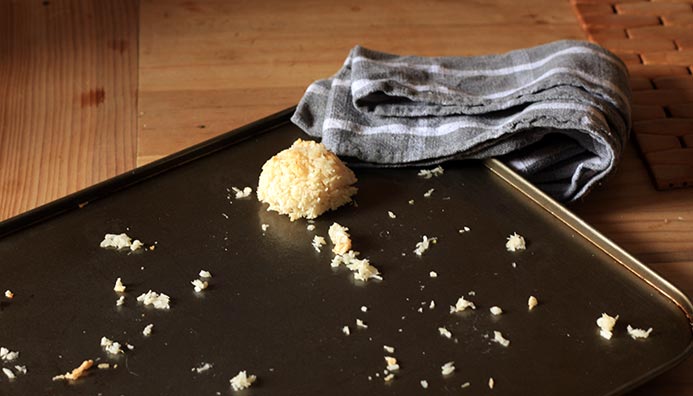 And there you have it, or them, 18 or so light, soft, zesty, coconutty macaroons, a perfect edible gift or for a Cinco de Mayo / Day of the Dead / Mexican themed party.
I happened to have a lovely empty chocolate box that I kept for such an occasion (see hoarding can be useful) which I put the macaroons in as a little extra touch – well he is making me dinner after all!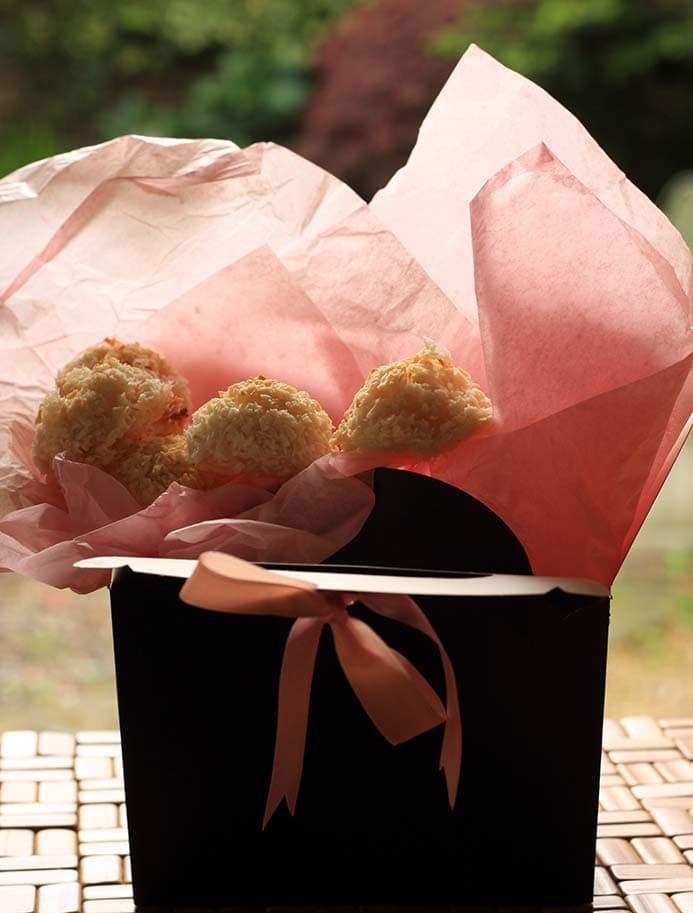 I am so delighted with the way these turned out; they are not only delicious but look great too. A great baking success, for a change. Go me!
So, what do you think of my lime and coconut macaroons recipe? Did you try it out? Did you like it? What improvements would you make? Share a photo of your own attempt at this recipe or leave any feedback and comments below, I'd love to hear from you.
"Bon Nomnom"
You might also like my recipe for traditional ginger nut biscuits.
And be sure to check out my recipe for lemon and ricotta cookies.
If you like this lime and coconut macaroons recipe, please share with others.
Related posts…