Lemon yoghurt cake recipe – my family says this is the nicest thing I bake!
If my baking can please my brother's fussy palate then I know I've hit on something special. And this is it – my moist, tangy, delicate, Lemon Yoghurt Cake recipe with sweet sultanas.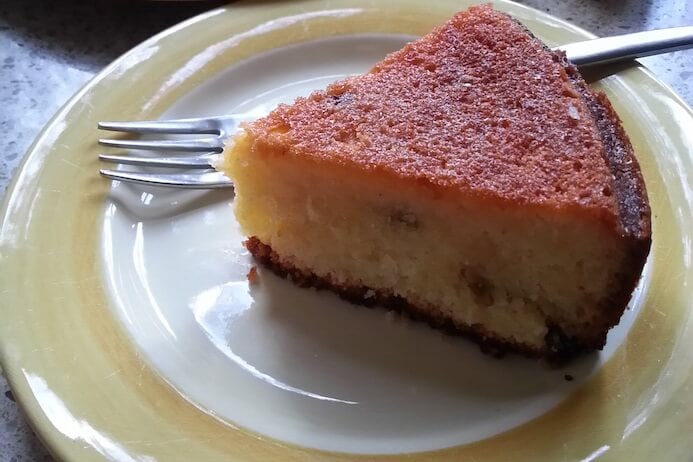 This is my 'wow' cake
It doesn't look like a 'wow' cake but its taste is nothing short of 'wow'. The thing that made this cake so good was the fact that it was a perfect bake. Usually, when I bake in my family kitchen, I over or under cook things. The treats I bake are perfectly edible, but they are just not perfect, until now. How did I manage this most perfect of bakes you might ask? Well, it was all down to a €5.99 piece of kitchen equipment: an oven thermometer. Yes, a very simple oven temperature gauging thingy was the special ingredient in this recipe.
The amount of kitchen disasters I have had is unfunny
I cannot count the number of times my 45-minute cakes have turned into 2-hour bakes to get them cooked in the middle. And I dread to think how many kilos of burnt pastry have gone in the bin. I worry my family are going to ban me from ever setting foot in the kitchen again if they have to see one more anaemic roast chicken after a full five hours cooking.
However, when I was baking in my cousin's kitchen using his electric oven, most of my dishes turned out bang on perfect, cooked, as they should.
So, I knew that it couldn't be down to my kitchen skills, or lack thereof
Well, I was hoping this was the case. So, with determination, I faced my gas oven and tried to work out what the heck was going. After just a few moments of looking at the oven set-up, I noticed that the drawers beside the oven were a little warped. Bingo, I worked it out; the oven door did not close completely and was obviously not trapping in all the heat. Therefore, this would mean that the oven dial would say one number but, in theory, be a lower temperature inside the oven.
There was one way to test this out: buy an oven thermometer
I bought this thermometer, placed it directly in the middle of the oven, and set the oven to gas mark 5. According to Cookipedia, which I use for all my oven temperature conversations, gas mark 5 is 190° Celsius. So I watched and waited for ages and the oven thermometer didn't go past 170° Celsius, two gas marks less than what it should be.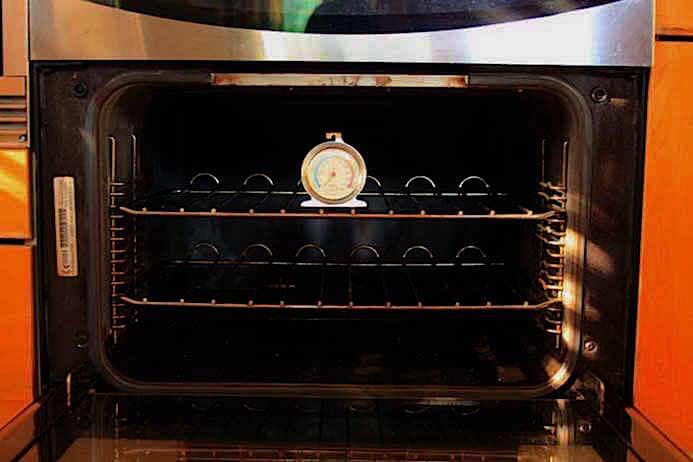 No wonder nothing was ever baking according to plan
I turned my oven up and adjusted my settings until the thermometer read 190° Celsius and I wrote down the oven adjustments in my notebook. I now knew roughly, what my settings needed to be in order to follow a recipe's temperature guideline. So, this lemon yoghurt cake recipe was my first bake with my new oven adjustments. And it just happened to be the best cake I ever made. Coincidence? Perhaps, but I think not, I really think the correct oven temperature made a world of difference to my baking and made me look like a better baker – a great success!
I now never put anything in the oven without my thermometer inside
I also make sure it is positioned so that I can read it without opening the door. This is important because I learnt that by opening the oven door for even less than a minute, say when putting a cake in, the temperature can drop in my oven by 50° Celsius. The oven then has to warm up again, which means your cake is cooking at a lower temperature and this can affect the bake and time in the oven. So always, try to have your cake ready to hand when you open the door and put it in quickly letting minimal heat escape. Furthermore, it takes a while for my gas oven to pre-heat – a good ten to fifteen minutes – so make sure you leave plenty of time if a recipe tells you to preheat the oven.
My advice would be to just buy an oven thermometer anyways
Even if you think that your oven is spot on, it is so cheap, and yet it really improved the results of my baking. It is the best bit of kitchen kit I own.
So, here it is my best ever bake…
Lemon Yoghurt Cake Recipe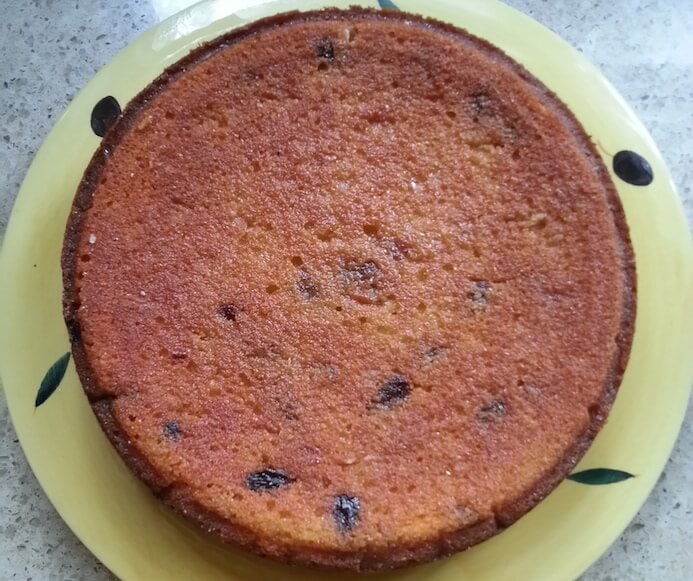 Prep Time: 30 minutes
Cook Time: 75 minutes
Yield: 1 cake
Ingredients
50 grams of golden sultanas
225 grams of caster sugar
Zest of 1 unwaxed lemon
170 grams unsalted butter at room temperature
1/2 teaspoon of vanilla extract
3 large eggs, separated
30 millilitres of lemon juice (about 1 lemon)
1 teaspoon of orange blossom water (optional)(use leftovers to make my pastiera Napoletana
250 grams of Greek yoghurt (use leftovers to make my raita, lemon yoghurt scones or spelt bread
225 grams of self-raising flour
1 teaspoon of baking powder
Prep
Grease an 8-inch (20cm) springform tin and line the bottom with parchment paper.
Pre-heat oven to 180°C / 160°C fan assisted / 350°F / gas mark 4.
Method
This lemon yoghurt cake recipe really is very simple to make.
Place the sultanas in a saucepan and cover with water, or orange juice is even better. Let them simmer gently for about ten minutes until they are plump and the liquid has been absorbed. Once this has happened, take off the heat and leave to cool down.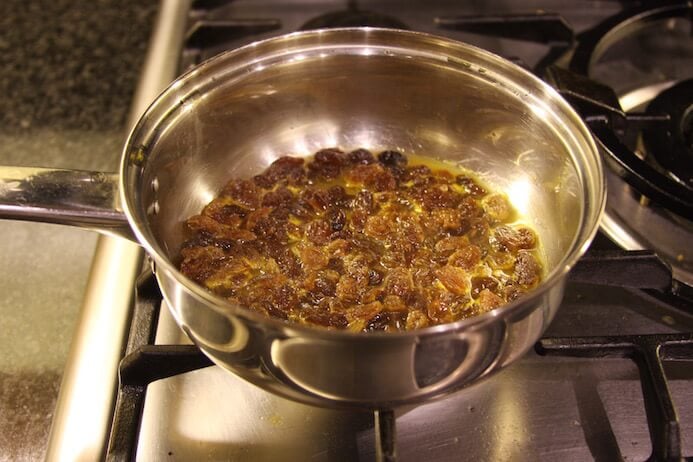 Put the sugar in a large bowl with the lemon zest.
"Use your hands to rub the lemon zest into the sugar. This releases all the oils and perfumes the sugar giving a more intense flavour."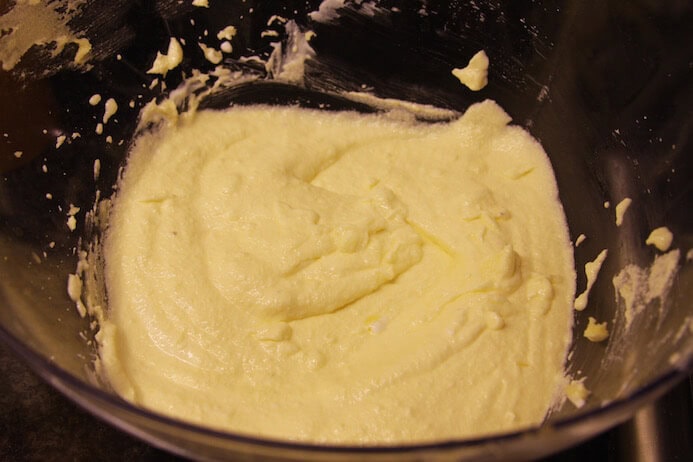 Add the butter to the sugar and cream together until all the sugar has dissolved and the mixture has increased in volume, about eight minutes using an electric whisk. Add the vanilla into the mixture and beat for a further minute until fully mixed through.
In a separate bowl, whisk the egg yolks together with the lemon juice and orange blossom water. Then beat this egg yolk mixture into the butter and sugar a little at a time. Beat well after each addition.
Stir in the yoghurt to make a smooth batter.
Mix in the cooled sultanas.
Sieve flour and baking powder into batter a little at a time and fold gently until combined.
In a clean bowl with clean beaters, whisk the egg whites until stiff. Stir about a quarter of the stiff egg whites into the creamed mixture. This loosens up the mixture.
Then gently fold in the rest until thoroughly combined.
"Be careful not to knock out any air, as this helps the cake rise and gives it a light texture, but it is better to do this quicker rather than slowly to get the cake into the oven as soon as possible."
Gently spoon or pour the mixture into the prepared tin, smoothing over the top. Make a slight dip in the centre – this helps the cake rise evenly and prevents it doming.
Bake for 75 minutes in the centre of the pre-heated oven. When done, the top will be cracked and have beautiful golden colour. My cake cracked a little too much so I just turned it upside down to serve.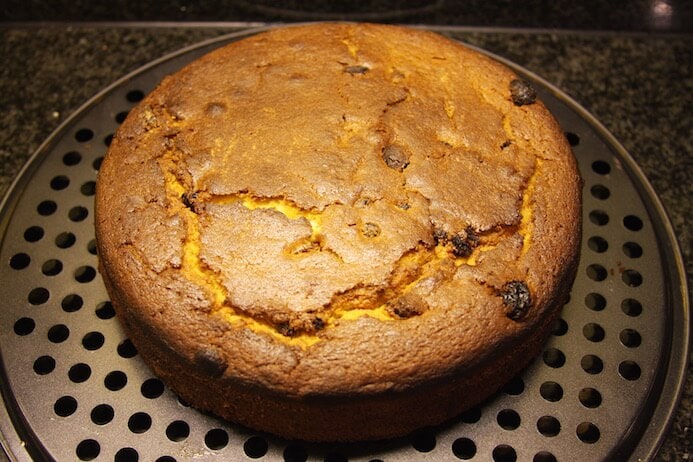 Gently remove from the oven and leave in the tin for 15 minutes to allow settling. Then, remove from the tin and place on a wire rack to cool completely.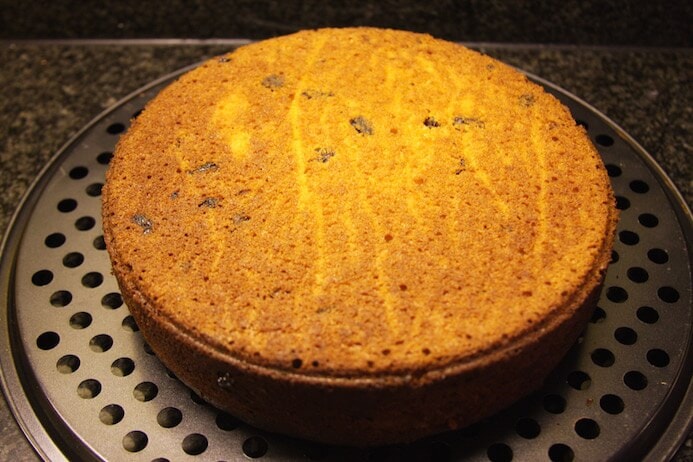 This is the first time I ever waited for something to cool completely before eating, but it is worth the wait. As it cools, it develops a lovely moist finish and extra lemony flavour. It is an almost creamy texture, with a burst of sweetness provided by the sultanas dotted throughout the cake. It just melts in the mouth and needs no accompaniment; however, I did dolloped a spoonful of the leftover yoghurt on top of the cake. It was a lovely tangy partner to the sweet soft cake.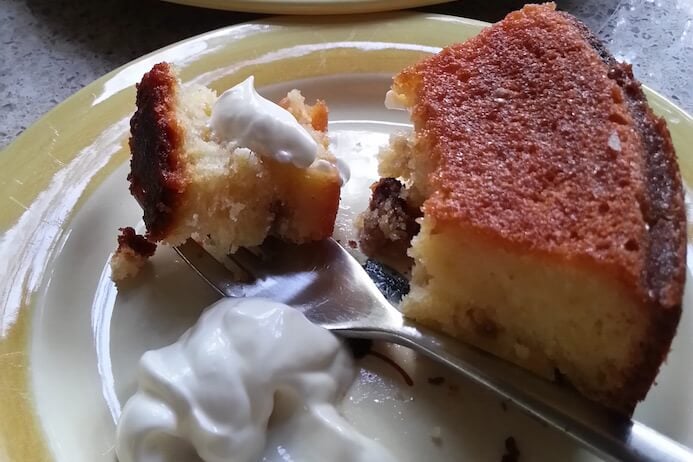 So, what do you think of my Lemon Yoghurt Cake Recipe?
Did you try it out? Did you like it? What improvements would you make? Share a photo of your own attempt at this recipe or leave any feedback and comments below, I'd love to hear from you.
"Bon Nomnom"
Have you tried my salted caramel chocolate cake recipe?
You might also like my scones recipe, too.
If you like this lemon yoghurt cake recipe, please share with others.
Related posts…