My Lemon Yoghurt Scones recipe uses the leftover zested lemons and yoghurt from my raita, spelt bread and pastiera Napoletana recipes.
Waste not, want not
Scones are my favourite baked-good ever and I will never turn down a scone or choose any other tasty treat pitted against a scone. I eat my scones plain, no jam, no butter and certainly no cream. A good scone does not need any fancy distractions. I am on a mission to find the best scone and find the best scone recipe.
I have a confession. My name is Melanie and I'm a sconeaholic.
For such a humble little baked bun, it is a very hard treat to perfect. So much so that I am yet to find the perfect recipe but until I do, I will be posting my attempts at trying to create an unbeatable scone recipe.
Usually, I just like plain scones however, I do now and then dabble in the dark arts of flavoured scones, and these lemon scones are very good. They are bursting with fresh citrus flavour, which I love, and they are very soft and moist, another feature that, to me, makes a good scone. They are more cake like than bread like and the drizzle just makes them that little bit more lush and luxurious, not your average scone.
You can make the same lemon glaze as the one used for the lemon ricotta cookies or make the richer one accompanying this scone recipe. Although, as these scones are brimming with zingy flavour they are perfectly perfect sans glaze.
This recipe makes four big scones, but you can always make smaller ones, just adjust the cooking time by decreasing it a little and keeping your eye on them in the oven. I'll keep looking for the ultimate scone recipe but until I find it, here is my soft and tangy…
Lemon yoghurt scones recipe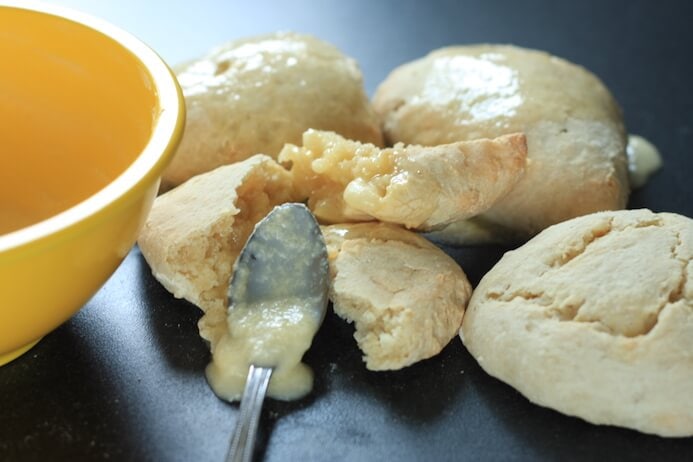 Prep Time: 15 minutes Cook time: 30 minutes Yield: 4 big scones
Ingredients
270 grams of plain flour
1 ½ teaspoons of baking powder
¼ teaspoon of salt
40 grams of caster sugar
40 grams of unsalted butter, cold, diced
100 millilitres of natural yoghurt (use any leftover yoghurt to make my raita or spelt and oat bread)
30 millilitres of lemon juice (about 1 lemon)
75 millilitres of buttermilk (or normal milk)
For the glaze
100 grams of icing sugar, sifted
30 grams of unsalted butter, melted
30 millilitres of lemon juice (about 1 lemon)
Prep
Lightly flour a baking sheet.
Pre-heat oven to 180°C / 160°C fan assisted / 350°F / gas mark 4.
Instructions
Sieve flour, baking powder and salt into a large bowl. Mix in the sugar.
Rub the butter into the flour until the mixture resembles breadcrumbs.
Stir in the yoghurt and lemon juice until fully combined.
Mix in the buttermilk a little at a time and use as much of the buttermilk as is necessary to create a sticky dough.
Turn out onto a lightly floured surface and knead gently for a few minutes, turning the dough 90 degrees and folding it in on itself as you go; this is called chaffing.
"Chaffing helps distribute the raising agents evenly and it incorporates air into the dough making the scones light and fluffy. Watch the expert Paul Hollywood demonstrate this technique, here."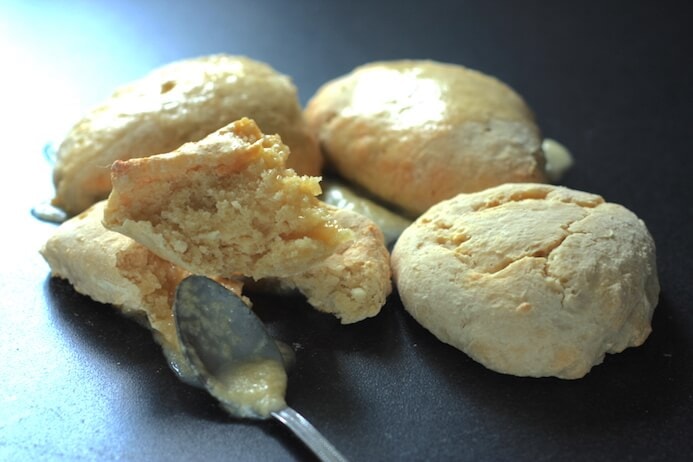 Using your hands or a rolling pin, shape the dough into a 2.5-centimetre thick (about 1-inch) circle.
Cut into four wedges (or however many scones you would like).
Arrange on the lightly floured baking sheet. Leave about a 2.5-centimetre (1-inch) gap between each scone.
Place the baking sheet on the middle shelf of the preheated oven and bake until the bottom edges are a light golden colour, which takes about 30 minutes.
Make the glaze by mixing the sifted icing sugar with the melted butter and lemon juice until smooth.
Drizzle the glaze over warm scones as they will absorb the glaze better than cold ones.
"If the glaze is too thick, just add more lemon juice or water until you have the consistency that you like."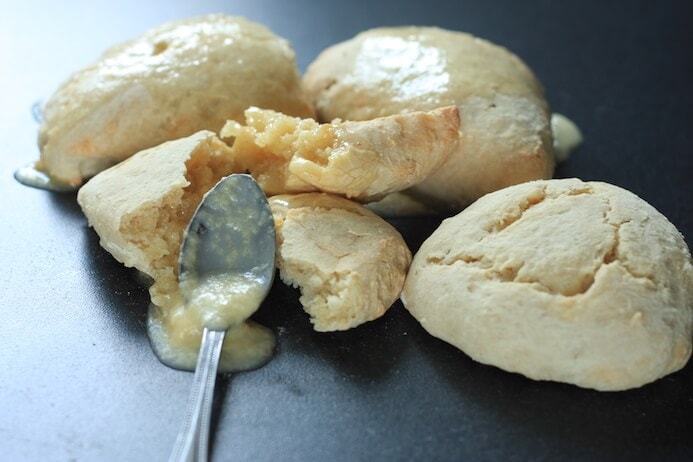 If you can wait until they are cold before tucking in and enjoying them, then you are mighty disciplined. I, however, think they are best served warm whilst the drizzle is still runny and dripping over the sides, and the evil diet police haven't arrived yet to spoil your eating fun.
So, what do you think of my Lemon Yoghurt Scones Recipe? Did you try it out? Did you like it? What improvements would you make? Share a photo of your attempt at this recipe or leave any feedback and comments below, I'd love to hear from you.
Bon Nomnom
Have you tried my other scones recipe, which makes fluffy, fruity scones?
You might also like my lemon yoghurt cake recipe.
If you like this lemon yoghurt scones recipe, please share it with others.
Related posts…