Spice Cake Recipe – inspired by my holiday to the Caribbean island of Grenada. I wrote about running away to Grenada in my blog post, Shrewsbury Biscuits and The Smiths – A Love Story.
Grenada is a laid-back tropical island in the Caribean. Grenada is a country that changed my life. I went to Grenada on an active holiday with the travel company Neilson. On this holiday, I learned how to sail and windsurf. Returning to London, where I lived at the time, I tried to keep that holiday vibe alive by taking sailing and windsurfing lessons. I did this on a reservoir in Slough. Dear reader, Slough is nothing like the Caribbean.
So, to live out my beach bum fantasy, I quit my job as a school teacher and went to live in a tent on a beach in France. I then spent the summer teaching windsurfing, sailing and snorkelling in the South of France, Greece and Turkey.
So, in homage to the country that left a lasting impression and changed my life I've created this spice cake recipe. Grenada grows so much nutmeg and mace its nickname is the 'Spice Island'. When you step off the plane at Grenada airport you can smell the nutmeg. Because of all this spice, Grenadians put it in everything. Nutmeg has a warm, sweet flavour that pairs well with many different sweet and savoury foods.
Tip five uses for nutmeg:
Grate fresh nutmeg on top of rum cocktails – Grenada has three rum distilleries and rum is the top tipple here.
Use nutmeg as a garnish on top of eggnog, chai tea, turmeric lattes, smoothies and mulled wine.
Nutmeg tastes amazing in apple pie and pumpkin pie.
Add to savoury dishes like curry.
I love grating fresh nutmeg on top of porridge.
My favourite way to use nutmeg is in a cake. In particular my Grenada-inspired spice cake. Because of the many health benefits of nutmeg – anti-inflammatory properties, mood-boosting, blood sugar control, and many more – this cake is actually good for you! OK, maybe cake isn't that good for you, but let's just say my spice cake recipe it is better for you than some other types of cake.
So, without further ado, here is my Grenada-inspired Spice Cake Recipe.
Spice Cake Recipe Ingredients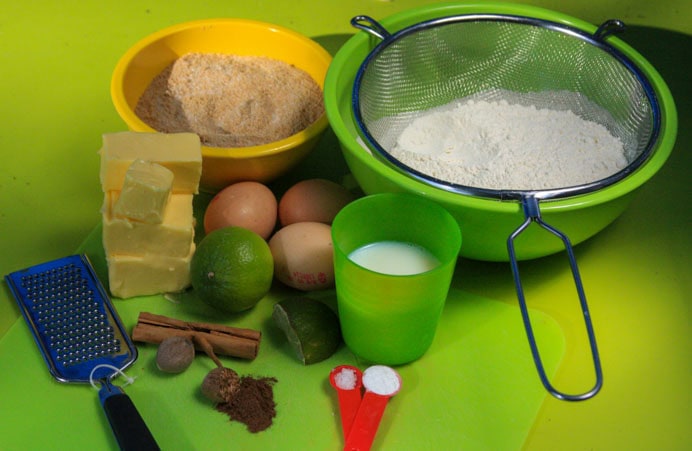 225 grams of butter, softened
300 grams of sugar (brown sugar tastes best)
Zest of one lime
250 grams of plain flour
1/2 teaspoon of baking powder
1/8 teaspoon of salt
2 teaspoons of grated nutmeg (or nutmeg powder)
1 teaspoon of cinnamon
1/2 teaspoon of allspice
3 eggs
120 millilitres of milk
Spice Cake Recipe Method
Pre-heat oven to 180°C / 160°C fan assisted / 350°F / gas mark 4.
Grease and lightly flour a 9-by-5-inch loaf tin
Place the softened butter into a bowl with the sugar and lime zest and beat with an electric beater or by hand until light and fluffy, about 7 minutes. Stop once to scrape down the bowl.
Into this butter and sugar mixture, sieve the flour, baking powder, salt and spices.
Beat until the mixture starts forming pebble-size clumps.
In a jug, mix together the eggs and milk.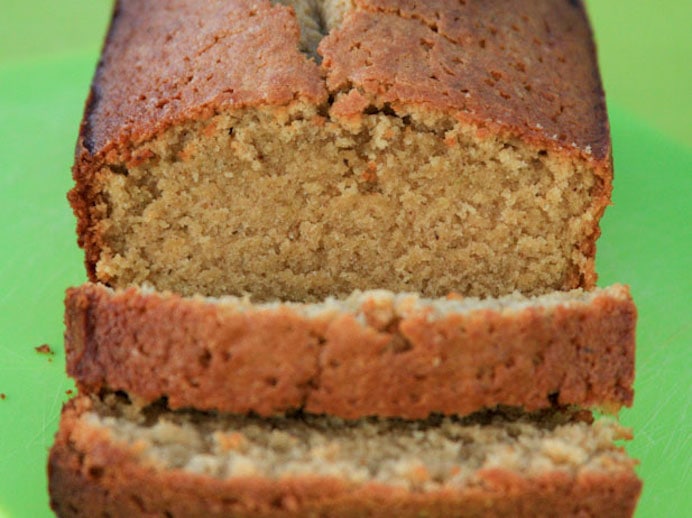 Pour about 1/3 of the egg and milk mixture into the butter mixture.
Beat on a low setting until the mixture is smooth. Stop the mixer occasionally to scrape down the bowl.
Pour in another 1/3 of the egg and milk mixture and mix on medium speed until the mixture is smooth and like a batter.
Pour in the remaining egg and milk mixture and mix on medium speed until the mixture is completely smooth.
Transfer the pans to the oven and bake for 75 to 90 minutes, or until the cake begins to shrink from the sides and/or until a toothpick inserted in the centre comes out clean.
When done, remove from the oven and let the cake cool for 10 minutes in the tin.
Turn the cake out onto a rack and let cool completely.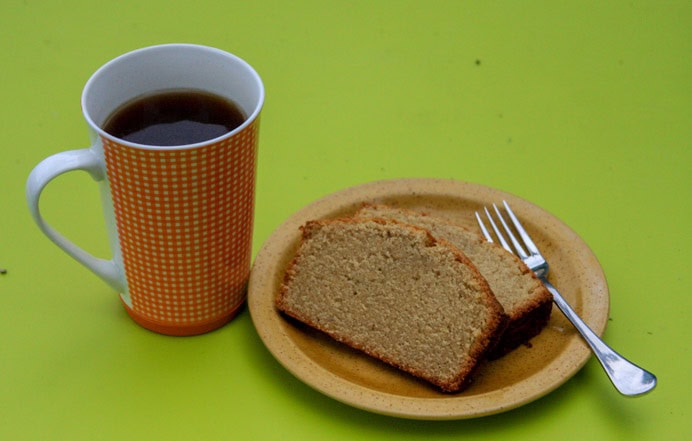 This spice cake recipe packs a punch with flavour. I love it in the morning with a cup of coffee, the coffee really enhances the spices. It also pairs perfectly with some rum punch, Grenadian style.
So, what do you think of my spice cake recipe?
Did you like it? Did you try it out? What improvements would you make? Share a photo of your own attempt at this recipe or leave any feedback and comments below, I'd love to hear from you.
Bon Nomnom
If you liked this spice cake recipe you might also like my foolproof scones recipe.
Or you might enjoy making my ginger nut biscuits recipe.
You might also like the recipe for crunchy coconut cookies.
And be sure to check out my recipe for Shrewsbury biscuits.
If you like this spice cake recipe, please share with others.
Related posts…