Before we get started with this easy white bread recipe, make sure you read my bread baking tips and tricks blog post first. This will give you all the tools and knowledge you need on how to make bread at home. Homemade bread is such a treat and tastes so much better than mass-produced bread.

This simple bread recipe can be used to make many different types of white bread. You can use this white bread recipe to make bloomers, sliced pan, loaves, baguettes, dinner rolls, etc. The only difference is how to shape them and bake them.
This easy bread recipe will make two loaves of bread or two free-shaped bloomers or 12 dinner rolls. All the photos you see in this post are the types of bread that I have made using this white bread recipe. I have been using this recipe for years.
White Bread Recipe
Bread ingredients
500 grams of strong white bread flour
2 teaspoons of salt
7 grams of fast-action yeast or 15 grams of fresh yeast
300 millilitres of lukewarm water
5 teaspoons of oil (rapeseed or olive oil are best)
How to make bread
Sieve the flour and salt into a bowl.
If using fast-action yeast add this to the flour. If using fresh yeast, crumble this into the water.
Make a well in the middle of the dry ingredients and pour in the water.
Pour the oil into the water in the well.
Using your hands, or spatula or fork start incorporating the flour into the water and oil.
The dough will start to come together into a ball.
If the dough seems a little stiff, add another 1-2 tablespoons (15-30ml) of water and mix well.
Kneading the bread dough
Turn out onto the countertop and start kneading. You'll need to knead for around ten minutes until you get the 'windowpane' effect.
Watch how Patrick Ryan from Firehouse Bakery kneads his dough.
Proving the bread dough
Place the ball of dough in an oiled bowl and cover the bowl with a damp tea towel or oiled clingfilm.
Leave in a warm room for about 60 to 90 minutes or until the dough has doubled in size.
Knocking back the bread dough
When the dough has doubled in size, turn it out on your worktop.
Punch the dough down – you are knocking out the gases.
Shaping the bread dough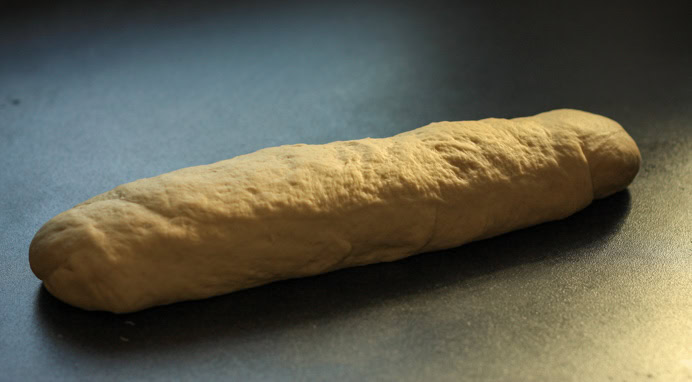 Portion the dough according to how many rolls you are making.
This recipe makes around 12 dinner rolls. I made six medium-sized rolls. It also makes two loaves.
I tried to make the baguette shape but they ended up being a cross between a bloomer and baguette. Still delicious, though.
To shape a bloomer loaf, flatten a portion of the dough and stretch it out into a rectangle shape. Roll it into a sausage shape. Turn the dough over so the seam is on the underneath. Cut diagonal slashes across the top.
For more of a traditional baguette shape, flatten a portion of the dough and stretch it out into a rectangle shape. Roll it into a sausage shape. Leave the dough to rest for two minutes and then roll again until they are long baguettes.
The second proving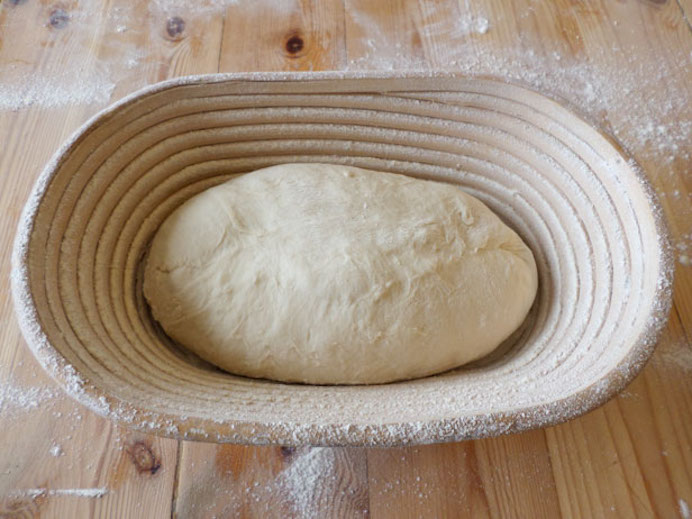 Place the rolls on a lightly oiled baking sheet or in a proving basket.
Lightly cover with lightly oiled clingfilm.
Leave the dough in a warm room to prove again for another 60 minutes or until the dough is about 2/3 of its original size.
Baking the bread
Preheat the oven to 230°C / 210°C fan assisted / 450°F / gas mark 8.
Place a roasting tin in the bottom of the oven.
Place the rolls in the oven and immediately put some ice cubes or cold water in the baking tray and immediately gently close the oven door.
Set a timer and after ten minutes turn the oven temperature down to 210°C / 190°C fan assisted / 425°F / gas mark 6-7. Remove the roasting tin with the water.
Bake for another 20-25 minutes.
Voilà! Perfectly baked homemade white bread recipe
There really is no point in me telling you to wait until the bread has cooled before tucking in, is there? Cause who can resist freshly baked bread?
Tuck in and enjoy.
Here are some more easy bread recipes on my site:
Do you know what goes perfectly with freshly baked homemade bread? Soup. And my pumpkin soup recipe is delicious if I do say so myself.
You could also use your homemade bread to mop up the juices from my chilli and garlic prawns – gambas al ajillo recipe.
So, what do you think of my easy white bread recipe?
Did you like it? Did you try it out? What improvements would you make? Share a photo of your own attempt at this white bread recipe or leave any feedback and comments below, I'd love to hear from you.
Bon nomnom
If you liked this white bread recipe post you might also like my foolproof scones recipe.
Or you might enjoy making my spice cake recipe.
You might also like my pumpkin soup recipe as an accompaniment to your homemade white bread.
And be sure to check out my recipe for Shrewsbury biscuits.
If you like this easy white bread recipe, please share with others.
Related posts…